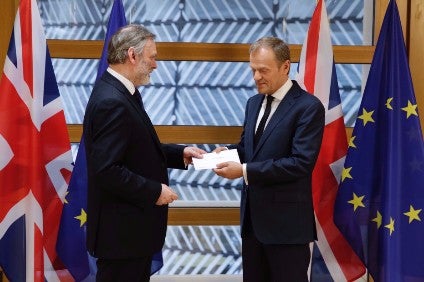 The UK has triggered Article 50 of the European Union's Lisbon Treaty, so formally firing the starting gun on its departure from the 28-member bloc. Brexit is the most important political and economic event in the UK for a generation and has divided the country. A majority of the UK's food sector wanted to stay in the EU and have significant concerns about the post-Brexit future. However, increasingly, businesses are acquiring a pragmatic view about the future – with some real anxieties remaining but a recognition opportunities could be seized – a stance heard last week at the IFE trade show in London. Dean Best reports.
"This is an historic moment from which there can be no turning back. Britain is leaving the European Union."
Shortly after 12:30 in London yesterday, UK Prime Minister Theresa May stood in the House of Commons to announce the triggering of Article 50 of the EU's Lisbon Treaty, nine months after the country voted to leave the bloc.
"We are going to make our own decisions and our own laws. We are going to take control of the things that matter most to us," May said.
Cue glee among those who campaigned for and voted for the UK to quit the EU – and gloom among many of those who did not.
Among the pessimistic it is likely there could be found scores of food industry executives concerned about the UK's future relationship with its largest trading partner.
In March, three months before the UK's referendum on the EU, the Food and Drink Federation, an industry association representing food manufacturers operating in the country, said it would support continued membership after a survey of its own members.
By October, the FDF was reporting another on survey, which it said showed confidence in the UK food and drink manufacturing sector was becoming "more fragile", with the country's decision to plump for Brexit cited as a major factor.
That there are executives and businesses still concerned about the post-Brexit landscape is undeniable and the triggering of Article 50 would have done little – if anything – to ease those anxieties.
The invocation of Article 50 starts a two-year period of talks on how the UK will leave the EU. Put another way, it is important to realise the talks do not cover trade.
The negotiations will focus on the terms of the UK's separation from the bloc and will cover areas such as UK budget commitments to the EU, where the UK-EU lines of post-Brexit cooperation will be and reciprocity in areas like freedom of movement and citizens' entitlements to things like health care, state benefits and visa-free travel.
However, the triggering of Article 50 does not mean talks on trade will begin in earnest. May and the UK government will want to start talks on a trade deal with the EU as soon as possible. "The United Kingdom wants to agree with the European Union a deep and special partnership that takes in both economic and security cooperation. To achieve this, we believe it is necessary to agree the terms of our future partnership alongside those of our withdrawal from the EU," the UK Prime Minister wrote in the letter delivered to European Council president Donald Tusk yesterday that activated Article 50.
The EU is likely to have other ideas. Angela Merkel, the German Chancellor, said yesterday afternoon talks on the UK's exit had to be the priority. "The negotiations must first clarify how we will disentangle our interlinked relationship. Only when this question is dealt with can we – hopefully soon after – begin talking about our future relationship," Merkel said.
Uncertainty and unknowns still reign despite the triggering of Article 50.
Nonetheless, there does seem to be more food companies and other industry stakeholders operating in the UK taking a pragmatic view of Brexit – cognisant of the uncertainty and the potential challenges that lie ahead but prepared to roll up their sleeves and do business.
Of course, rare is the executive that wants to be seen to be talking their business or industry down. It is possible behind closed doors pragmatism gives way to pessimism. But the growing number of voices prepared to talk publicly of "optimism" and "opportunities" has been striking.
Speaking to just-food today, Robert Watson, the CEO of the UK-based international meat packer Hilton Food Group, said Brexit would make no difference to his company's overseas ambitions.
"Our strategy towards geographic expansion has not changed one bit – pre the vote or after the vote," Watson said of a company that between 2000 and 2016 set up businesses in markets including Netherlands, Ireland, Sweden, Poland and Portugal. "Most of our expansion will come from outside the UK and we like to think some of that could happen in Europe and some of that could come outside Europe."
Even among smaller UK food producers, there are companies that see Brexit as a chance to drive growth outside their domestic market and outside the EU. "Seventy per cent of UK exports are within the EU and we are missing the opportunities outside of the EU. I think this will open up doors for all of the opportunities we have been missing. We have 28 countries in the EU and there's probably only about six or seven countries where consumers have really got the buying people. We will have a lot more opportunities outside the EU to focus on," Raheel Rehman, the recently-appointed export sales manager at UK baby food business Annabel Karmel, told just-food last week at the IFE trade show in London.
At the IFE exhibition, held last week in London's Docklands, a seminar was held to discuss the potential impact Brexit could have on UK food and drink exports.
Exports is an area in which the UK government has been trying to be more proactive in recent years, not least in the face of intensifying competition from some of its near neighbours. Rob Furse, food and drink specialist at the UK's Department of International Trade, highlighted the Government's recently-announced "action plan" to drive exports and added: "We are proactively focusing on all markets, whether they be soft European or Asia or Latin America. We really do have the opportunities to shape what we're doing in terms of exports."
Simon Waring, the managing director at UK export consultants Green Seed, told the audience he was positive about the prospects for business. "Brexit is going to obviously present a lot of challenges but I think we need to err on the side of optimism. There will be plenty of opportunities for us, as much on our doorstep in the EU, as in markets further afield."
The seminar did, however, have some important messages for UK exporters to heed. The weakness in sterling since the UK referendum has made the country's exports more competitive and helped some food businesses win deals they may not have been able to secure in the past.
However, UK exporters should not get carried away by the current weakness in the pound.
"I run my own export business," the DIT's Furse said. "I don't think a weak pound is a good base for exporting." Green Seed's Waring added: "You should be thinking more about whether you'd be happy to export to other countries in the EU if the rate was going to be EUR1.40 or EUR1.40-plus because it was last year. If you can't be doing business at the upper end of the currency rates then you shouldn't be thinking about it right now."
And, of course, for all the benefit the decline in sterling has brought to UK businesses in export markets, it has had a negative impact in other ways. "The exchange rate is very much in our favour but we've got to remember that's balanced with the increased cost of importing ingredients to make the products," Sandra Sullivan, director at the UK Food & Drink Exporters Association, said at the IFE seminar.
That dynamic has an impact on doing business domestically, let alone potentially eating into the benefit a UK business could see in export markets.
Fledgling UK baby food business For Aisha has built a domestic business serving retailers including Tesco and Asda and is starting to look to build on some early steps it has made internationally. Mark Salter, the founder and majority shareholder of For Aisha, says the company, though growing domestically and eyeing more international deals this year "is under tremendous margin pressure because of Brexit".
"We haven't passed on a penny but we've lost about 19% off our bottom line purely because the value of the pound has dropped. That's really worrying as that would have been our margin we could have invested further. We have to hold our nerve and see what happens with the exchange rate," Salter says. "I don't think we're in a position to up our prices. We're still a new brand and I think we'll see what happens with the market leaders. They must have the same margin issues we do."
Therein lies a critical point. UK exporters need to ensure their domestic business is on a sound footing before putting more time and resources onto international markets, even if exchange rates look helpful at present.
"If you're dealing with the food market in the UK, it's likely you're dealing with one or two major customers; keeping them happy is going to be a primary concern. It's only after you've started thinking about those things can you add in the international dimension. You need to look at things in the round rather than the export situation," Waring said at last week's IFE seminar.
The uncertainties abound. Trade, regulations, labelling, labour: it's enough to keep many awake at night.
However, there is a sense more UK exporters are, while aware of the challenges they face and the unknowns with which they may have to grapple, are looking ahead in a cautious, pragmatic manner.
"We are where we are," Tony Goodman, the CEO of UK crisps-to-chocolate maker Yumsh Snacks, says. "It reminds me of the old joke: 'What's the best way to get to London?' And the old guy offering directions says: 'I wouldn't start from here.' But this is where we are and my view is we just have to get on with it. We're continuing to push as many open doors as we possibly can. Whatever the result, we have try to make the best of it. There's no point in thinking any other way."