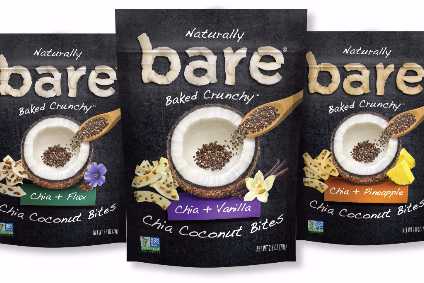 just-food's index of mergers and acquisitions in the international packaged food sector highlights the volume of deals being announced, as company strategists look to M&A to gain an edge on their competition.
Our index of food-industry M&A centres on deals involving an at least majority shareholding being taken in a company, as well as including the sale of subsidiaries, divisions and brands.
The index also centres on deals involving packaged food manufacturers and excludes those between suppliers into the sector and those including drinks companies.
In the first five months of 2018, there were 124 such transactions, according to our index, a slight dip on the 126 announced between the start of January and the end of May 2017.
In May itself, 23 transactions were unveiled, a single deal down on May last year.
In early May, Mondelez International announced its first acquisition since CEO Dirk Van de Put took the helm at the US-based snacks giant last autumn.
The Oreo and Cadbury owner snapped up US biscuit maker Tate's Bake Shop for around US$500m. Van de Put said the deal would give Mondelez "an attractive entry point into the fast-growing premium cookie segment" in the US.
Staying in the US, mid-May saw Tyson Foods' M&A activity continue, with a move for the poultry rendering and blending assets of American Proteins and one of that company's subsidiaries, AMPRO Products.
Tyson struck a deal to pay around $850m for the assets, which gave it businesses supplying the pet food and aquaculture sectors.
Across the Atlantic in the UK, Tyrrells got its third owner in under two years (and fifth in a decade) in May, with Germany-based Intersnack buying the crisp maker from Hershey.
The transaction was also the second time in fifth months Tyrrells had changed hands. Hershey acquired the UK firm in December when it bought US group Amplify Snack Brands.
Hershey's geographic profile meant not all of Amplify's assets appeared a natural fit at what remains a US-centric business. The confectioner does have international operations it manages but these reside in a handful of large, emerging markets such as Brazil, Mexico and China. Tyrrells' operations, not just in the UK but also in Germany and Australia, appeared to sit awkwardly with the way Hershey is set up.
For Tyrrells, Intersnack seems an obvious home, with its German stronghold presenting a natural home for the UK arm's German organic snacks business Aroma Snacks and with its own solid and growing presence in the UK via KP Snacks.
Europe also saw the latest chapter in the tumultuous recent history of Groupe Doux in May. On 18 May, a French commercial court chose a consortium led by French poultry group LDC to take over its ailing domestic peer.
The consortium, which also included French agri-food co-op – and Doux majority shareholder – Terrena, as well as Saudi group Al-Munajem, was preferred to a competing a bid from Ukraine-based poultry processor MHP.
The project also includes the creation of a new company, Yer Breizh, to bring together the upstream players in Brittany's poultry sector. Brittany's regional authority will be a shareholder in the new entity.
just-food's Deal of the Month – a rare piece of food M&A for PepsiCo
A look back through just-food's archive shows PepsiCo has seldom taken part in industry M&A in recent years – in fact, before last month, the US giant last appears to have acquired a food manufacturer in 2011, when it snapped up Brazilian biscuit manufacturer Mabel.
PepsiCo bought two businesses in Latin America that year, also purchasing Argentine cookie and cracker producer Dilexis.
However, of the major names in the food sector, PepsiCo has been among the least active in M&A in recent years.
In 2016, PepsiCo chairman and CEO Indra Nooyi told an audience of investors and analysts the company was finding it difficult to find the right companies to buy.
Last month, PepsiCo announced what has become a rare deal in food, moving for US firm Bare Snacks for an undisclosed sum.
PepsiCo called Bare Snacks, based in California and set up in 2001, a purveyor of "better-for-you" snacks. Bare Snacks was founded by a family-owned organic apple farm in Washington that began selling packaged baked apple chips in local farmers' markets.
The company has attracted various private-equity investors since its formation; its current shareholders include venture capital group NGEN. Its product range now also includes banana and coconut snacks, while it has recently expanded into vegetable chips.
Nooyi said Bare Snacks "fits perfectly" with "Performance with Purpose", the US behemoth's "vision of making more nutritious products" (though of course PepsiCo remains home to a number of more indulgent or "fun-for-you" lines).
Nevertheless, the transaction, though relatively small (Sanford Bernstein says Bare Snacks' annual retail sales stand at around $17m) is an indication PepsiCo is prepared to bolster its stable of healthier snacks through M&A, a strategy well-trodden by its peers in recent years.
Competition in healthier snacks, of course, particularly in the US, remains fierce.
"The brand's current growth trajectory does not necessarily screen the most exciting as it appears to soon be decelerating into single-digit territory while seemingly losing distribution. However, perhaps its trajectory could re-accelerate with the support of PepsiCo," Sanford Bernstein analyst Ali Dibadj says.