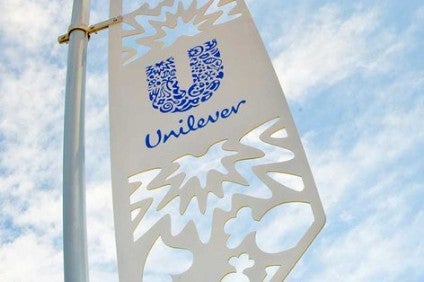 The long-time debate over Unilever's future in food has resurfaced amid the FMCG giant's plan to unify its legal structure. What could happen to the Knorr maker's food assets?
Unilever's position – and future – in the packaged-food sector has, for many years, been a matter of debate in the investment community – and the subject has become a talking point again in recent days.
The consumer-goods group's plan to end its joint Anglo-Dutch structure and unify under its UK entity has reignited talk about what could lie on the horizon for the Knorr and Magnum maker's food business.
Throughout much of the tenure of previous CEO Paul Polman, as Unilever steadily sold off a range of assets in food in the late 2000s and into the 2010s, the company was regularly asked whether it would consider quitting the food industry.
The Dutchman would, in that colourful way of his, explain how Unilever was "weeding and feeding" its food business, selling off low-growth assets and keeping – and backing – those with better prospects. Polman also often talked up the benefit of having a broader portfolio when dealing with retail customers.
Those questions have continued in the early months of Polman's successor Alan Jope. At Unilever's annual investor conference in November, the company's management was pushed for its "thoughts on the desirability or not" of splitting up its food and home and personal care (HPC) operations. Jope said Unilever's "operational backbone" benefited from having both businesses remain in the same company. "We see continuing efficiencies and value in running the businesses together," he replied.
Seven months later and, upon Unilever's move to bring its legal structure under a single entity headquartered in London, those questions are again being floated among those in the investment community.
It's understandable. The group itself – which has been owned through two separately-listed companies, a Dutch NV and a UK plc since its formation in 1930 – believes the move will give it more options strategically.
"Unilever's board believes that unifying the company's legal structure will create greater strategic flexibility, remove complexity and further improve governance," recently-installed chairman Nils Andersen said when the decision was announced on 11 June.
In a broader statement, Unilever said the legal combination would provide the benefit of "strategic flexibility for portfolio evolution", which may include acquisitions or demergers, adding: "Such flexibility is even more important as we anticipate the increasingly dynamic business environment that the Covid-19 pandemic will create."
The move now goes before shareholders. If approved, investors in the Dutch Unilever NV will receive one new share in the UK-based Unilever plc share in exchange for each Unilever NV share they hold. The company would have one market capitalisation and one class of share but still maintain its listings on the Amsterdam, London and New York stock exchanges.
Unilever is hoping to implement the unification "towards the end of the year" – and, if backed by shareholders, it will likely prove something of a relief for the company. In 2018, the group's board failed to persuade its investors of the merits of a similar move, when it proposed unifying its corporate structure under a new Dutch holding company. Back then, the arguments from Unilever were similar: unification would give it more options.
So what now for Unilever's combined foods and refreshment division, which accounts for around 40% of the company's annual turnover and 32% of its operating profit? The headquarters of the division itself will continue to be based in Rotterdam, with its recently-opened R&D centre in the Dutch town of Wageningen.
Unilever's statement did reveal the Dutch government had asked for reassurances that, if the group should one day choose to list the foods and refreshment division as an independent company, it would be incorporated and listed in The Netherlands.
The Hellmann's mayonnaise owner said: "The Netherlands is an attractive headquarter location for business and, provided it continues to be as such, Unilever is comfortable to make these commitments given the division's already strong Dutch presence."
Unilever also said it had "agreed to explore opportunities with the Dutch government to encourage R&D and innovation in plant-based foods, sustainability, food systems resilience and nutrition".
But, beyond that, no public comments from Unilever House on the future of its food arm. That hasn't stopped speculation in the investment community.
"We see the resurrected unification proposal as a strong signal of Unilever's intent to re-shape its portfolio, with a hint that a complete spin-out of foods and refreshment is an option, consistent with our speculations," Martin Deboo, an analyst covering Unilever for US investment bank Jefferies, says.
Unilever has already said it is weighing up the options for part of its food and refreshment assets, announcing a review of its tea operations earlier this year. Deboo suggests Unilever could look to list the business, home to brands including PG Tips and Lipton, or place it into a joint venture.
However, Deboo says the "main talking point" of Unilever's unification announcement was the "strikingly explicit statement around the possibility of listing a spun-out foods and refreshment business in the Netherlands".
He adds: "While this is far from certain, we see the fact that it is being mentioned at all – and that it has figured in discussions with the Dutch government – as significant."
Alain Oberhuber, who watches Unilever for European financial services firm MainFirst, suggests all options are on the table. "I think if things go through in Q4, everything is open," Oberhuber tells just-food. "I think what Alan [Jope] wants to do is focus on home and personal care and get rid of the foods business.
"That could be done two-fold. He could on the one side do a listing of the foods business at the Amsterdam exchange. Or, before he does that, he first merges the [whole] business either with Colgate-Palmolive or with Reckitt Benckiser and then sells or lists the foods part. What he has realised is it is almost impossible to combine the HPC part with the foods part because you do not have an advantage when you go to the retailers. You do not. That was the reason why L'Oreal said finally they would not go together with Nestlé and vice versa. They aren't many sales, nor really cost, synergies."
There are, Oberhuber argues, "many" strategic options for both sides of the Unilever empire, both in food and in HPC. "Unilever is too small in both areas to stand alone," he remarks.
For Unilever's food options, who could look to merge with or buy a standalone, listed business? Would Kraft Heinz be (again) a possible suitor? "Absolutely," Oberhuber says. "But at the moment they cannot afford it. Later down the road, after listing, there could be a merger."
Another analyst who covers Unilever – but asks to remain unnamed – is more circumspect. Describing the Unilever veteran Jope as a "continuation candidate" CEO, the analyst says: "I don't foresee harsh decisions to split the company. If the food business continues to under-perform on growth, calls might be louder at some point to split the [whole] business. At this point, of course, that would create a lot of dis-synergies. I don't think it's a near-term theme but who knows what comes next? The genie is out of the bottle, you could say."
Unilever has, in recent quarters, acquired food assets, including the 2018 deal for meat-free supplier The Vegetarian Butcher and the 2019 moves for UK snacks business Graze and US firm Olly Nutrition, a fledgling US company supplying products from vitamins to protein powders and snack bars, as well as ice-cream operators in India, Bulgaria and Romania.
And of course there was the larger 2018 transaction, sealed this April, for food-and-beverage brand Horlicks and other consumer nutrition products from GlaxoSmithKline (GSK).
The unnamed analyst says Unilever should "ultimately try to increase exposure to the most interesting categories" in food, adding: "The idea would be much more towards the same as Nestlé – personal, more towards healthy, personalised food vitamins, that kind of direction. Last year, they acquired the business in San Francisco, Olly. This is also where the acquisition of Horlicks kind of fits in. Any deal that would accelerate their exposure to vitamins and the interplay between food and health that would be a good step forwards."
However, the analyst adds: "I don't see a radical solution to instantly improve the growth profile of the [food] business, unless you would step into high-growth categories. The difficulty I find with that is there's only so few assets that have scale. Can you name two or three big companies on the interplay between food and health, that have good growth and have more than EUR500m turnover? That's a bit my problem when I think about any transformational M&A to really change that food business – but I'm also not sure if it's in the best interest of shareholders to just say 'OK, we should sell it off and list it on its own and de-merge the business' because you would also have a management team that would be super internally-focused for a quite a long time.
"It's now an option potentially after December, so will increasingly be a topic going forward. I still think with a continuation CEO, a CFO that's been there for quite some time, they're not going to do it by free will. In the past it was simply not possible, so, now they are creating that optionality, that does change things a bit."
For now at least, CEO Jope and CFO Graeme Pitkethly have plenty on their plates, battling with the impact of Covid-19 on a business with a hefty proportion of its overall turnover in emerging markets and with a food operation with a good chunk of its sales in the foodservice channel, where, even if customers are starting to open up, progress is likely to be slow and lumpy.