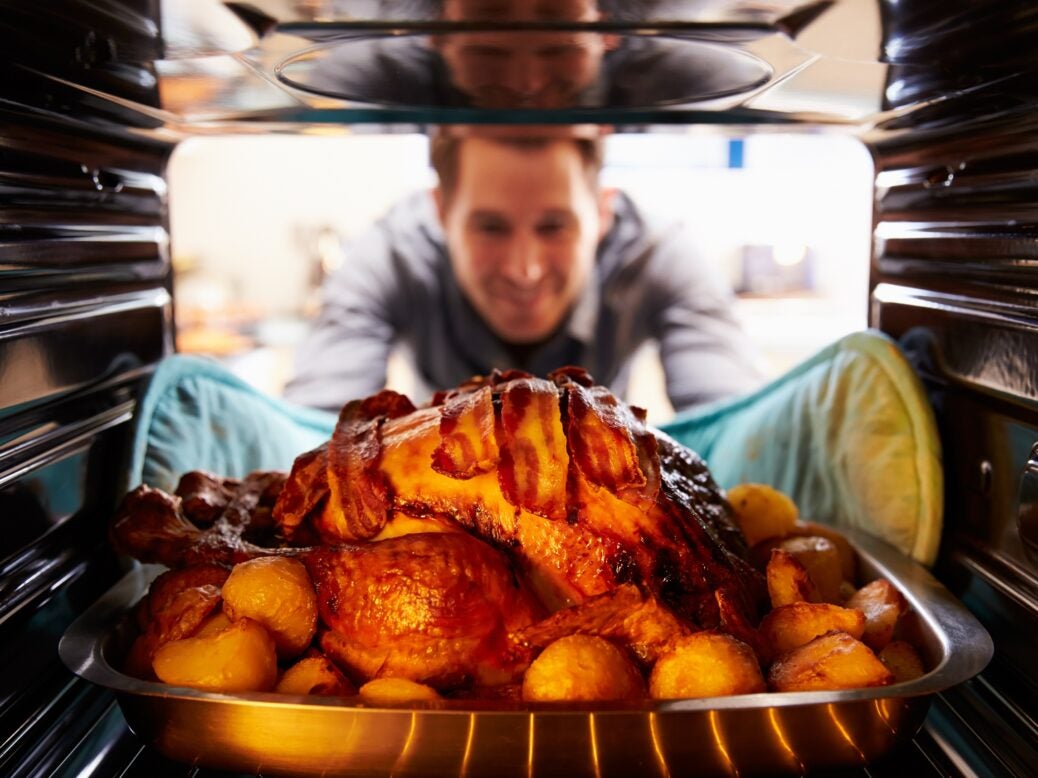 The owner of 2 Sisters Food Group, the UK poultry processing giant, has again warned of potential food shortages, this time linked to the supply of carbon dioxide.
Company founder Ranjit Singh Boparan, who came out in July to say an industry-wide labour shortage was putting food supply at risk, said at the weekend the potential upcoming pressure on CO2 availability is a "massive body blow".
Soaring gas prices, partially linked to increased demand from the reopening of global economies emerging from Covid-19, prompted CF Industries, responsible for 60% of the CO2 supply in the UK, to halt production at two plants last week. Its chief executive Tony Will is said to have come to the UK for crisis talks with the Government.
Boparan, who owns a number of businesses in the UK, including turkey producer Bernard Matthews, said the growing CO2 crisis, coupled with a labour shortage partly blamed on Brexit, could put food supply at risk and "ruin Christmas".
He said the decision by CF Industries to halt production of fertiliser, of which CO2 is a by-product, was "irresponsible and catastrophic for our sector."
CO2 is used in the food industry to stun animals prior to slaughter and to make dry ice used in chilling fresh foods during transportation.
"There are less than 100 days left until Christmas and Bernard Matthews and my other poultry businesses are working harder than ever before to try and recruit people to maintain food supplies," Boparan said.
"Nothing has fundamentally changed since I spoke about this issue in July. In fact, I take no pleasure in pointing out that the gaps on the shelves I warned about then are getting bigger by the day. The supply of Bernard Matthews turkeys this Christmas was already compromised as I need to find 1,000 extra workers to process supplies. Now with no CO2 supply, Christmas will be cancelled.
"The C02 issue is a massive body blow and puts us at breaking point, it really does – that's poultry, beef, pork, as well as the wider food industry. Without CO2, the bottom line is there is less throughput and with our sector already compromised with lack of labour, this potentially tips us over the edge."
Meanwhile, the BBC reported CF Industries as saying it could not confirm when production will resume. The broadcaster said it had been told that officials from the Department for Business, Energy and Industrial Strategy have been liaising with the company to resolve the issue.
UK Business Secretary Kwasi Kwarteng has tweeted that he had met its CEO Will and "discussed the pressures the business is facing and explored possible ways forward to secure vital supplies, including to our food and energy industries".
The publication Politics at Home quoted Alok Sharma, the UK Cabinet Office minister and president of COP26, as saying consumers "shouldn't be concerned about the risk to supply" of food. He added there were "no immediate concerns" over the UK's gas supplies.
It was also reported by the BBC the Government is considering offering emergency state-backed loans to energy companies struggling to survive amid the soaring gas prices, with Kwarteng due to hold talks today (20 September).
The chief of The British Poultry Council has also warned of implications on the food supply chain.
"With fewer than 100 days to go until Christmas, and already facing mounting labour shortages, the last thing British poultry production needs is more pressure," CEO Richard Griffiths said. "If CO2 supplies become tighter and more unpredictable then supply chains will have to slow down. Ultimately, no CO2 means no throughput."
2 Sisters' Boparan added the CO2 shortage needs to be addressed as "a matter of urgency".
"This is clearly a national security issue and unlike the labour supply crisis, where the Government response to our sector has been disappointing to say the least, it has to be dealt with as a matter of urgency," he said.
"I'd like to see CO2 supplies prioritised for the food sector so UK supply can be maintained and for the Government to support these fertiliser plants who are saying they've switched off because of the rising price of natural gas.
"It really beggars belief when such a key infrastructure operation can arbitrarily decide to switch off the taps because of price inflation. It is irresponsible and catastrophic for our sector. We can't just down tools because of inflation.
"It's tough enough having one hand tied behind our backs by simply not enough people to supply food. With the CO2 on top of this, both hands are tied. Government need to act now or we'll have another cancelled Christmas."