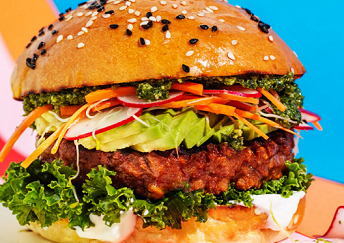 All G Foods is in talks with potential customers in Asia as part of the fledgling Australian alt-meat business' expansion plan.
The company, set up in 2020, has just closed a seed funding round of AUD16m (US$11.8m) and is set to launch its Love Buds Burgers into a major Australian grocer this month.
Founder and CEO Jan Pacas told Just Food the company is in negotiations to launch into countries outside Australia.
"The first – advanced – discussions we have are with Asian partners, which we see as our number one priority," Pacas said. "Additionally to selling in different markets, we also see in the future a number of R&D set-ups internationally to be able to cater for local consumers. We recruited a global team of exceptional scientists and, commercially, clearly, while having launched in Australia, want to be present on every continent."
All G Foods expects to be selling its burgers in 500 IGA stores in Australia by Christmas. The company is in talks with other local chains but Pacas declined to name the retailers.
It has also secured foodservice customers. "Currently, we have signed distribution agreements with all three of the largest national foodservice distribution partners, plus circa 20 local, or state-based, ones," Pacas said.
The Clean Energy Innovation Fund, set up by the Australian government in 2016, has put AUD5m into the business. Other investors include Singapore-based private-equity firm Triple Star Capital, Australian buy-out house Ellerston Capital and Peter Andrews, the CEO of local meat processor Andrews Meat Industries.
All G Foods uses precision fermentation to make its meat-alternative lines. Pacas says the company's burgers have fared well versus rival products. "We prioritised the best taste and texture profile as we believe this is the main driver for adoption by meat-eaters or meat-reducers," he said. "In an independent, consumer, blind test study, we have comfortably beaten – were significantly preferred – over any Australian brand and were 60-40 preferred over global market leader Beyond Meat."
Away from meat alternatives, All G Foods is developing dairy products using fermentation.
"We are developing cow-free, identical, milk," Pacas said. "We have already assembled a stable casein micelle and now the next stage is to create small-scale products of identical milk for investor tastings.
"We expect to have commercial products for launch in 2023. We have already engaged with the Singaporean government for regulatory reasons as a launch in Australia is likely to take more time from a regulatory perspective."
The bulk of the seed funding cash will be used on capex, with the rest on developing the company's product range and on the casein project for the cow-free milk, Pacas said.
Asked when All G Foods anticipates needing to raise more funds, he added: "Next year. We could slow the burn but we have huge ambitions and see lots of opportunities, so we want to be fast."
Last month, V2Food, another Australia-based meat-free business, announced it had closed an AUD72m "Series B Plus" funding round. V2Food completed a Series B raise of AUD77m in October 2020, bringing the company's total funds raised to AUD185m.