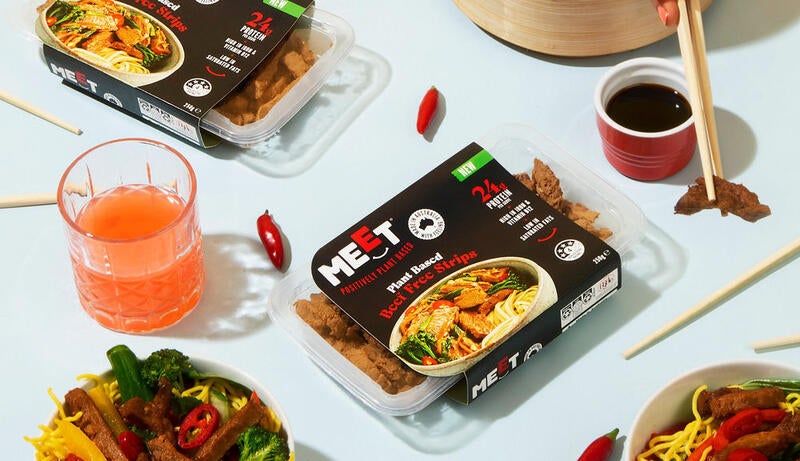 Harvest Road, the Australian beef and seafood processor, has snapped up a minority stake in local plant-based meat business Proform Foods.
Based in Sydney, Proform Foods was set up in 2008 as an R&D business, providing protein ingredients. The company is still an ingredients supplier but has branched out into brands, selling the Meet range (stylised as 'MEET') of plant-based meat alternatives.
The terms of the deal, including the size of Harvest Road's stake, were not disclosed. Just Food has contacted Proform Foods CEO Matthew Dunn for further comment.
Harvest Road, headquartered further west in Perth, supplies beef and seafood through the retail and wholesale channels domestically, while also having an export arm.
The company, owned by the Forrest family, is part of the Tattarang group, one of Australia's largest private investment businesses.
In a statement, Dunn said: "We're thrilled to partner with Harvest Road, an organisation driven by a vision to create sustainable businesses that deliver more positive environmental outcomes, enhance food security for Australia and support local manufacturing. ProForm is excited by this alignment of values and the opportunity to take our quality, plant-based products to new Australian and international consumers."
Compared to North America and western Europe, the market for plant-based meat in Australasia is smaller but retail ranges are expanding amid rising interest from consumers.
Investment money has also been attracted to Australia-based businesses supplying the market. In September, V2Food closed a AUD72m (US$51.1m) "Series B Plus" funding round, led by European investor Astanor Ventures. V2Food said it planned to use the new funds to expand its manufacturing and to broaden its reach further across Asia and into Europe.
Analysis from GlobalData suggests what it calls the "meat substitutes" market in Australasia will grow from a value of US$136.1m in 2020 to US$912.4m in 2025.
From the Just Food archive, December 2020: "If it's not affordable, then we're not going to be mass-market" – V2Food co-founder Nick Hazell on why price is central to Australian plant-based meat firm's strategy
Just Food free-to-read Guide: Eyeing alternatives – meat companies with stakes in meat-free and cell-based meat