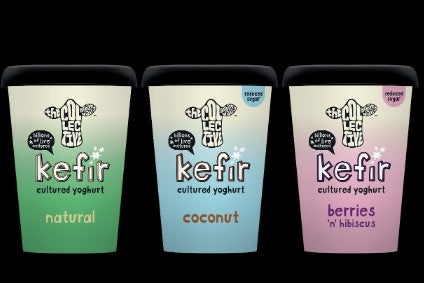 Australian Dairy Nutritionals plans to terminate a licensing agreement for The Collective yogurt brand in Australia as the Victoria-based company seeks to focus resources on infant formula and milk powders.
The decision has been made by Australian Dairy Nutritionals' (AHF) board in light of the impact on sales of The Collective brand from Covid-19-linked restrictions in New South Wales and Victoria, particularly the probiotic pouch products targeted at school children.
In a notice to the Australian Securities Exchange today (12 October) AHF explained "that with the completion of its infant-formula plant imminent and launch of its new infant-formula ranges, it is critical that the business operations are strongly aligned with the strategic priorities of the group moving forward".
Camperdown Dairy Company (CDC), AHF's wholly-owned subsidiary, secured a manufacturing and distribution licensing agreement in April 2020 with The Collective's owners, New Zealand's Epicurean Dairy, for the yogurt brand in Australia. The products are sold into the retailer Woolworths and independent supermarkets across the country.
The same agreement also gave CDC the exclusive rights to market Epicurean Dairy products in Australia. Just Food has contacted AHF to clarify whether this part of the deal will also be terminated and the status of the shares in Epic Australia, which it acquired in 2020 from a subsidiary of Epicurean Dairy – Epicurean Australia.
AHF said: "The parties have considered ongoing options and are currently working together to agree an appropriate wind-down and transition plan. However, at this stage, CDC estimates manufacture of The Collective products will cease" in the first quarter of next year.
The Australian firm said today its new infant-formula plant is expected to be operational to produce infant formula and milk powders in the first quarter, and is also finalising "the specification and artwork for its organic A2 infant-formula range in readiness for production when the infant-formula plant is complete".
AHF, which also produces fresh milk and butter under its CDC and Ecklin South brands, along with private-label products, said late last year it was planning to launch Tummy Health and Ecklin South Organic A2 infant formula.
In August, AHF issued its financial results for the year ended on 30 June. Revenue was down 3.6% at AUD21.7m (US$15.9m) and the company delivered an EBITDA operating loss of AUD2.99m. It posted a net loss off AUD6.9m, narrowing from an AUD7.5m loss a year earlier.