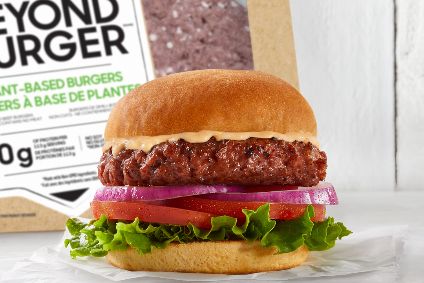 US plant-based protein company Beyond Meat has signed a deal to develop manufacturing facilities in China.
The meat-free burger, sausage and mince products manufacturer has signed an agreement with the Jiaxing Economic & Technological Development Zone (JXEDZ) near Shanghai to develop facilities on the site.
Work has already started on the project and a trial run is expected to begin within months, with full-scale production in early 2021.
Explaining its rationale, California-based Beyond Meat said: "China is expected to be one of the most important markets in the world for Beyond Meat, as a production and R&D centre, and as a major market in the years to come."
Beyond Meat said it will be the first multinational company focused solely on plant-based meat to bring its own major production facility into China.
In early July, Beyond Meat made its debut on Chinese supermarket shelves, selling its patties in mainland China through local e-commerce giant Alibaba's Freshippo supermarkets.
In June Yum China Holdings said it would be selling the US company's Beyond Meat burgers for a limited time at some of its KFC, Pizza Hut and Taco Bell locations.
And in April ,Beyond Meat signed a deal with coffee shop giant Starbucks for its meat-free mince to be used in products sold through 3,300 of the the coffee chain's China outlets.
Starbucks said today (8 September) that plant-based items from Beyond Meat and other providers will be added to its menus in Asia from this month.
Speaking about the company's planned production facilities, Beyond Meat founder and CEO Ethan Brown said: "China is one of the world's largest markets for animal-based meat products, and potentially for plant-based meat.
"We are delighted and confident that after several months of productive and collaborative discussions, we will partner with the JXEDZ to develop two production facilities, including one of the world's largest and technologically advanced plant-based meat factories.
"We are very impressed by the capabilities and vision of the JXEDZ and they are the ideal partner for us in this vitally important country and market."
Read just-food's interview – "This industry is so nascent" – Dao Foods investor Tao Xhang on taking plant-based mainstream in China