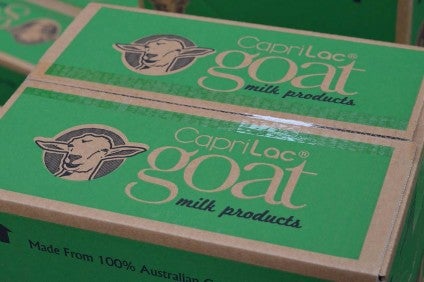 Bubs Australia is exiting its dairy joint venture with Uphamgo Australia after sealing a deal this week with a subsidiary of Bega Cheese for goat's milk infant formula.
New South Wales-based Bubs, which manufactures infant formula and baby food products, said this week it had entered a "long-term strategic supply partnership" with Tatura Milk Industries, a subsidiary of Bega.
The deal will see Tatura carry out the "nutritional wet blending" of raw goat's milk with other ingredients and conduct the spray drying process. The formula will then be canned at Bubs' Australian Deloraine Dairy, its local manufacturing partner.
Bubs said in its half-year earnings results statement today (28 February) that as a result of that agreement, whereby the fresh goat's milk will go directly to Tatura, there is no longer a need to convert the bulk of the milk to powder for subsequent wet blending.
It is therefore selling its 49.9% stake in the joint venture with Uphamgo back to Nulac Foods, from which Bubs bought the holding in 2017, and in so doing, gained access to the manufacturing facilities for the CapriLac goat's milk brand and Coach House Dairy products.
Those facilities include an interest in the Cambria Management Company, Cambria Unit Trust and New Zealand Nutritional Goat Company, which will now be sold back to the NuLac "vendors" for AUD3.5m (US$2.5m).
Bubs said it will continue to have a "priority manufacturing arrangement" with Uphamgo but no ongoing operating costs.
The transaction does not affect the exclusive milk supply from the NuLac vendors' goat herds, nor the ownership of the CapriLac, Coach House Dairy, and other brands acquired in 2017, Bubs said.
Kristy Carr, Bubs founder and chief executive, said: "The company continues to explore opportunities to develop its supply chain and refine its manufacturing capability, specifically in relation to infant formula and key dairy ingredients. We expect further gross margin improvement in 2H19 arising from the one step production process to be deployed at the Tatura facility, in addition to the elimination in overheads previously required to operate the Uphamgo facility."
On the financial front, Bubs reported a surge in first-half revenues to AUD19.5m in the period ended in December, from AUD3.2m a year earlier. However, the company incurred a loss before tax of AUD8.8m, compared to a AUD3.9m loss in the corresponding period.