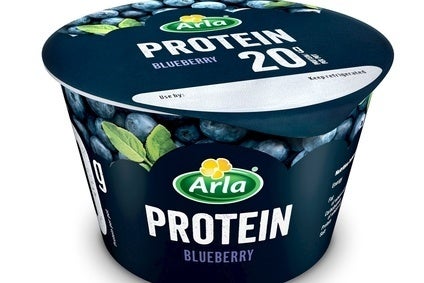 Against the backdrop of the COP26 climate change summit in Glasgow, European dairy giant Arla Foods has revealed a new five-year strategy linked to sustainability.
The Denmark-based cooperative is to spend at least EUR4bn (US$4.63bn) on its Future-26 plan, which will see it increase investments in sustainability, digitalisation, new production technology and product development by more than 40%.
Arla plans to increase payments to its dairy farmers by at least EUR1bn to "support their sustainability journey" provided the business reaches an annual net profit of at least 2.8% of sales.
The Lurpak and Castello brands owner said it is launching the strategy "at a crucial time for the dairy industry" because "consumers have become more aware and expect the food they eat to be healthy and affordable and produced in a responsible and sustainable way".
The move comes after the recent release of a report which said meat and dairy firms are coming up short in relation to plans to reduce methane.
The Changing Markets Foundation's 'Blindspot' report analysed and scored climate policies and actions against 11 indicators with a particular focus on methane. None of the 20 companies analysed scored more than 35% in relation to their methane reduction performance. Arla ranked fifth out of 20 with a score of 14.8%.
Arla said Future-26 builds on its Good Growth 2020 strategy launched in 2016.
CEO Peder Tuborgh said: "Using the Good Growth 2020 strategy, we created the right way to expand our brand, deliver efficiency and invest in sustainability throughout the value chain, while offering a competitive milk price to our owners. Our new strategy Future-26 builds on this platform and will take our cooperative to the next level.
"It will increase our global business responsibility to meet the rapidly changing eating habits of our consumers and their growing demand for sustainably produced dairy products. In addition, it will improve our return to the owners."
Arla said it plans to reduce emissions to be in line with the Paris Agreement's target of 1.5 degrees. The company is committed to reducing greenhouse gas emissions at farm level by 30% by 2030 and by 63% in the dairy business by the same date.
In the case of the latter, it suggested the goal will be achieved by accelerating the transition to green electricity, fossil-free transport, making all packaging recyclable and replacing more plastic with fibre-based alternatives.
Last month, Arla announced it was seeking to increase UK distribution of organic products over the next five years and issued new sustainability standards to the cooperative's farmer-owners.
It set out what it called Organic 2.0 standards that encompass climate impact, soil health, biodiversity and animal welfare due to kick in from January next year.