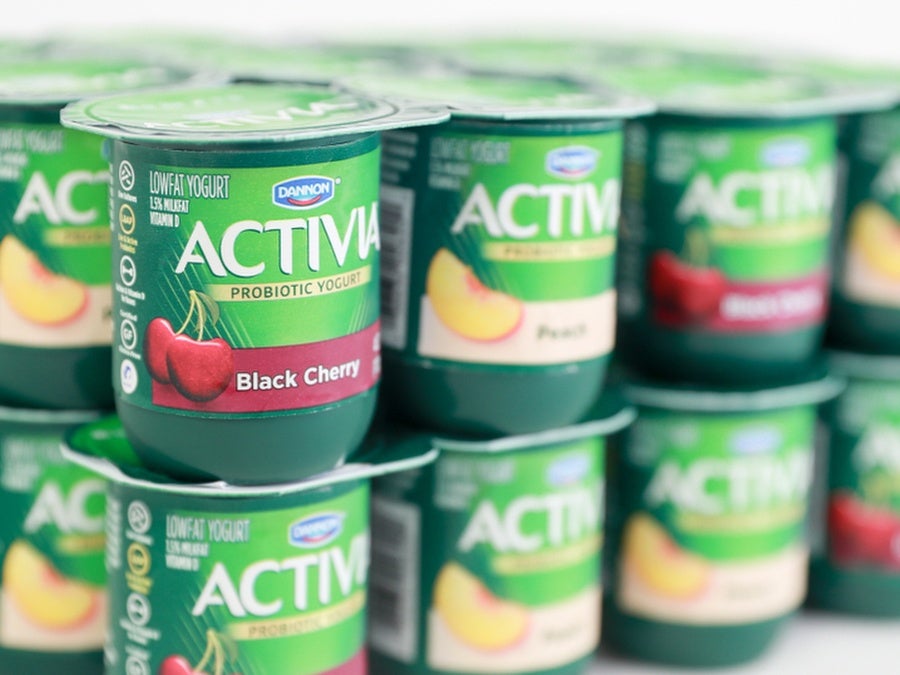 Danone has pointed to a "sequential improvement" in volumes as the dairy giant works through a strategy to weed out underperforming product lines.
Volumes in 2022 fell 0.8%, more pronounced than the 0.6% decline the previous year, as the French firm raised prices to offset inflationary cost inputs from ingredients, packaging and labour.
Profit margins also took a bigger hit under CEO Antoine de Saint-Affrique's SKU rationalisation project, primarily focused, as he reiterated this morning (22 February), on getting the European essential dairy and plant-based business (EDP) "back to where it belongs".
As a key thrust behind the strategy instigated since becoming CEO in the autumn of 2021, de Saint-Affrique seeks to transform EDP into a "growing competitive and innovative business".
Presenting full-year results today, the CEO of the Activia and Alpro brands maker said: "We are engaged in the transformation and the repositioning of our EDP portfolio in Europe. We started this journey in the back end of '22. This work is not about short-term and easy fixes. The transformation is also about putting greater focus on the benefit and functionality of our brands and products."
The optimisation programme was the main culprit weighing on volumes last year and the pressures are projected to continue through the early part of the new financial year.
Danone's CFO Juergen Esser provided some perspective going forward on a follow-up call with analysts today.
"We will continue this transformation journey. From the second semester onwards, you will see a sequential improvement of the relative performance of our EDP, and particularly [our] dairy business moving forward, once this transformation is completed, which will also enable us to reinvest behind, rejuvenate and refocus [our] portfolio."
Streamlining portfolio
In Spain for instance, de Saint-Affrique said Danone has "decided to refocus our efforts and investment on five key platforms" instead of ten dairy brands. In Morocco, the business has gone from 17 brands to seven.
"Our transformation is about streamlining and a more focused portfolio. And while this strategic alignment will continue impacting our volume in the short term and take more time to be fully visible on shelf, we have already started making structural choices across countries," the CEO said.
De Saint-Affrique added: "Expect us to keep focusing on fixing what needs to be fixed and do it with courage and determination. Committing to more active portfolio management with focus on the parts of our portfolio which either do not fit with our strategy or where we believe there is no credible path to sustainable value creation."
Other measures already taken include Danone's exit from its dairy joint venture in China, a plan to dispose of its EDP Russia operations and the planned disposal of the organic dairy businesses Horizon Organic and Wallaby brands in the US.
Nevertheless, de Saint-Affrique re-emphasised today that bolt-on acquisitions would also play a part, ones "that would either strengthen our market position, bring market access or add new capabilities and technologies".
Esser provided some further insight. "EDP volumes have been for many years trending down, with Covid only providing a momentary pause to the dynamic. Our portfolio of brands was unfocused with many of them overlapping and cannibalising each other.
"Our ranges were not differentiated enough and we stopped taking care of our core by proliferating diluted innovations. And finally, our relationships with our trade partners were not as extensive and holistic as they should have been with a category leader like us."
He added: "Completing this transformation is critical as it will allow us, starting from the second half of this year, to progressively transition into more constructive momentum with renewed portfolios and reinvestments into innovation, promotions and brand support."
Sales, inflation
Danone's sales rose 13.9% last year on a reported basis to EUR27.6bn (US$29.3bn) and were up 7.8% in like-for-like terms. Growth improved from last year's LFL print of 3.4% but the recurring operating profit margin slumped.
That metric fell 161 basis points and 154 points in LFL and reported terms, respectively, to 12.2%.
Sales growth is not envisaged to be as robust in 2023, with Danone guiding to 3-5% on a like-for-like basis and a "moderate improvement" in the margin.
Danone's sales revenue in 2022 likely benefited from the 8.7% pricing, a benefit which looks set to start to wane as Esser pointed to inflation easing in the back half of the new year.
"We do expect inflation to continue into 2023 yet with a lower rate than last year. We expect inflation to be sequentially decreasing, with rates in the second semester below the ones of the first semester.
"With inflation expected to slow down as we progress into the year, you should also see pricing coming down. In this context, our further reinvestment into our brands and commercial activities will be critical to support volume dynamics to sequentially improve."
Danone will execute "additional pricing rounds if and when needed" depending on the inflation trajectory, he said.
De Saint-Affrique refrained from offering any inflation specifics for 2023 in light of volatility "remaining too high".
Input-cost pressures are expected to mostly come from labour, liquid milk, driven by feed and fertiliser, as well as ingredients and packaging, he said.
"As we are all observing, commodity indexes are plateauing or going down, gas in Europe is decreasing very fast over the last weeks, but the situation remains relatively volatile," the CEO observed.
"I'm confident that '23 will be a year of profitable growth and acceleration for Danone."