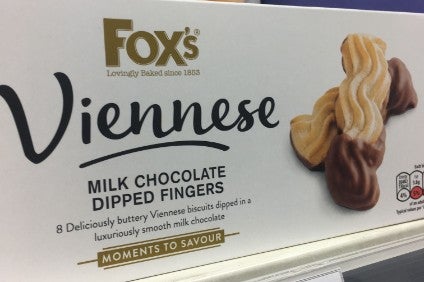 Italy-based sweet-snacks giant Ferrero, home to brands including Kinder and Nutella, is reported to be working on a possible bid for the UK biscuit manufacturer Fox's Biscuits.
Ferrero is working with advisers on drawing up an offer for Fox's, the biscuit maker owned by UK manufacturer 2 Sisters Food Group, broadcaster Sky News said today (30 September), citing unnamed sources.
The ownership of Fox's Biscuits has been the subject of speculation for a number of years. Most recently, last September, Sky News said UK-based private-equity firm Towerbrook Capital was in talks to merge Fox's with Biscuit International, the France-headquartered supplier with operations across western Europe.
In February, it was announced US private-equity fund Platinum Equity had agreed to buy Biscuit International.
This afternoon, it reported 2 Sisters had asked for parties interested in Fox's Biscuits to table bids this week.
just-food has approached 2 Sisters and Ferrero for comment.
In the UK, Ferrero markets spread brand Nutella and its range of confectionery brands including Kinder, Thorntons, Tic Tac and Ferrero Rocher.
Last summer, an affiliated company of Ferrero snapped up Denmark-based snacks business Kelsen, owner of brands including Kjeldsens Butter Cookies, from Campbell Soup Co. for US$300m.
In April last year, Ferrero struck a deal to buy a clutch of biscuit and snack brands in the US from Kellogg for US$1.3bn. That purchase followed a series of acquisitions by Ferrero in North America in the previous two years.
Boparan Holdings, the holding company that owns 2 Sisters, acquired Fox's Biscuits as part of its purchase of UK manufacturer Northern Foods in 2011. In 2014, reports emerged linking another UK manufacturer, Burton's Biscuit Co., with interest in Fox's Biscuits.
In January 2017, Boparan went public, revealing there had been "a preliminary approach" for Fox's Biscuits but no deal emerged. By the autumn of that year, Sky News reported Fox's Biscuits and Burton's Biscuit Co. had revisited talks to merge.
Sky News said today Biscuit International and Burton's Biscuit Co. are also expected to be included in bidders for Fox's Biscuits. Contacted by just-food, Biscuit International and Burton's Biscuit Co. declined to comment.
If a sale of Fox's Biscuits does materialise, it will be the latest disposal by 2 Sisters, which over the last couple of years has offloaded its Matthew Walker Christmas puddings arm, seafood business Donegal Catch, its Goodfella's pizza assets, its red-meat operations and the Manton Wood sandwich unit.
The company is now left with three main retail assets: poultry, which includes private label as well as branded products, Fox's Biscuits and Holland's Pies.
In July, Boparan Holdings provided a trading update – the company's fourth quarter ran for the 11 weeks to 11 July – and said its "like-for-like EBITDA growth" had been "stronger than expected".
Boparan Holdings added: "In addition, the company continues to implement its strategy by further simplifying its structure, aiming at ultimately becoming a poultry-focused business. To reach this objective, the company continues to explore the disposal of non-core businesses, such as its bakery division, but the group will only dispose of these businesses when the time is right and the company is confident of realising the best value."
In the most recent, publicly-available set of annual accounts for Boparan Holdings, covering the 52 weeks to 27 July 2019, its turnover was GBP2.74bn (US$3.52bn), down from GBP3.34bn a year earlier, with the company pointing to its disposals. Sales in Boparan Holdings' "core businesses", it said at the time, were "strong".
Boparan Holdings made an operating profit before exceptional items of GBP4.5m – versus GBP22.1m a year earlier – and a loss before taxation of GBP17.5m, compared to GBP5.9m the year before. The company's net debt stood at GBP631.4m, up GBP601.8m 12 months previously.