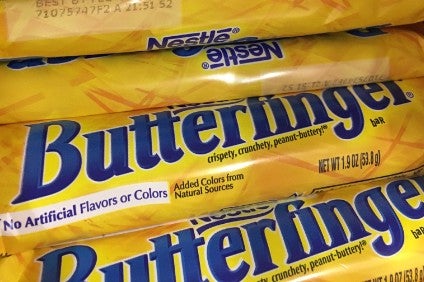 A potential deal of around US$2.5bn to buy Swiss food giant Nestle 's US confectionery business could be completed this week, with Italy's Ferrero seen as the frontrunner to outbid rival Hershey.
Media reports have been awash with talk of late as to which of the two confectionery giants will emerge as the winner in the bidding for Nestle's US candy unit, which has brands including Butterfinger and Baby Ruth.
Reuters reported three unnamed sources as saying the deal could be signed off by the end of the week, with one adding Ferrero – the owner of Nutella spreads and Tic Tac sweets – raised its offer last week in an attempt to outbid Hershey. According to the news agency, Ferrero is seen as the most likely candidate to win the business.
Meanwhile, Bloomberg quoted a person familiar with the negotiations as saying Ferrero's bid may amount to $2.8bn, with a deal likely to be signed off as early as Sunday.
"[Executive chairman] Giovanni Ferrero is really committed to the deal, that's why the group sweetened its offer to something in the area of $2.5bn," Reuters reported the one source as saying.
Both news companies said Ferrero and Hershey declined to comment.
In December, Nestle told just-food it expects the sale of its US confectionery unit to be agreed in the first three months of this year. CNBC reported earlier this week Ferrero and Hershey submitted their bids last Friday (5 January), with expectations that the deal would go through for around $2bn to $2.5bn.
Ferrero and Hershey have both in recent months used M&A to try to grow sales.
The Italian firm bought Ferrara Candy Co. of the US in October from private-equity company L. Catterton for an undisclosed amount.
And in December, Hershey acquired US business Amplify Snack Brands for $1.6bn.