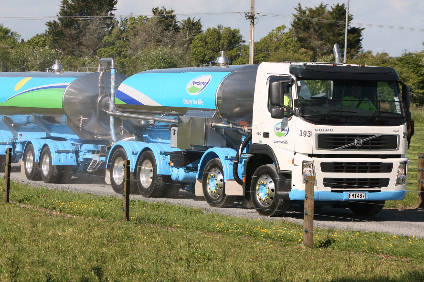 New Zealand dairy giant Fonterra has unveiled a new strategy after posting a record annual loss of NZD605m (US$379.3m).
The cooperative, the world's largest dairy exporter, said it plans to phase out overseas milk pools, cut debt and focus on its local production. The group also plans to focus on supplying dairy ingredients to global customers and build its business into foodservice in Asia Pacific.
Fonterra has also announced the closure of its domestic Te Roto cheese plant on the Kapiti Coast with the loss of 70 jobs.
CEO Miles Hurrell said in a press conference on Thursday (26 September) Fonterra would be a "leaner, more focused business" under its new strategy.
The losses, for the year ended 31 July, were at the lower end of Fonterra's forecast of NZD590m to NZD675m but still amounts to its biggest loss to date after reporting its first annual loss of NZD196m last year. 
It is largely the result of poor performance from its overseas ventures. It announced a write-down of up to NZD860m on assets in Brazil, Venezuela and China in August.
Fonterra recently scrapped employee bonuses and froze the pay of its high earners.
CEO Hurrell said 2019 was "incredibly tough" for the cooperative but it was also the year Fonterra made decisions to set it up for future success.
"These included us reflecting changing realities in asset values and future earnings, lifting our financial discipline, getting clear on why we exist and completing a strategy review," he said.
"Many of these calls were painful, but they were needed to reset our business and achieve success in the future."
He added: "But we can't ignore that we had a number of challenges across the year – these included Australia Ingredients, our businesses in Latin America and the consumer businesses in Sri Lanka, Hong Kong and New Zealand."
Discussing disposals, he said: "As part of taking stock of our business we reviewed our asset portfolio and made significant calls on three assets we identified as no longer core to our strategy. We sold Tip Top for NZD380m and our share of DFE Pharma for NZD633m. We also wound back our relationship with [China joint venture] Beingmate and are now looking at options to reduce our financial stake in this company. 
"Taking stock of our business didn't stop there. We also exited our Venezuela businesses, announced the closure of our Dennington manufacturing site in Australia and kicked off a strategic review of DPA Brazil and two of our farm-hubs in China."
Hurrell said sell-offs are expected to allow the company to exceed its debt reduction target of NZD800m in 2020 while capital expenditure and operating expenses have been cut.
"Our strategy will see us focus on world-class dairy ingredients for our customers around the world, and innovative ingredients that meet nutrition needs right across people's life stages. We will focus on ingredient categories: Paediatrics, Medical and Ageing, Sports and Active, and Core Dairy," he said.
"We will also create new opportunities in new ways for foodservice. This will include building on our foodservice success in China and developing new markets, particularly in Asia Pacific. 
"This focus on dairy ingredients and foodservice will see us playing to our strengths and driving more value from the parts of our business that consistently perform.
There have also been changes made to the Fonterra management structure.
"Our new operating model will see us move from our two large, central businesses (Ingredients, and Consumer and Foodservice) to three in-market customer facing sales and marketing business units – Asia Pacific (APAC), Greater China (GC), and Africa, Middle East, Europe, North Asia, Americas (AMENA), Hurrell said.
"We are creating a new team (office of the chief operating officer) which will be the enabler for our in-market business units to create value through sustainability, innovation and operational scale and efficiency."
Robert Spurway, COO of global operations, is to leave the business.
Judith Swales has been appointed CEO of Fonterra's business in Asia Pacific and Kelvin Wickham chief of the company's operations in the AMENA region.