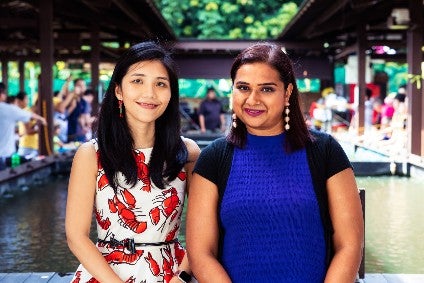 Shiok Meats, a Singapore start-up developing cell-cultured seafood, has attracted bridge funding from food companies in South Korea and Vietnam.
South Korean companies CJ CheilJedang and Woowa Brothers Asia Holdings have joined Vietnam seafood processor Vinh Hoan Corp. in providing the financing.
The investment amount was not disclosed, although Shiok Meats said it has now raised around US$30m ahead of its commercial launch.
Shiok Meats, founded in 2018 by CEO Dr. Sandhya Sriram and CTO Dr. Ka Yi Ling, said last year it aimed to debut its first shrimp cell-cultured product in 2022 and would follow up with shrimp paste – a popular culinary ingredient in Asia – with lobster and crab.
Announcing the new bridge funding, Shiok Meats now expects the launch to take place in Singapore by 2023 at the "latest".
Sriram said in a statement: "We are very excited to be backed by partners who believe in our potential to scale and are equally passionate about the cell-based meat and seafood space. The next 12-18 months are crucial and the funds will allow us to advance our R&D efforts and build a state-of-the-art production facility in Singapore."
CJ CheilJedang, one of South Korea's largest food companies, is a producer of foods from meats to snacks. It owns US manufacturer Schwan's – and it has also invested in cell-cultured protein before, with backing for Israel cell-based meat firm Aleph Farms.
Woowa Brothers Asia Holdings is a food-delivery firm in South Korea. Vinh Hoan Corp., which claims to be the world's largest supplier of pangasius fish, is already an investor in Hong Kong cell-seafood start-up Avant Meats.
Existing investors also contributed to the bridge round, including alternative-protein venture fund and accelerator Big Idea Ventures and Henry Soesanto, the CEO of Monde Nissin in the Philippines, which owns UK meat-free company Quorn Foods.
Toyo Seikan Group Holdings, a Japan-based packaging and manufacturing company, and VC firm Mindshift Capital in the UAE, also participated, along with Twynam Investments in Australia and The Alexander Payne Living Trust.
In 2020, Shiok Meats secured $12.6m in a Series A investment round from a group of investors spread across Asia, Europe and the US, building on $4.6m of seed funding the prior year.
Just Food Guide: Leading the charge – the companies at the cutting edge of cell-based protein product development