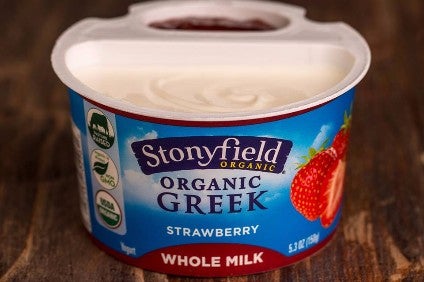 This week saw the first confirmed interest in Danone's US organic unit Stonyfield emerge, heard calls from India's food watchdog for a tax on 'junk food', seafood group Bumble Bee Foods plead guilty to price-fixing and Unilever invest in a US meal-kit firm.
China's Inner Mongolia Yili Industrial Group Co. has confirmed it is lining up a possible offer for US organic dairy business Stonyfield from French dairy giant Danone.
India's food safety regulatory body has proposed the introduction of a tax on all packaged foods containing high levels of fat, salt and sugar.
PepsiCo is making its first move into India's growing dairy market with the launch of a ready-to-drink milk product under its Quaker Oats brand.
US seafood group Bumble Bee Foods has agreed to plead guilty for its role in a conspiracy to fix the prices of shelf-stable tuna fish, such as canned and pouch tuna, in the US – and pay a US$25m criminal fine, the Department of Justice has announced.
Irish produce company Fyffes has been suspended from its membership of the Ethical Trading Initiative (ETI), the UK multi-stakeholder partnership aimed at improving conditions in agricultural and manufacturing supply chains.
Unilever has headed a round of investment into Sun Basket, the San-Francisco-based organic meal kit delivery service.
The poultry industry should reduce the use of antimicrobials for which resistance "could pose the greatest global risk", the International Poultry Council (IPC) has said in major new position statement.
Premier Foods plc, the UK group, has renewed its licence to produce and market Cadbury-branded cake and ambient dessert products, replacing a 12-month rolling deal with a five-year agreement.
PepsiCo has confirmed it is to close its manufacturing site in Peterlee in the north of England by the end of the year, with the loss of all 380 jobs.
The site, which manufactures Walkers crisps, employs 355 production workers and 25 HGV drivers.