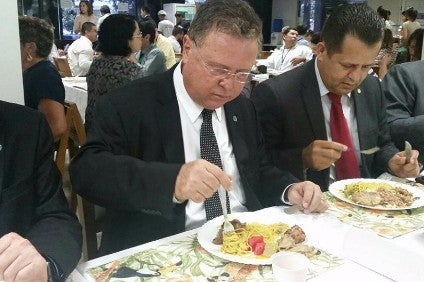 Brazil has spent the week trying to limit the damage done to the reputation of its meat sector after its police launched an investigation into the industry. In Europe, UK food manufacturers warned the sector would miss a government target to reduce sugar. In the US, General Mills was again in the spotlight over its sales results.
"I am in favour of the investigation and transparency, but I disagree with the way it was disclosed. I'm worried about the consumer and the market. On Wednesday, I left the Ministry of Agriculture, Livestock and Supply to make a surprise visit to a supermarket in Brasilia. I went … to talk to some consumers like this lady who is afraid to eat meat. I told her and the others they can trust it because our meat is of quality" – Blairo Maggi, Brazil's agriculture minister, takes to Facebook to talk up the country's meat as more markets, concerned about a probe into the sector, issued restrictions on imports.
"Industry has estimated that the trade this joint statement will facilitate could be worth in excess of AUD400m per year to our meat industry" – Barnaby Joyce, Australia's Deputy Prime Minister and Minister for Agriculture, announces the country's new deal with China on the trade in red meat and live animal exports.
"We have said consistently that a 20% sugar reduction by 2020 across all foods covered won't be technically possible or acceptable to UK consumers" – Tim Rycroft, corporate affairs director at UK trade body the Food and Drink Federation, says manufacturers will miss a voluntary target to lower the sugar in their products.
"We are planning to build one of the largest sites in the confectionery industry" – Wes Saber, the CFO of Haribo's US business, announces the German confectioner's first plant in that market.
"I really don't think that's been the primary driver of our performance this year" – General Mills chairman and CEO brushes off one analyst who asked if the US group's move to cut costs and hit its top line.
"Our nation is blessed with all the ingredients we need to achieve greater success. Yet the risk of leaving the EU and the single market means these are uncertain times, while revoking the free movement of people could have a profound impact on our food and drink industry" – Scotland's First Minister, Nicola Sturgeon, unveils a GBP10m (US$12.5m) package of extra funding to support the country's food and drink sectors.
"By acquiring BN Ranch, and bringing [founder] Bill [Niman] onto our team, we are furthering our vision to build a better food system by making high-quality, responsibly-raised meat accessible to home chefs across the country" – Matt Wadiak, the founder and COO of Blue Apron, explains why the US meal-kit service has snapped up meat supplier BN Ranch.
"The market is as competitive as ever and currency fluctuations have brought about higher input prices. It is unsurprising that this has put a margin squeeze on a lot of businesses, including our own" – Ranjit Singh, the CEO of 2 Sisters Food Group, reflects on the UK company's second-quarter results, which included a loss for the period.
"Our ingredients business maintained good margins. We made the most of our manufacturing capacity, and the flexibility it provides to match production to demand and secure the best returns for our farmers' milk. We increased volumes and value across our consumer and foodservice business" – Fonterra chief executive Theo Spierings says the dairy giant's first-half results show its strategy of moving more volume into higher value products is working.
"In the case of the smallholder farmer our challenge is to increase productivity on existing land so that they don't need to continue to encroach into forestlands to grow more cocoa to make more income" – in an interview with just-food, Richard Scobey, president of cocoa industry body the World Cocoa Foundation (WCF), highlights what is facing the cocoa and chocolate companies that have pledged to end deforestation and forest degradation in the cocoa supply chain.