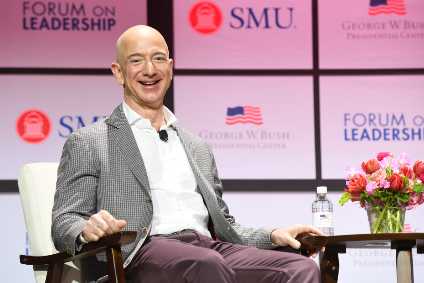 Global retail behemoth Amazon has said food and agriculture will be one of the sectors of focus for its new Climate Pledge Fund, which has an initial investment pot of US$2bn.
Amazon plans to invest in companies building products, services, and technologies to "decarbonise the economy and protect the planet".
Last year, the company and NGO Global Optimism co-founded The Climate Pledge, a commitment to reach a goal of the 2015 UN Paris Agreement ten years early and be net zero carbon by 2040, instead of 2050. UK-based consumer goods group Reckitt Benckiser is a recent signatory to the pledge.
Amazon says its "total carbon footprint" was 51.2 million metric tons of CO2 in 2019, compared to 44.4 million metric tons in 2018.
The retailer also measures its "carbon intensity" to "benchmark our performance year over year, as it provides a relative comparison between annual performance metrics regardless of other changes to our business". Amazon's 2019 carbon intensity was 122.8 grams of CO2e per GMS, down 5% year over year from 128.9 grams of CO2e per dollar in 2018.
The company's Climate Pledge Fund will invest in companies in industries including transportation and logistics, energy generation and food and agriculture. Over time, Amazon will also look for opportunities to involve other Climate Pledge signatories in the investments made by the find.
Jeff Bezos, the founder and CEO of Amazon, said: "The Climate Pledge Fund will look to invest in the visionary entrepreneurs and innovators who are building products and services to help companies reduce their carbon impact and operate more sustainably.
"Companies from around the world of all sizes and stages will be considered, from pre-product start-ups to well-established enterprises. Each prospective investment will be judged on its potential to accelerate the path to zero carbon and help protect the planet for future generations."
Aside from food and agriculture, the fund will invest in companies in industries including transportation and logistics, energy generation, storage and utilisation and manufacturing and materials.
Bezos has made investments in plant-based food start-ups in recent quarters, including NotCo, a plant-based food manufacturer in Chile, which the billionaire backed through his family office.
Meanwhile, Breakthrough Energy Ventures, a group of investors including Bezos, Bill Gates and Alibaba chairman Jack Ma, has invested in Biomilq, a fledgling US firm producing cell-cultured breastmilk, and Nature's Fynd, a US firm developing alternative meat products using protein derived from microbes discovered in the "geothermal springs of Yellowstone's ancient volcano".