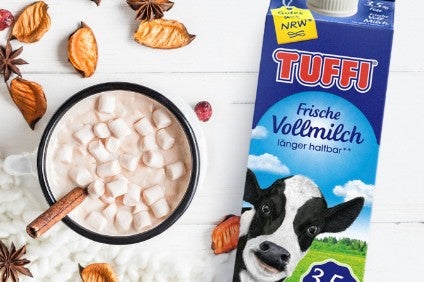 Dutch dairy giant Frieslandcampina plans to eliminate 195 jobs across two plants in Germany as part of a business transformation launched two years ago.
The owner of the Landliebe and Tuffi dairy brands marketed in Germany said the job cuts at its Heilbronn and Cologne facilities are part of a cost-cutting drive associated with scaling back production of "unprofitable products".
FrieslandCampina added it has accelerated its transformation process rolled out in 2018 due to the "direct and indirect impact of the coronavirus pandemic". Despite the job losses, the Amersfoort-headquartered cooperative plans to invest in the two plants as it seeks to put weight behind "growth categories whilst structurally reducing costs".
"Germany is an important, strategic home market for FrieslandCampina," Jan Kruise, the managing director for Germany, said in a statement. "This year we have achieved significant revenue growth of 7% with our core brands Landliebe, Chocomel , Valess, Tuffi and Holland Master. This is the result of the commercial strategy that we successfully launched two years ago, and that we are now going to accelerate.
"We do not take such steps lightly but the accelerated implementation of our strategy is necessary in the current situation to tap into new growth potential and to achieve sustainable growth in the market."
The company said works council have been informed of the job plans and it will support the affected workers with finding new employment.
FrieslandCampina announced in 2017 it would close its site in Gütersloh, Germany, due to over capacity in some product areas and transfer production to the Cologne and Heilbronn plants, as well as a factory in Maasdam in the Netherlands.