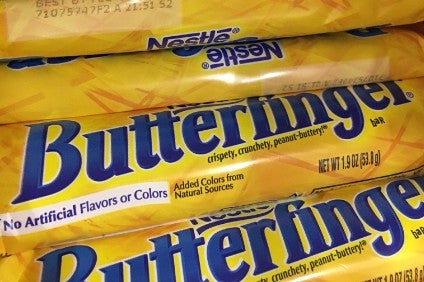 Confectionery giants Hershey and Ferrero have reportedly submitted final bids for the up-for-sale Nestle US candy business.
Quoting sources 'familiar with the situation', CNBC said US-based Hershey and Italy's Ferrero submitted bids on Friday (6 January) for the business, which is expected to cost between US$2bn and $2.5bn to buy.
The sources said Ferrero, which makes Nutella chocolate spread and Ferrero Rocher and Kinder chocolates, appears to be the front-runner because it is more willing than Hershey to be aggressive on price.
This chimes with newspaper reports from the US in late December that suggested Ferrero had emerged as the most likely buyer.
Just before Christmas, Nestle told just-food it expects the sale of its US confectionery arm to be agreed in the first three months of this year.
It revealed back in June it was exploring strategic options, including a possible sale, for its US confectionery arm, which includes brands such as Butterfinger and Baby Ruth.
Those said to have been interested have included many of the world's largest confectionery firms as well as private-equity houses.
Sources quoted by CNBC suggested it could take another week or so before a winner is chosen.
Both Hershey and Ferrero have been in acquisitive mood of late.
Hershey last month announced its $1.6bn acquisition of SkinnyPop parent Amplify Snack Brands while Ferrero paid around $1bn to buy Ferrera Candy Company.
Observers suggested the Ferrera deal gave Ferrero a platform to grow in the US.
CNBC said Ferrero, Hershey and Nestle all declined to comment on the story.
When contacted by just-food, a spokesperson for Nestle said the company does not comment on market rumours or speculation.
Jon Cox, an analyst covering Nestle for French finance house Kepler Cheuvreux, believes the disposal of the Swiss giant's US confectionery assets could lead to a transaction covering its entire candy business.
"We are surprised that Hershey is involved in the process given possible competition concerns. Indeed, we suspect that a disposal of the North American business could pave the way for a joint venture with Hershey involving the rest of Nestle's confectionery business given structural pressure on chocolate and Nestle's sub-scale business in many parts of the world."