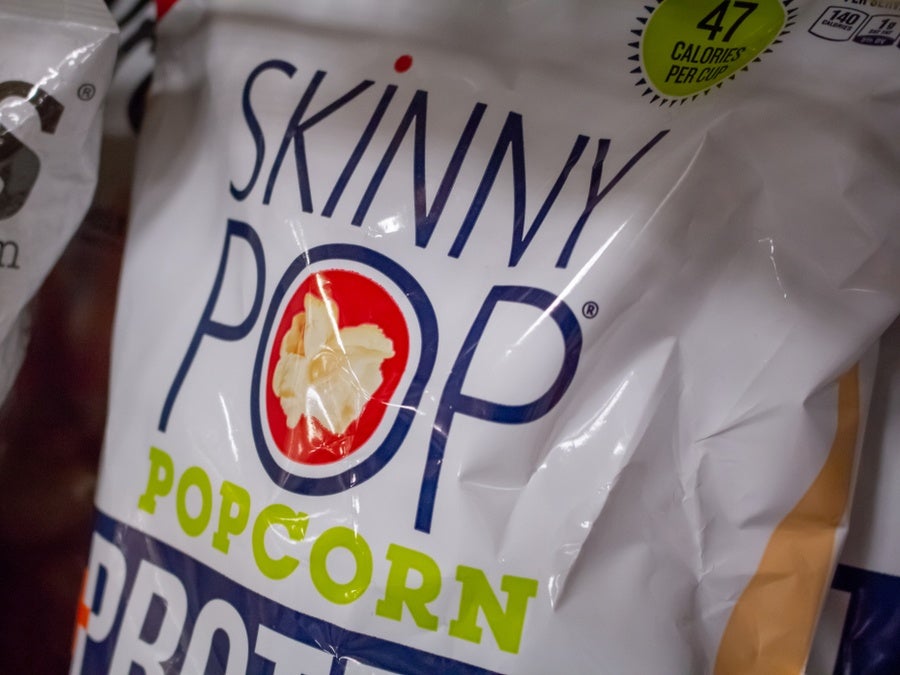 Hershey has acquired two popcorn manufacturing plants from Weaver Popcorn Manufacturing as the US giant looks to tap into "increasing" consumer demand for snacks.
The Reese's Peanut Butter Cups brand owner has purchased Weaver's operations in Bethlehem, Pennsylvania, and part of its operations in Whitestown, Indiana.
Hershey said the deal would allow it to strengthen its SkinnyPop popcorn brand, more than half of which is currently co-manufactured by Weaver, by "strengthening internal supply chain capabilities".
It will not take on any of Weaver's other partners or non-Hershey co-manufacturing work, a spokesperson confirmed.
It follows Hershey's investment in the Jonas Brothers' brand Rob's Backstage Popcorn earlier this month.
Hershey also suggested its savoury snacks portfolio would benefit from the move, adding: "As the company continues to elevate its position as a leading snacking powerhouse, these new facilities will also enable more flexibility, agility and resiliency across its growing salty snacks supply chain network."
Kristen Riggs, president of Hershey's salty snacks division, said an upturn in consumer snacking has contributed to "tremendous growth".
Jason Reiman, The Hershey Company chief supply chain officer, added: "In response to consumer snacking trends, we continue to evolve our supply chain, making significant investments in the size, scale and capabilities of our network, improving resiliency while we continue to strengthen existing supplier relationships.
"Our acquisition of Weaver's two facilities is a perfect example of how we're investing to bring added capacity and strength across our portfolio of brands well into the future."
Weaver operates three independent entities, including Weaver Popcorn Manufacturing. CEO Jason Kashman said: "Hershey is acquiring two best-in-class popcorn manufacturing operations that will enable continued growth in volume and quality, with teams at each location that have an unrivaled expertise."
The companies did not specify whether there would be any changes to staff at either site. When asked about potential staffing changes a Hershey spokesperson said: "Integration planning won't begin until after closing… At this point we are focused on popcorn production at these facilities."
Hershey bought SkinnyPop from Amplify Snack for $1.6bn in 2017 and has been building its snacking portfolio through a series of M&A and investments.
In April 2022, the company invested in Irish snack bar maker Fulfil. It has set up a new North America venture with that company's founder Barry Connolly. Hershey is a minority shareholder in the business.
In 2021, Hershey expanded its salty snacks manufacturing capabilities with the acquisition of two domestic suppliers of pretzels in 2021 – Dot's Homestyle Pretzels and Pretzels Inc. – for a combined $1.2bn.