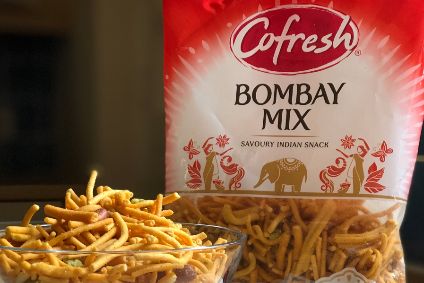 Cofresh, an India-style snacks maker, has solidified its presence in the US market via a distribution deal just days after the UK-based firm was acquired by a new owner.
Trading as Cofresh Snack Foods, the business has formed an agreement with House of Spices (India) in New York to distribute the company's products across the US in south Asian food stores.
Featuring in this month's launch are Cofresh's Bombay Mix, its spicy potato-based Grills chips in Peri Peri, Jalapeno and Chilli and Lemon flavours, Asian Mixes, Chakri Rice Sticks and Sev Mamra with Peanuts.
Rahin Kidy, the director of international sales at Cofresh, said in a statement today (7 July): "Growing consumer demand for bolder and spicier flavour combinations continues to drive the popularity of our snacks but they have previously only been available very sporadically in the US. We're delighted to now have this opportunity, in proud partnership with House of Spices, to introduce our great range of traditional and modern Indian snacks to US consumers."
Based in the city of Leicester in the English Midlands, Cofresh was last week purchased by Vibrant Foods, a new business recently created by London-based Exponent Private Equity following the acquisition of two other ethnic food producers, family-owned TRS Foods and East End Foods.
Cofresh also operates Eat Real, an allergen-free snacks brand, which got its own manufacturing facility last year in the town of Nuneaton, located in the county of Warwickshire. Founders Dinesh Patel and his wife Savita will become minority investors in Vibrant Foods.