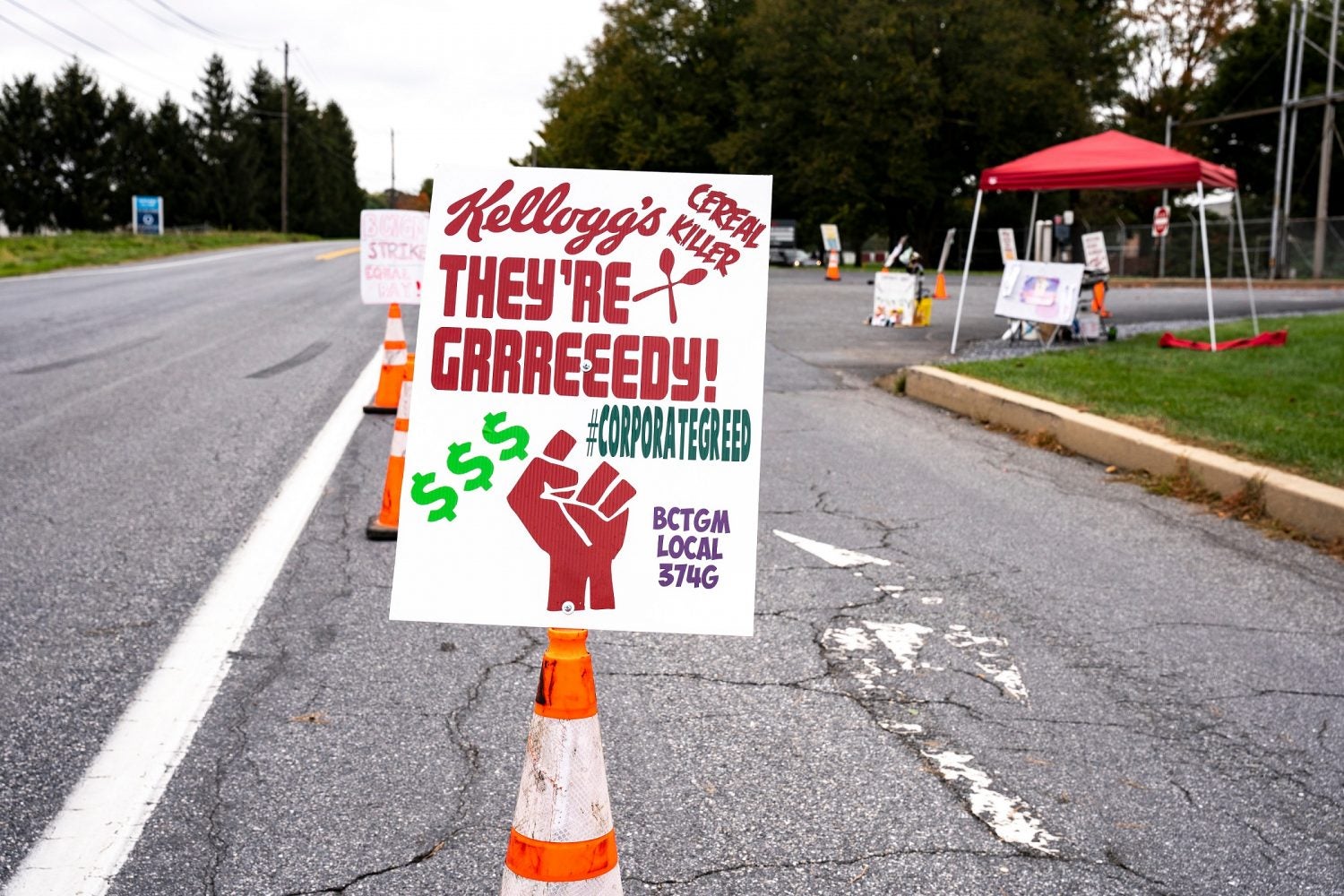 Kellogg has reached a "tentative" agreement with the striking workers' union ahead of a weekend vote on the US cereal giant's new offer.
If approved on Sunday (5 December), the proposed deal will bring an end to almost two months of industrial action at four of the Corn Flakes brand owner's plants in Nebraska, Michigan, Pennsylvania and Tennessee.
Negotiations between Kellogg and the Bakery, Confectionery, Tobacco Workers and Grain Millers International Union (BCTGM) began on 8 September over pay, health and retirement benefits, followed by a series of offers and rejections.
Kellogg said in a statement it expects to know the 1,400 staff vote results for the new five-year labour contracts "early" next week.
"Among other things, the tentative agreement includes an accelerated, defined path to legacy wages and benefits for transitional employees, and wage increases and enhanced benefits for all," the Special K maker said.
It is offering a 3% wage increase for all legacy workers and cost-of-living adjustments (COLA) "thereafter", while so-called transitional employees will be offered "substantial increases" depending on the number of years served.
Employees who have worked at Kellogg for four years or more will "graduate to legacy wages and benefits", the Fruit Loops owner said.
Kellogg revealed last week that talks would resume on Monday and Tuesday of this week after the company proposed to bring in temporary and permanent staff replacements as the strike dragged on.
Anthony Shelton, the Union's international president, responded in a statement: "Late last night, BCTGM negotiators reached a tentative agreement with Kellogg on a new contract. In the coming days, the local union officers on the bargaining committee will present the tentative agreement to their respective memberships who will then vote on the agreement on Sunday, December 5, at destinations determined by each local union.
"I want to thank and commend all of the members of the bargaining committee for their many, many hours of extremely hard work to reach this tentative agreement. As always in our Union, the members will have the final say on the contract."