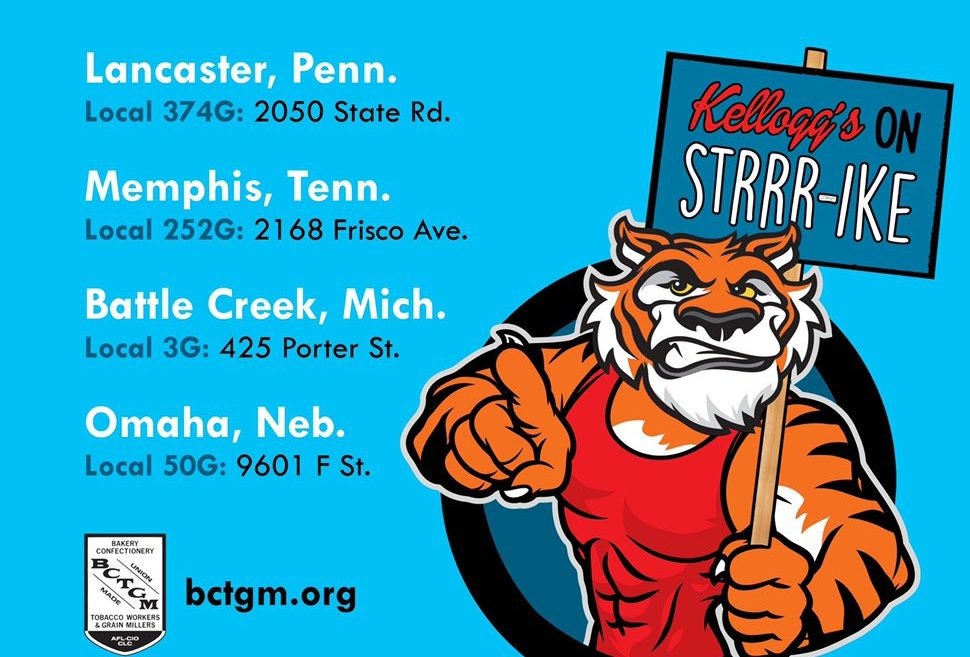 Kellogg workers at four of the US cereal giant's plants have resorted to strike action after failing to reach an agreement on pay, health and retirement benefits.
Negotiations between the Rice Krispies and Corn Flakes maker and the staff union have been ongoing since 8 September, characterised by new 'master labour contract' proposals by Kellogg and rejections by the workers' representative.
The Bakery, Confectionery, Tobacco Workers and Grain Millers International Union (BCTGM) gave notice of the planned strike action on 1 October. On 5 October, 1,400 employees walked out at the company's ready-to-eat cereal (RTEC) plants in Michigan, Nebraska, Pennsylvania and Tennessee.
A Kellogg spokesperson said in a statement: "We are disappointed by the union's decision to strike. Kellogg provides compensation and benefits for our US RTEC employees that are among the industry's best. Our offer includes increases to pay and benefits for our employees, while helping us meet the challenges of the changing cereal business.
"The majority of employees working under this master contract enjoy a CPG industry-leading level of pay and benefits, which include above-market wages and pension or 401K. The average 2020 earnings for the majority of RTEC employees was US$120,000."
BCTGM president Anthony Shelton said Kellogg has threatened to "send additional jobs to Mexico if workers do not accept outrageous proposals that take away protections that workers have had for decades", as he highlighted the plight of employees toiling through the Covid-19 pandemic.
Bahner contested that claim. "The company has not proposed moving any RTEC volume or jobs outside of the US as part of these negotiations," he said.
"Most employees under this contract have unparalleled, no-cost comprehensive health insurance, while less senior employees have the same health insurance as our salaried employees, but with much lower employee contributions.
"Our proposals not only maintain these industry-leading level of pay and benefits, but offer significant increases in wages, benefits and retirement."
The union's Shelton said it will support the employees "for as long as it takes to force Kellogg to negotiate a fair contract that rewards them for their hard work and dedication and protects the future of all Kellogg workers.
"Kellogg's response to these loyal, hardworking employees has been to demand these workers give up quality health care, retirement benefits, and holiday and vacation pay."
Bahner added: "We remain committed to achieving a fair and competitive contract that recognises the important work of our employees and helps ensure the long-term success of our plants and the company. We remain ready, willing and able to continue negotiations and hope we can reach an agreement soon."
Kellogg workers are not alone in the US food and drink industry sector demanding better pay and conditions. Staff at US plants of confectionery major Mondelez International completed negotiations in September after taking strike action.
PepsiCo resolved a dispute with staff over pay and working conditions at its Frito-Lay snacks plant in Kansas during the summer.