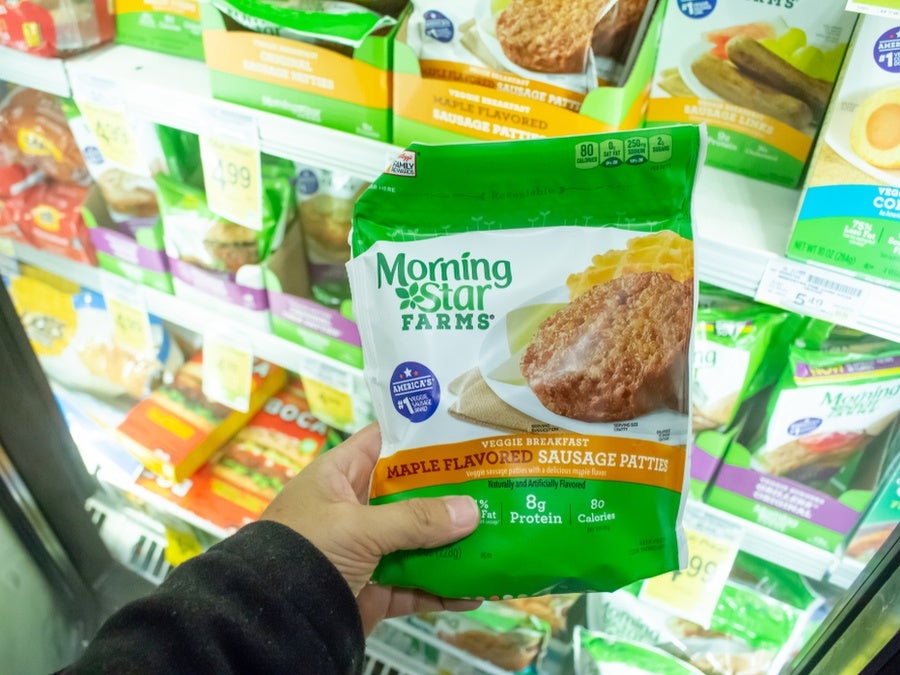 US food giant Kellogg has decided to retain its plant-based business, U-turning on plans to spin it off, citing the category's "long-term growth prospects".
The plant-based arm represents 2% of the company's net sales and was due to be siphoned off into an independent arm called Plant Co as part of an overhaul of the entire company.
In June last year, Kellogg announced it was separating itself into three independent companies in a major restructuring plan.
But in the company's fourth-quarter results, released today, the company, which owns meat-alternative brand MorningStar Farms, said it was no longer planning to make the plant-based spin.
The decision comes as the plant-based market in the US has started to slow, with sales down following the pandemic boom.
In its result statement Kellogg said: "The company continues to work towards its previously announced spin-off of its North America cereal business by year-end. After exploring strategic options, the company has decided to retain its plant-based business, which represents 2% of net sales and offers strong long-term growth prospects."
Kellogg recorded 8% growth in net sales in the year ending 31 December, rising to US$15.3bn. It put this growth down to "revenue growth management actions" and "momentum in snacks and emerging markets", as well as continued recovery in the North America cereal category following US strikes and a fire in Memphis in 2021.
Reported operating profit was down 6.7% to $1.6bn due to "unfavorable mark-to-market impacts", and "up-front charges" relating to the proposed business split. On an adjusted basis, currency-neutral operating profit was up 7% however, to US$1.9bn.
Net income stood at US$960m for the year, compared to US$1.5bn in 2021.
Last June, Kellogg announced it was splitting its business into three, spinning off its North America cereal and plant-based businesses. The two entities collectively represented approximately of 20% Kellogg's net sales in 2021.
At the time Kellogg even suggested it was considering selling its plant-based business further down the line.
Remaining operations were to focus on the Pringles maker's global snacking assets, as well as on its international cereal and noodles operations and its North America frozen-breakfast assets.
The plan was approved by the company's board of directors and was expected to be completed by the end of 2023.
"One way to look at the move was Kellogg was letting its faster-growing snacking and international units off the leash while giving its mature and problem-hit North American cereal business the focus it needs to recover," Just Drinks reporter Andy Coyne wrote at the time.
Kellogg was keen to explain the move in terms of it being an extension of an ongoing transformation process.
Steve Cahillane, Kellogg's chairman and CEO, said the businesses all had "significant stand-alone potential, and an enhanced focus will enable them to better direct their resources toward their distinct strategic priorities".
But analysts who follow Kellogg see the initiative as a search for even greater growth in international and snacking – and to separate out those assets from the laggard that is the North American cereal business.
Patience – and innovation – needed as US plant-based meat market slows