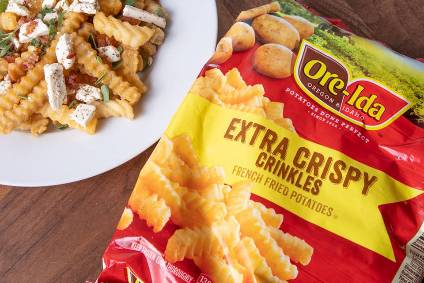 Kraft Heinz has reportedly hired bankers to explore a sale of its frozen potato brand just days after announcing a change at the helm of the US food giant.

The owner of Heinz ketchup and Philadelphia cheese has engaged investment bank Evercore Partners to prepare a potential sale of the Ore-Ida brand, according to sources quoted by CNBC, with a deal expected to fetch around US$1.5bn to $2bn. The process is in the early stages, the sources cited by the broadcaster added.
A deal may also encompass Kraft Heinz's entire frozen food business, including brands such as Smart Ones and Devour, should there be enough interest from potential buyers, the sources said.
US-based frozen food supplier Conagra Brands, which expanded its portfolio with the acquisition of peer Pinnacle Foods last year, could be among the interested parties, according to the sources, along with frozen potato producer Lamb Weston.
Earlier this week, it was announced that chief executive Bernardo Hees is set to leave after five years in charge of Kraft Heinz since the merger between H.J. Heinz and Kraft Foods Group instigated by investment fund Berkshire Hathaway, owned by millionaire investor Warren Buffet, and Brazil-based 3G Capital.
Miguel Patricio, who was most recently chief marketing officer at brewing giant Anheuser-Busch InBev, is due to take the CEO seat at Kraft Heinz on 1 July.
The change at the top follows a Kraft Heinz announcement of a huge fourth-quarter loss in February, along with a $15.4bn writedown on certain assets, including the Kraft and Oscar Mayer brands. At the same time, it was also revealed the US Securities and Exchange Commission issued a subpoena last October related to accounting and procurement practises. The news prompted an immediate sell-off in the stock.
Kraft Heinz is in the midst of a business review as it seeks to pay down debt, having based its strategy under Hees predominately on M&A and cost-cutting measures to fund such acquisitions. The company is also facing increasing competition from private label, particularly in the US, along with the emergence of insurgent brands.
The incoming Patricio has already indicated he will step away from cost-cutting in favour of focusing resources on improving Kraft Heinz's speed, organic growth, brand building and making the company more consumer-focused.
CNBC has also previously reported, again quoting sources, that Kraft Heinz is considering offloading its Maxwell House coffee brand and the Breakstone's cottage cheese and sour cream business.
CNBC's sources quoted on Ore-Ida deal requested anonymity because the information is confidential, while a spokesperson at Nasdaq-listed Kraft Heinz declined to provide comment to the news service.