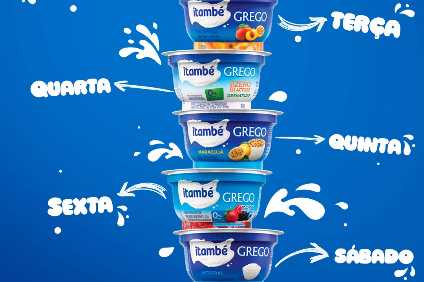 Lactalis has announced it has reached an agreement with Mexican peer Groupe Lala that means the French dairy giant can complete its acquisition of Brazilian dairy business Itambé Alimentos.
The deal was first mooted in December 2017 but has been bogged down in legal proceedings initiated by Lala.
But in a statement issued yesterday (10 July), it was announced the two companies had reached an agreement and the acquisition could proceed.
Lactalis said: "With the acquisition of Itambé in Brazil, the group will benefit from the expertise acquired by the company over its 70 years of existence and a perfect complementarity of products and geographies across 19 production sites and 8,500 employees. Grupo LALA and Groupe Lactalis successfully reached an agreement related to prior legal proceedings initiated by Lala."
The planned acquisition was complicated by claims the purchase contravened a former shareholders' agreement in Itambé, Brazil's largest dairy exporter.

Until September 2017, Itambé was co-owned by the Cooperative Central dos Produtores Rurais de Minas Gerais (CCPR) and Brazilian dairy business Vigor Alimentos. However, that month, Vigor was sold to Lala and CCPR exercised an option to buy its co-investor's shares in Itambé. Lactalis' purchase was then to be conducted through CCPR.
Lala alleged the negotiations broke that shareholders' agreement in Itambé and initiated legal proceedings that left the proposed deal in limbo.
But the newly issued statement revealed that Lactalis and Lala have come to terms. It said the agreement stipulates "all judicial and arbitral procedures open to date between both companies have been definitively and irrevocably terminated for each party" with both sides responsible for their own costs.
It also stated the contractual relationship in Mexico between Lactalis subsidiary Parmalat and Grupo Lala has been terminated.
News agency Reuters said Lactalis will now process 2.3bn litres of milk a year in Brazil and expects its revenue in the country to reach US$2.13bn.
Lactalis, owner of brands such as the aforementioned Parmalat, Galbani and Président, agreed to pay around $600m to acquire Itambé in December 2017.
French newspaper Les Echos, meanwhile, reported the Itambé deal will see Brazil become Lactalis' fifth-largest market.
It is the second deal in a matter of days for Lactalis. On Monday it announced it had bought Ehrmann Commonwealth Dairy, the US yogurt business of Germany-based Ehrmann.