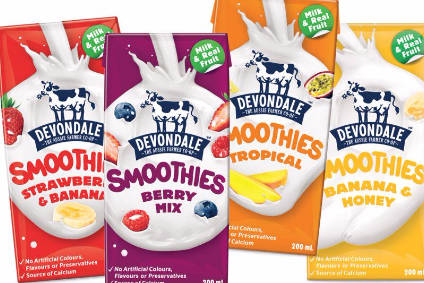 Australian dairy cooperative Murray Goulburn today (2 May) said it will close three processing facilities with the loss of around 360 jobs as part of a raft of cost-cutting measures to combat the effect of falling milk supplies.
The dairy processor said the move was in response to a "review of its assets and distribution network", which was launched after the embattled group reported a loss of AUD32m (US$24m) for the first six months of its financial year.
The group confirmed it will take a hit of AUD410m from writedowns and restructuring initiatives.
Murray Goulburn will also forgive debts owed by farmers under its Milk Supply Support Package (MSSP).
The closure of Murray Goulburn's Rochester and Kiewa facilities in northern Victoria "will occur in a staged manner and are expected to commence in August 2017", the group said. A third facility, in Edith Creek in northern Tasmania, will be closed by the second quarter of Murray Goulburn's fiscal 2018 year.
Murray Goulburn said it expects AUD60m of capital expenditure to enable the closures, "which will be largely funded by maintenance capital expenditure no longer required at the sites".
Once completed, the closures "are expected to deliver an annualised net financial benefit of AUD40m-50m" the group said. "MG anticipates a net financial benefit in FY18 from the closures of approximately AUD15m."
CEO Ari Mervis said: "These have been difficult decisions to make, however they are necessary steps on the journey to ensure the future strength and competitiveness of Murray Goulburn. A strong MG is of fundamental importance to the Australian dairy industry and these decisions are necessary to lay the foundation for the future."
The group added it had suspended dividend payments with immediate effect including the final FY17 dividend and "will consider its dividend payout ratio and provide an update on progress at an appropriate time".
On Friday, Australia's competition watchdog launched court proceedings against Murray Goulburn – claiming the cooperative "engaged in unconscionable conduct and made false or misleading representations" that "adversely impacted" many farmers.
The move by the Australian Competition and Consumer Commission (ACCC) follows a probe into the country's dairy industry, triggered last year by the federal government, after dairy processors including Murray Goulburn and Fonterra moved to cut their farmgate milk prices by as much as 20%.