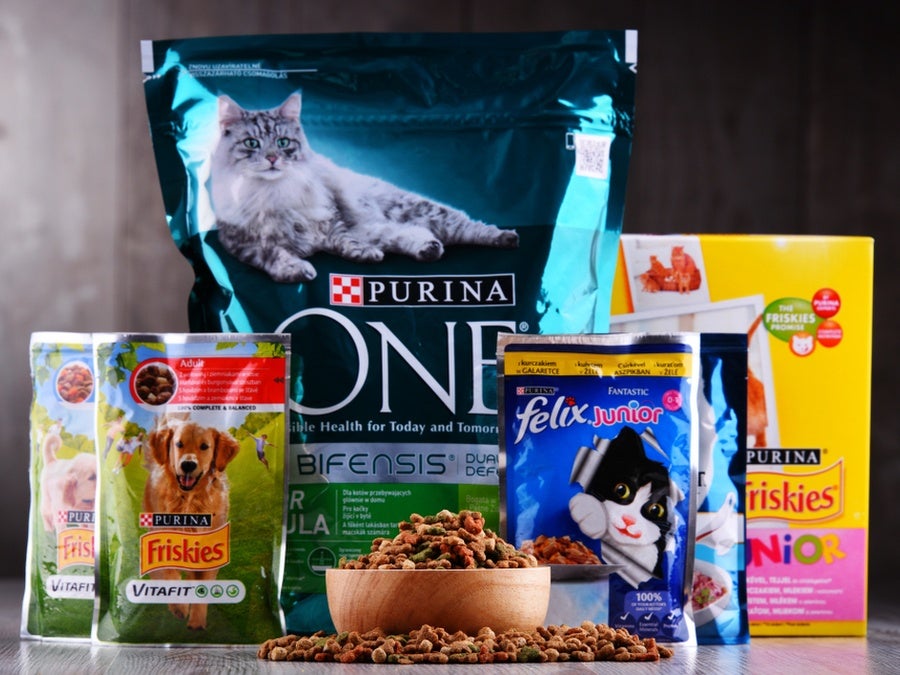 Nestlé is "not convinced" by the economics of human-grade pet food but is closely monitoring the segment, its CFO said.
The Purina brand owner said human-grade food – a term with no legal definition yet, referring to a product with ingredients that all edible for humans – does present a market opportunity.
However, CFO François-Xavier Roger said he is "not totally convinced by the economics" and profitability of the "sub-segment", which forms 2% of the overall pet-food category.
Speaking at the Consumer Analyst Group of New York (CAGNY) investor conference on Friday (24 February), Roger said: "Being a leader on the category, we have a duty to look at anything that's happening and developing in the space.
"As of today, we are not totally convinced by the economics of some of these sub-segments. It's a little bit early so we prefer to continue reviewing and let's wait and see if we believe that there is a case for profitable growth there as well.
"The market opportunity is there. Could we get a good return out of it? We are not totally, totally sure at this stage, but it's something that we will continue monitoring on a permanent basis."
Purina PetCare Company CEO Nina Leigh Krueger said the differences between human food and specially developed pet food could hold back the progress of human-grade food.
"It's definitely an area that we're looking into," she said. "But when we look at food from a Purina perspective, we look at function and form. And it's really important to remember that humans get their nutrition from thousands of products and pet owners maybe feed one or two [products] to get 100% of their [pets'] nutrients.
"We definitely think it's a space where growth will be but we're taking our time and making sure that we enter it in the right way."
Growth potential in emerging markets
Laying out Nestlé's plans to grow its pet-food business, Roger also said there is a "large opportunity" in China as pet ownership increases.
He said emerging markets were "very attractive" as more pet owners begin to feed their animals processed food rather than scraps. In emerging markets, the calorific coverage – the percentage of consumers feeding pets shop-bought food – is almost half that of developed markets.
In the past decade, the calorie coverage rate increased by seven percentage points for emerging markets. Roger explained: "One percentage point [increase in calorie coverage] for emerging markets means US$1bn of additional market value. And we obviously expect to get a significant portion of that so very, very attractive."
Last year, Indian pet-food startup Henlo spoke to Just Food about how the idea – and related household expenditure – of buying pet food is relatively new in the market, with around 93% of Indian pet owners feeding their animals scraps and leftovers.
Also presenting at the conference last week, pet-food producer General Mills cited the so-called humanisation trend in animals as a key growth marker. CEO Jeff Harmening predicted $2bn of growth potential in its US pet-food brand Blue Buffalo as consumer demand for "premium", "natural" food and humanistion of pets drives growth in both dog and cat food.
Krueger likewise cited consumer demand for healthier, more "premium" pet foods as a key growth area for Nestlé. She said: "Consumers are more cognisant of the nutrition and science that they're putting into their bodies and that's translating exactly into the pet foods that they're feeding. So we've seen a large increase in science-based nutrition brands.
"We know that consumers are looking to mirror, in their pet food, the nutrition and lifestyle that they have in their own lives. One of the true competitive advantages that Purina has is we can share science across human and pet."
In its annual results, released earlier this month, Nestlé's predicted organic growth of 6-8% for 2023 suggested the food giant would raise its prices again this year. The Gourmet pet-food owner raised prices in 2022 by less than some of its international peers, and CEO Mark Schneider insisted that Nestlé "didn't see any volume impact at all", unlike some of its global counterparts.
Krueger said by end of 2023 Nestlé predicts pet-food brands Purina One, Pro Plan, Friskies and Fancy Feast will all be worth $2bn.
"Humanisation" in pet food bounds along amid premium-led growth