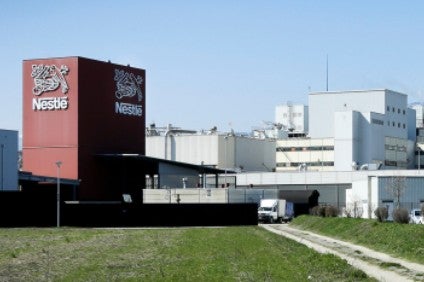 Nestle is to buy the rest of the shares in Aimmune Therapeutics, an allergy-treatment firm in which the world's largest food maker had been an investor since 2016.
California-based Aimmune is a company developing and commercialising treatments for potentially life-threatening food allergies. Nestle first invested in Aimmune four years ago and, after further share purchases, owned just over 25% of the business until yesterday's (31 August) announcement.
"This transaction brings together Nestlé's nutritional science leadership with one of the most innovative companies in food allergy treatment," Greg Behar, the CEO of the Swiss giant's Nestlé Health Science division, said. "Together we will be able to offer a wide range of solutions that can transform the lives of people suffering from food allergies around the world."
In January, the US Food and Drug Administration gave its approval for Palforzia, a treatment developed by Aimmune for peanut allergies.
Delivering Palforzia, the world's first treatment for food allergy, has been a game-changing proposition in the bio-pharmaceutical industry and is transformative for the lives of millions of people living with potentially life-threatening peanut allergy," Aimmune MD and CEO Jayson Dallas said yesterday. "This acquisition ensures a level of support for Palforzia and our pipeline that will further enhance their potential for patients around the world living with food allergies."
Set up in 2011, Nestlé Health Science is a division the KitKat and Maggi owner says "works to empower healthier lives through nutrition", housing "an extensive portfolio of science-based medical nutrition and consumer health products".
The company does not disclose the sales of the unit, which is housed alongside its infant-formula products under a broader "Nutrition and Health Science" business. In 2019, that business generated CHF15bn (US$16.59bn) in sales. Nestlé's group sales were CHF92.6bn. In Nestlé's annual report, the company did disclose its Health Science unit saw its sales rise at "a high single-digit rate".
Under the terms of the deal with Aimmune, Nestlé will pay $34.50 per share in cash, which represents a 174% premium to Aimmune's closing share price on 28 August. The price gives Aimmune a total enterprise value, including the shares of the US firm held by Nestlé, of approximately $2.6bn.
Behar told Reuters Nestlé's previous investments in Aimmune had seen it pay $473m and said the company was making a cash payment of just under $2bn for the rest of the shares.
In June, Nestlé struck a deal to buy a majority stake in US-based nutrition business Vital Proteins, which makes supplements and food and drink products using collagen.
The same week, the company announced it had sold its Buitoni pasta brand in North America to private-equity firm Brynwood Partners.