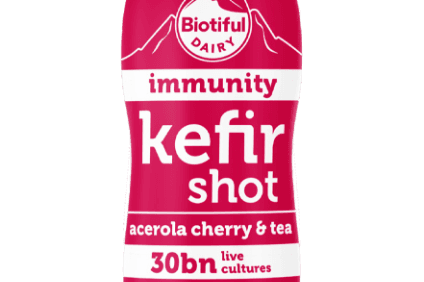 This week's batch of new products that caught the eye include home-made yogurt kits from Danone and General Mills launching a version of its Fibre One Protein bars in the US.
Bio-tiful launches kefir 'shots'
Bio-tiful Dairy, the London-based kefir manufacturer, has rolled out drinkable 'shots' in major UK retailers.
Bio-tiful Kefir Shot are made by fermenting British milk with live Kefir grains, and are "naturally high" in protein and calcium. They contain 30 billion active cultures, with no added sugar and are a source of vitamin B12, which "contributes to the normal functioning of the immune system", Bio-tiful says.
The shots come in three flavours – Original, Peach & Turmeric, Acerola Cherry & Tea, and Coconut & Spirulina – and are now available in single format or a multi-pack of four in Sainsbury's, Morrisons and Waitrose.
Founder Natasha Bowes said: "We're absolutely delighted to be adding a 'shot' range to our Kefir offering. Our new range of Kefir Shots not only taste incredible, but offer a delicious and convenient way to get the natural immunity support into your daily routine."
The shots retail at a GBP1.00 (US$1.29) for single 100ml bottles and GBP2.95 for the four-pack.
Dr. Praeger's Sensible Foods chills out
The family-owned US frozen-food group has entered the chilled-foods category, launching two veggie burgers to be sold in the refrigerated aisle.
The Classic Veggie Burger and The Chipotle Black Bean Veggie Burger have been developed to target demand for "traditional veggie burgers that look and taste like vegetables", CEO Larry Praeger said.
Dr. Praeger's Refrigerated Burgers are available at select Walmart stores in packs of two at US$4.98.
Calbee broadens Seabrook range
The Japanese giant, which acquired Seabrook Crisps in 2018, has taken the UK brand into a new area, a line of "restaurant-inspired" snacks.
Loaded Fries have been developed with "street food and contemporary restaurants" in mind, Jon Wood, commercial director at Calbee's UK arm, said.
The first branded product to be launched since the takeover comes in two flavours – Cheese & Bacon and Chilli Heat.
The snacks, made at Calbee's plant in Deeside in Wales, will be available in a six-bag multipack, a 130g sharing bag and an 80g price-marked pack (sold at GBP1.00 (US$1.30)).
Wood said: "We know from data that snacking will continue to perform well throughout this period as consumers are seeking products that are comforting and familiar with many turning to trusted brands."
Popchips dialling down on healthier snacks in US
More Popchips products are hitting the market in the US, with local brand-owner Velocity Snack Brands adding two lines to the range.
Popchips Grain Free uses cassava root to make what the company calls "a light, airy snackable chip", sold in two flavours – sea salt and cajun honey.
VSB has also launched Popchips Corn Chips, which it said are "air popped to achieve 50% less fat than fried corn chips". The line is available in a Perfectly Salted flavour "with future flavour iterations to come".
The US rights to Popchips were acquired last year by local private-equity firm VMG, which used the transaction to set up VSB.
In Europe, Popchips is owned by Germany's Intersnack Group which bought the UK subsidiary Popchips Ltd. from its US parent company in 2018.
Bol Foods launches "meal replacement" shakes
The UK-based business has added to its product range with the launch of Bol Power Shakes, designed to replace meals for "busy people who don't want to compromise on taste or nutrition", founder and CEO Paul Brown says.
Six shakes have been developed – three sold as Power Brekkie Shakes (including Coconut, Almond & Chai Spice) – and three as Power Lunch Shakes, including Açai, Beets, Apple & Ginger.
Marketed as a "delicious, healthy solution to grab on the go", Bol has, given the current environment, still sought to also position the product as something that could also appeal to "time-strapped home workers".
Brown said: "As a nation, we often forego nutrition for the 'convenient choice' or skip meals altogether. Our Power Shakes provide the answer for both."
The shakes, sold in 450g glass bottles with a metal lid, are available from retailers including Sainsbury's and Planet Organic. They have a recommended retail price of GBP3.50 (US$4.54). The range will also be available direct from bolfoods.com.
BOL Power Brekkie Shake: very effectively stealing the clothes of the fresh produce industry. Time to up your marketing game! pic.twitter.com/OvYxXNh8T1

— Dr. Food (@ProfDavidHughes) October 27, 2020
US snack-bar firm Kind eyes energy segment
The US firm is targeting other energy bars the company claims contain too much sugar.
Kind, in which Mars owns a minority stake, is launching Kind Energy, a range of bars that contains oats as their "first ingredient" and which, the company says, contain "35% less sugar than the top-selling energy bar".
Citing a 2020 online study of 500 consumers, Kind said 75% of respondents eat that "top-selling energy bar" before activities like "relaxing at home, sitting at their desk, or running errands".
"Energy bars are typically higher in calories, carbohydrates and sugar and should not be eaten before being sedentary as your body won't be challenged to metabolise the energy efficiently," Stephanie Csaszar, "nutrition expert" at Kind, says. While Kind Energy has 35% less sugar than the top-selling energy bar, it should still be eaten before physical activity for this reason."
Kind Energy bars, sold in three varieties, are available at "retailers nationwide", with a suggested retail price of US$1.39-$1.69 per bar, the company added.
Danone trials make-at-home yogurt kits in France
Danone is trialling a make-at-home yogurt kit in the dairy giant's domestic market of France.
The Danone Ferments kits are available in 74 Monoprix retail stores across the country with each box containing three sachets to make 24 servings. They come in two formats, original and brewed.
Danone said it is catering to consumers confined to their homes during the pandemic, when online enquires for home-made yogurt have tripled. The kits are also intended to cut down on food waste and are part of the dairy firm's commitment to limit its environmental footprint "by reducing packaging directly at source".
The kits carry a maximum retail price of EUR3.20 (US$3.78) a box.
General Mills adds to Fibre One range in UK
The US giant is launching a Fibre One Protein product across the Atlantic.
Sold in two flavours – and in multi-packs of three – the bars will hit Tesco stores on 2 November.
"Our research found 71% of Fibre One consumers are interested in protein, but are wary of the high sugar and calorie content of protein bars currently on the market," Adrienne Burke, marketing manager for snacking at General Mills in the UK, said. "Our new range is the ideal alternative – the bars are low in sugar and calories but taste great and give the perfect protein boost, especially for the pre-and post-gym occasion."
There are 90 calories, 10g of protein and 1g of sugar per 24g bar.
The bars are sold in Caramel and Cookies & Cream flavours. The three-packs have a recommended retail price of GBP2.89. It's been more than seven years since General Mills launched a protein-enhanced version of its Fiber Ones bars in the US. The bars on sale in the US have 120 calories, 6g of protein and 2g of sugar per 33g bar.
Bimbo, Land O'Lakes team up in US
The Mexican bakery giant and the US dairy co-op have worked together to launch a product under Bimbo's Arnold, Brownberry and Oroweat brands.
Country Style Butter Bread gives what the companies called a "delicious, buttery taste to the bread aisle".
Grupo Bimbo already markets a range of breads under the Country Style sub-brand in the US already, using its Arnold, Brownberry and Oroweat brands, such as Sourdough and Oat Bran.
The new bread is "available at major retailers across the US", the companies said, for a suggested average retail price of US$4.49.
"As the largest premium bread brand in the country, we are delighted to partner with the leading branded butter, Land O Lakes, to elevate a classic pairing," Jessica Grane, marketing director, for premium and artisan bread at Bimbo Bakeries USA, said. "This strategic alliance brings America's favorite butter to the bread aisle and is sure to become a household staple."