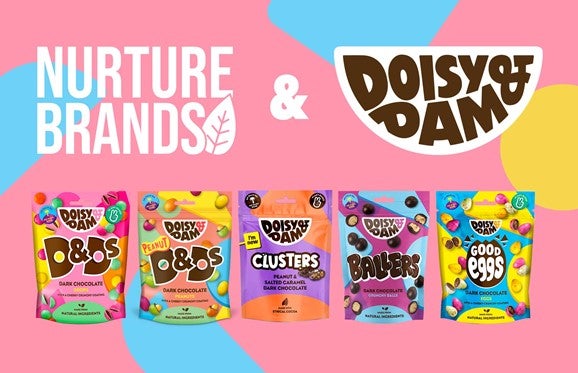 UK food-and-drinks group Nurture Brands has added confectionery producer Doisy & Dam to its fast-growing plant-based portfolio.
Doisy & Dam makes vegan, palm oil-free chocolate and is certified a B Corp. Nurture Brands acquired the London-based business out of administration. Financial terms of the deal were not disclosed.
The deal comes weeks after Nurture Brands's acquisition of pretzel company Indie Bay Snacks, and the group told Just Food it is hell-bent on growing its family of "healthy snacks and drinks".
Nurture Brands founder Ben Arbib said: "Doisy & Dam is a real disrupter because it brings the excitement and formats from the dairy milk category into plant-based chocolate.
"Doisy & Dam will broaden Nurture Brands into the confectionery sector whilst also complementing our better-for-you and sustainability-led proposition."
London-headquartered Doisy & Dam sells products including dark-chocolate honeycomb and almond "nuttercups". It was founded by Richard Wilkinson and Edward Smith in 2014. Wilkinson added: "We look forward to seeing our brand grow under Nurture Brands and wish them every success for the future."
M&A is a key part of Nurture Brands' growth strategy, managing director Adam Draper told Just Food.
Draper said the company is "looking to accumulate brands" and has ambitions of becoming the "PepsiCo of the future". He said: "We're a small company but we've got really big aspirations."
The group was formed in 2019 through the merger of two UK firms – Ape Snacks and Emily Crisps. Since then, its deal-making has included a combination with UK plant-based dairy business Rebel Kitchen and the acquisition of snack brand The Primal Pantry.
Draper added: "M&A is key to our growth. And at the moment because so many small businesses are having a tough time… a lot of them are just kind of going, 'you know what, it's just too hard. I don't know how we're going to raise the money in the future'. Or, 'we're not going quick enough'. Or they're finding it a real struggle because they're small, lovely little brands but they just don't have the resources.
"What we're saying to people now is, if you're in that position, come and have a conversation because Nurture Brands is a house of brands. We want to be the PepsiCo of the future. So we're always looking for plant-based, sustainable snacking and beverage brands to come along that fit our mould."