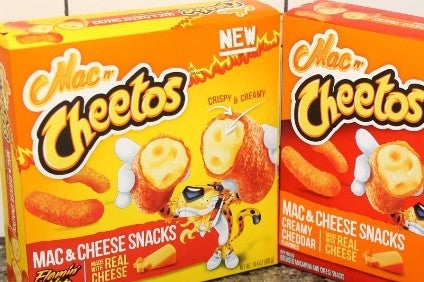 PepsiCo is investing US$70m to add another production line at a snacks manufacturing plant in the US state of Indiana.
The construction of the new line for Cheetos snacks at the facility in Frankfort – and expansion of warehousing – is expected to begin in the fourth quarter and be completed during the second quarter of 2021.
Frito-Lay currently employs 1,100 people across two sites in Frankfort. The new line will be the third to be added at the Frankfort East plant. In 2018, the company said it was installing two new lines and expanding storage space with an investment of $159m.
Of those two lines, one producing tortilla chips is expected to start manufacturing in the fourth quarter of this year. The other making Funyuns snacks is set to be ready in "early Q1 2020", the company told just-food.
PepsiCo said in a statement: "Frito-Lay has been part of the Frankfort community for more than 30 years. With the two production facilities, the combined Frankfort site makes up one of the largest Frito-Lay production operations. Frito-Lay continuously evaluates expansion projects across the US, and Frankfort specifically was selected due to its enhanced overall site capabilities."
The investment follows an announcement in May of a new facility in the Mexican city of Guanajuato to produce snacks sold under the Cheetos, Doritos and Sabritas brands.
Elsewhere, PepsiCo recently revealed it will no longer make snacks in the Philippines, including the Cheetos brand, as it focuses on its "core" beverages operations in the country.