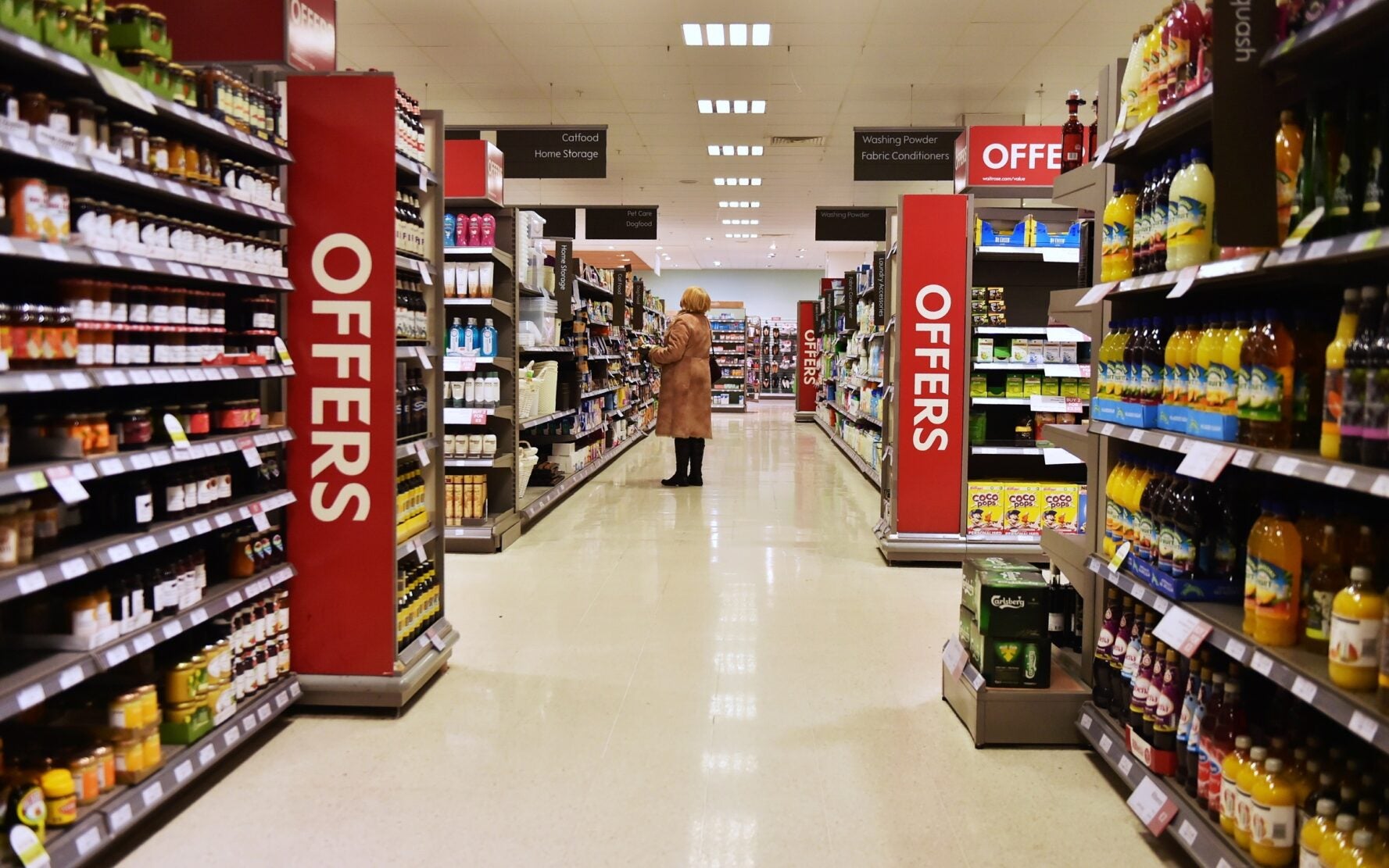 Skimpflation, or choosing lower-priced products over quality, is set to remain a key trend influencing food purchasing habits in 2023, analysts forecast.
Consumers are also moving towards thoughtful indulgence and away from impulse shopping, according to research presented at a GlobalData webinar entitled 'Top Consumer Trends To Watch In 2023'.
So-called "skimpflation" is leading consumers to choose low prices over high quality when it comes to judging a product's value for money.
"Ultimately, the desire for quality has reduced and this pattern will likely translate into 2023 as consumers are associating value for money more with lower prices," said Alice Popple, a GlobalData analyst focusing on consumer, foodservice and packaging practices.
"So this means that consumers will skimp down on quality to cut costs, as fewer people associate high quality with good value in 2022.
"This could actually cause some tension between brands, retailers and consumers. And likely the consumer patterns that we will see in 2023 may not be a true reflection of consumer preferences. So it's important to note that this might be a temporary pattern."
Katie Page, GlobalData content director for consumer, foodservice and packaging practices, warned that this trend did not mean a "race to the bottom" for manufacturers.
She said: "This is absolutely not all about a race to the bottom or biggest discount. Actually what we really should be thinking of is if you can give consumers a really good reason to buy your products, around convenience, format or more efficient ways of cooking for example, that really justifies the price premium, then I think consumers will still make room for those kind of products in their budget."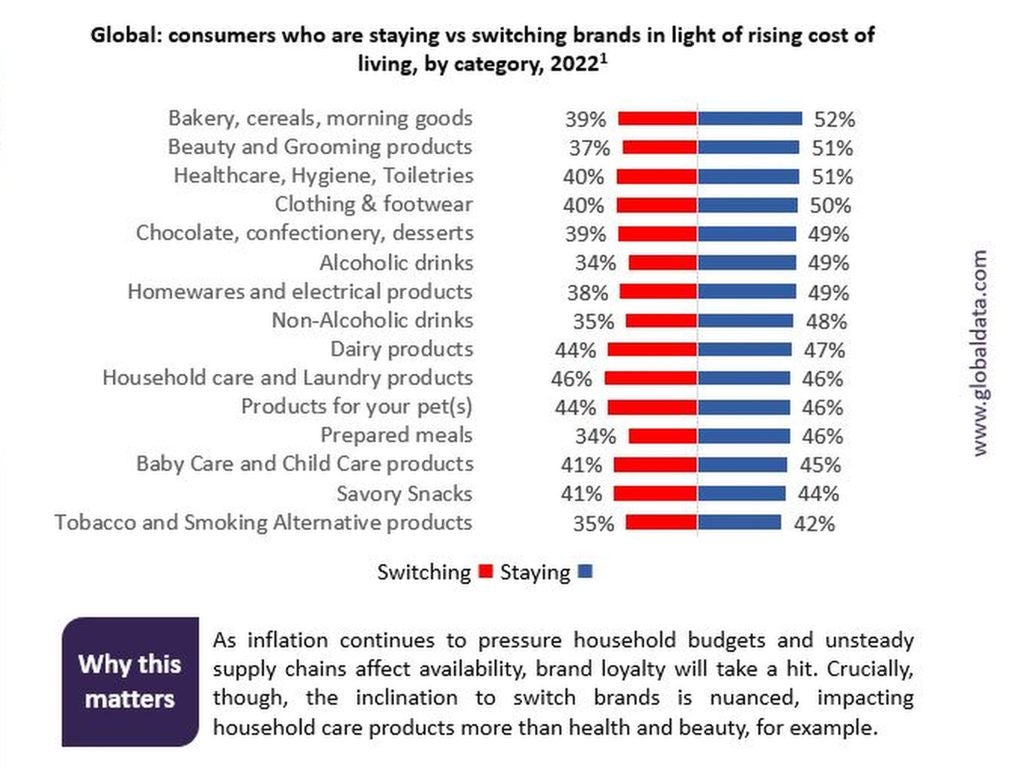 Categories most vulnerable to trading down are chocolate, confectionery and desserts and pet products, data suggests.
The beverage category, on the other hand, was seen as one of the most resilient. Both alcoholic and non-alcoholic drinks were among the categories consumers were least likely to trade down to a cheaper retailer for.
In November Clive Black, head of research at UK-based Shore Capital Markets and a veteran observer of the grocery industry, told Just Food he predicted a reduction in overall demand for food as consumers "of most income backgrounds" start shopping with more precision.
"The switch from proprietary brands to private label is happening," he said. "I think we're looking at around 5-9% switch out from proprietary brands into private label in mass markets in the UK through 2022." He added that the top tiers of retailers' private labels are growing in popularity as consumers swap to perceived high-quality own brands.
Analysts also predict consumers will move away from impulse food purchases. "Thoughtful indulgence is all about consumers who are transitioning away from impulse and towards choosing their treats more carefully because they've got stricter budgets," said Popple.
"So the pressure of increasing prices and decreasing disposable incomes puts consumers in a situation where they're forced to make more informed decisions when they're parting with their money, especially with non-essential goods.
"So this does mean that consumers are less likely to indulge frequently or as frequently as they previously were, especially with their usual brands. What we're seeing is consumers switching to cheaper alternatives. Our data shows that this is especially the case in household care, dairy products and pet-care products."
In a recent Just Food feature on indulgent snack habits, Shelley Balanko, senior vice president at US-based food and beverage strategists The Hartman Group, also predicted consumers would stick to shopping lists more amid the cost-of-living crunch, and that impulse purchases would be greatly reduced in the US.
Plant-based trend set to continue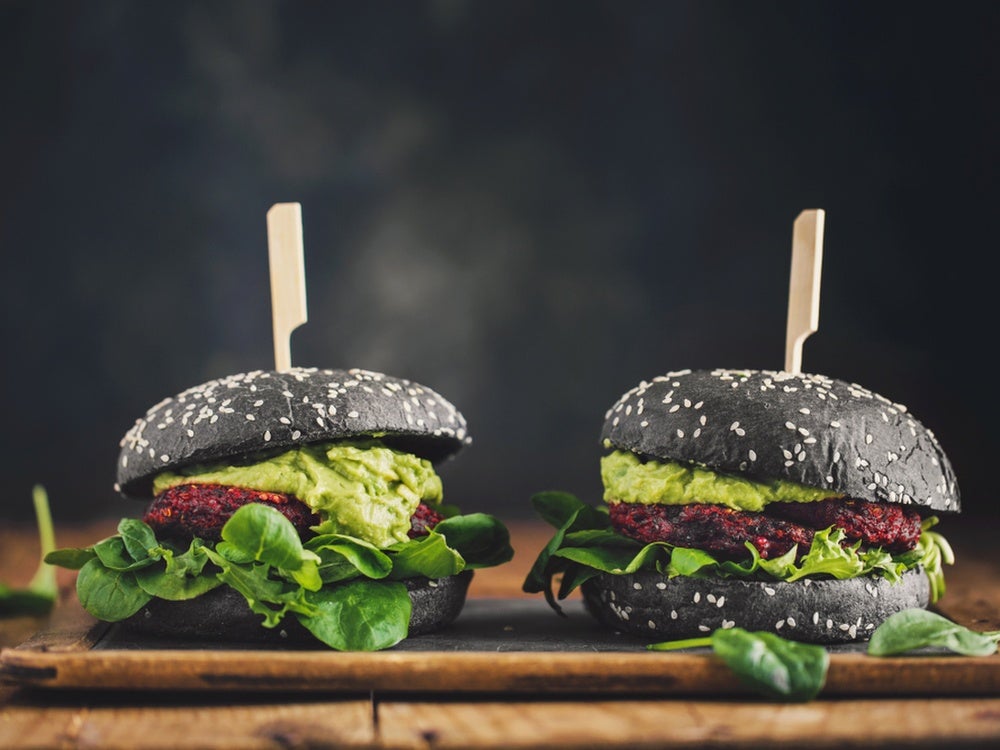 Flexible diets are also set to remain a key food trend in 2023, paving the way for growth in the plant-based market. Demand for plant-based products is part of a wider "megatrend" of health and wellness which will continue to dominate food and beverage next year, the GlobalData analysts said.
Alternative meat and yoghurt products will to do particularly well, according to Popple.
She said: "We can see that the market for plant based is relatively high, especially for meat and yoghurt products. There's definitely opportunity for growth in all of the alternative categories but specifically in those two."
Despite the relatively small portion of the market held by vegetarians and vegans, analysts say a growing number of "flexitarians" – who choose not to eat meat some of the time – means retail and foodservice customers should look to build a range of plant-based products.
Page said: "In terms of market size, plant-based is still quite small. But, having said, that there's around 16% of consumers who identify as flexitarians, a further 2% of consumers, on average, who identify as vegetarian, and a further 1-2% who identify as vegan. So we're getting up to 20% of the population who would buy into the category of plant-based meat alternatives.
"It's no longer the case that retailers or foodservice operators can afford not to have a certain amount of range that caters to the needs of consumers who want plant based."
However, Page added plant-based products need to be priced competitively. "The biggest challenge for plant-based meat alternatives is price. Products tend to be fairly expensive compared to meat counterparts. I think consumers will be looking to save money on these products and that's where repertoire shopping might come in."
Popple said health and wellness "will continue to outrank all other megatrends as the most important purchase driver through 2023".
She added: "It's a pandemic-derived behaviour that has definitely become ingrained in consumer behaviour, and will shape purchase decisions in 2023."
That déjà vu feeling – the UK packaged food industry in 2023
Five hot topics as US food industry enters 2023
Gloomy clouds to hang over food industry M&A in 2023
"Humanisation" in pet food bounds along amid premium-led growth