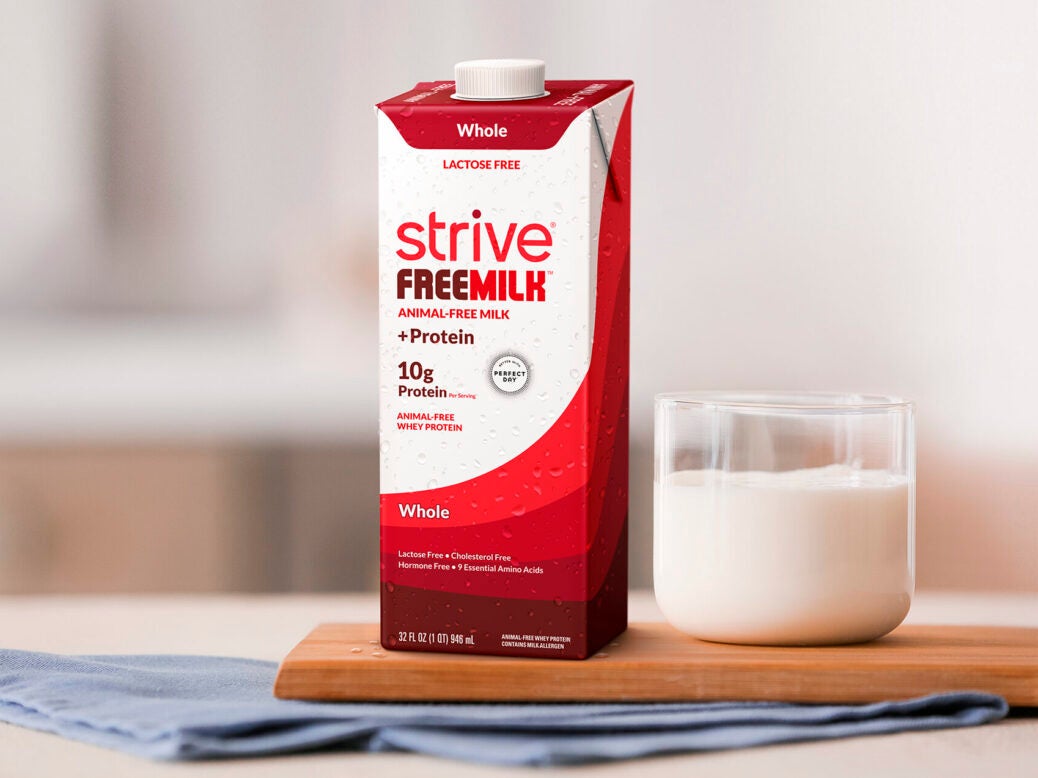 The man who created aseptic food and beverages supplier KanPak and built it into an international business is attempting to disrupt the US alt-milk category with his new venture, Strive Nutrition.
Food processing and packaging veteran Dennis Cohlmia, Strive Nutrition's founder and CEO, has teamed up with US animal-free dairy ingredients supplier Perfect Day to create a range of protein-enhanced products.
Cohlmia hopes Strive Nutrition's alliance with Perfect Day, which has become a minority shareholder in the firm, will provide it with a USP in a crowded marketplace.
He has more than 40 years of experience in developing foods using only natural ingredients without the need for preservatives. He founded KanPak, which makes food and drink products in a bacteria-free environment, in 1980 and built it into an international business with plants in the US, Mexico & China before selling it in 2016.
Strive Nutrition's alt-milk products – available in variants including oat and almond – are vegan, lactose-, gluten- and cholesterol-free and contain essential amino acids and omega 3 fatty acids.
But arguably it is the addition of around 10g of protein from Perfect Day's animal-free whey that is the shelf-stable product's stand-out feature.
"We're straddling the whole category of plant-based and alternative milks," Cohlmia said.
"There is a drive to better nutrition in the US and last year this was a US$3.2bn category with a 15.3% growth rate."
Cohlmia said the biggest factors for his entering the alt-milk category were climate change and the nation's health.
"We are believers in efficient nutrition," he said. "And some 43% of the [US] adult population is either obese or overweight."
Cohlmia told Just Food Strive Nutrition has launched in a "capital-lite" way and is using a co-packer for manufacturing purposes. He said its range will be "very competitively" priced compared to other plant-based products.
He confirmed the company has retail deals in place but said these cannot be announced as yet as the business prepares for launch.
Strive Nutrition's partner in the venture, California's Perfect Day, was set up in 2014 by Ryan Pandya and Perumal Gandhi as an animal-free ingredients business. In 2020, it formed a consumer-facing division with ex-Glanbia and Aseptic Solutions executive Paul Kollesoff called The Urgent Food Company.
Perfect Day has teamed up with local confectionery giant Mars to launch an animal-free dairy chocolate bar, Co2coa, and collaborated with General Mills' innovation growth arm G-works on alternative cream cheese product Bold Cultr.