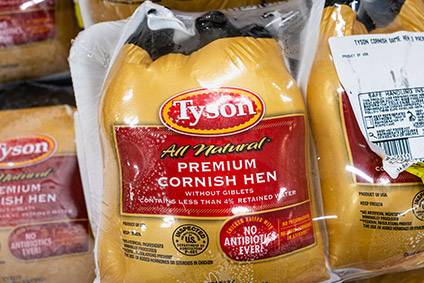 Tyson Foods has settled litigation with two groups of plaintiffs who accused the US meat major of illegally conspiring to inflate poultry prices.
The Jimmy Dean and Hillshire Farm brands owner said it would pay US$221.5m to settle price-fixing litigation with 'end-user' consumers and with more than 30 commercial purchasers.
The settlement announcement was disclosed in filings on Tuesday (19 January) in the federal court of Chicago.
Last week, Arkansas-based Tyson agreed to settle anti-trust claims by chicken buyers. Its local peer Pilgrim's Pride agreed to pay $75m to settle claims from the same group of purchasers.
The meat giants still face a number of other legal claims related to the same issue.
In December, a price-fixing case was brought against suppliers including Pilgrim's Pride, Tyson, Perdue Farms and Sanderson Farms by chicken restaurant chain Chick-fil-A.
The Atlanta-headquartered chain said it "purchased billions of dollars worth of broiler chicken" at prices that were "artificially inflated."
Tyson said the claims were "unfounded".
And the US Department of Justice last year filed criminal price-fixing and bid-rigging charges against a number of poultry industry executives. All have pleaded not guilty.
just-food has asked Tyson to comment on this story.