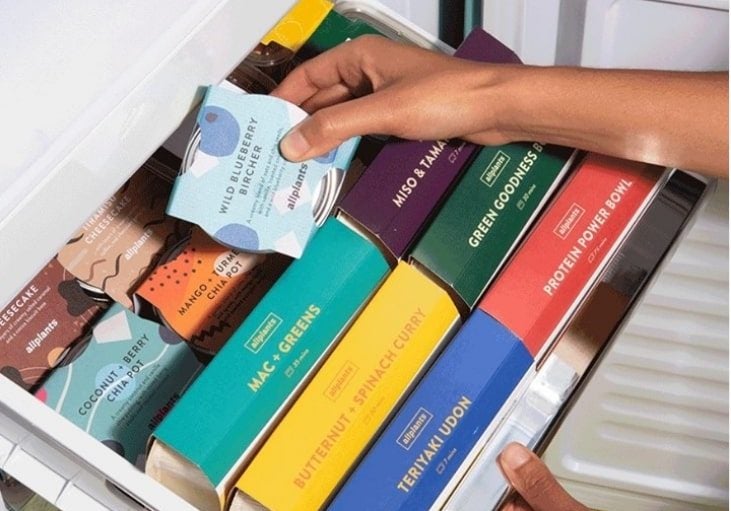 Allplants, the UK direct-to-consumer food business, has attracted GBP38m (US$52.2m) in Series B funding as it eyes expansion across other channels.
The company, set up in 2017, says its revenues have "more than doubled every year" since the business was launched.
Turnover was GBP6.8m in 2020, Allplants told Just Food. The firm says it is on track "for more than GBP15m" in turnover this year. It declined to comment on its profitability.
The GBP38m in Series B funding follows seed financing of GBP800,000, a Series A round that attracted GBP7.5m and a crowdfund of GBP4.5m.
Describing the fresh tranche of funding as the "biggest ever Series B round for a European plant-based food business", Allplants said it would use the money to expand its production site in Walthamstow, north London "to meet an exploding direct-to-consumer UK market".
The business also plans to "build scalable capacity for rapid distribution into other channels". It would not be drawn on any possible plans for bricks-and-mortar food retail.
In a statement, founder and CEO Jonathan Petrides said: "In the five years that we have been cooking, we've seen the demand for plant-based food explode. We've got a tonne of exciting plans to bring the movement to even more people's kitchens, and this investment will allow us to do just that."
New investors include CPG fund The Craftory – set up in 2018 by former Iglo Group executive Elio Leoni-Sceti – and Cassandra Stavrou, who founded UK snack company Proper Snacks.
Venture-capital company Draper Esprit has also joined the Allplants shareholder roster. The firm, which Allplants said led the round, described the move as "an extremely exciting investment".
"Allplants is uniquely positioned at the intersection of some of the fastest-growing areas in food consumption today: high quality, plant-based meals that deliver on taste, sustainability and nutrition in an incredibly convenient way for consumers," Nicola McClafferty, partner at Draper Esprit, said.
"JP and the team have established a stellar brand with very clear values, incredibly strong growth and a loyal customer base. Allplants has real potential to scale its direct-to-consumer business while expanding into new channels both in the UK and beyond. We believe it can be a global brand, bringing nutrition, taste and convenience to the plant-curious consumer."
In February, Nestlé snapped up UK recipe kit company SimplyCook. The move for London-based SimplyCook followed Nestlé's purchase of a majority stake in UK recipe-box firm Mindful Chef and outright acquisition of US meals-delivery business Freshly last autumn.
Just Food analysis, November 2020: Data may trump D2C debate as Nestle swoops for Freshly