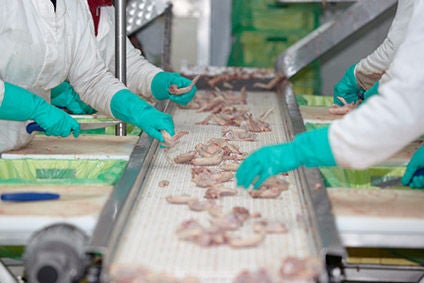 Food manufacturing and supermarket depot staff in England will be able to avoid quarantine rules to shore up supply to stores amid rising cases of self-isolation.
The Westminster government, which oversees health regulations in England, has announced exemptions for the food industry after concerns a rising number of self-isolating staff was hitting availability.
Weekly cases of Covid-19 were up 33% at more than 259,000 in the seven days to 14 July, the highest weekly number since January. In the same period, more than 607,000 people in England were informed by the official NHS Covid-19 app to self-isolate, almost 17% higher than the previous week.
Food manufacturers and retailers had warned of pressure on production and replenishment of store shelves and, last night (22 July), new measures were announced to spare certain staff from self-isolation even if they are deemed close contacts of a positive case of the virus.
The government said staff who qualify for the exemptions can test daily for Covid-19 and still work if negative, rather than isolate. Employees do not have to be fully vaccinated. Food manufacturing and supermarket depot workers are covered by the dispensation, which will be introduced next week. Retail store staff are not covered.
Asked by Sky News this morning about the change in guidelines, George Eustice, the UK's Secretary for Environment, Food and Rural Affairs, said: "We are obviously keeping everything under review. The reason we've made a special exception for food is for very obvious reasons. We need to make sure that we maintain our food supply. We will never take risks with our food supply.
"When it comes to other sectors, yes, of course, the fact that they are also carrying high absence levels is causing some stress for them and making it more difficult but you also have to bear in mind why we're doing this. We are trying to still just dampen the pace and the velocity at which this infection is spreading because we have to keep a very close eye on those hospitalisations."
The British Meat Processors Association (BMPA) had already warned last week some of its members might be forced to stop production lines for certain products.
Nick Allen, the CEO of the BMPA, has now said some of its members have reported between 5% and 10% of their workforce have been pinged and asked to self-isolate.
"The latest feedback we're getting from the front line is that the shortage of skills and workers for permanent positions is reaching a critically high level. We've heard reports of plants having between 10% and 16% vacancies even before absenteeism due to Covid is factored-in," Allen said in a statement.
"There's a real air of despondency creeping through the industry. Every morning, management meetings in meat plants up and down the country now start with the questions: 'who's turned up to work? What skills are we missing today? and how can we quickly re-arrange our production to keep the plant running?'.
"Depending on which staff show up for work, different product lines will be affected. But, in general, the shortage of workers affects products that require more labour to produce, and it's these lines that are the first to be cut."
Alex Whitehouse, chief executive of Mr Kipling cakes and Ambrosia custard manufacturer Premier Foods, welcomed the government's announcement.
"We of course have seen an increase in the number of people self-isolating over the last few weeks just as everybody has. To be honest, it's tailed off a bit in the last week, so we have seen rates actually fall slightly in the last week but we're obviously quite heartened by the announcement from the government this morning, which does look as though there will be some room for us to make some changes there," Whitehouse told analysts this morning as he announced Premier's first-quarter financial results.
"Absence is certainly well within what we saw last year and therefore well within our proven capability to manage it. It's certainly creating a specific issue but as I say we're welcoming the news from this morning."