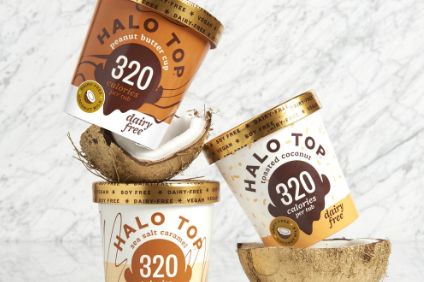 Wells Enterprises has added to its ice cream portfolio as the privately-owned US business reached an agreement to acquire the Halo Top brand from Eden Creamery.
Family-run Wells Enterprises, based in Iowa, said in a statement it has signed a purchase agreement with Eden Creamery to acquire Halo Top in a deal that is expected to close this month. Financial terms were not disclosed.
Eden Creamery was founded in 2012 by former lawyer Justin Woolverton. Back in the summer of 2017, the Los Angeles-based firm was reported to have hired bankers to explore a sale of the business, which had taken the US ice cream market by storm with the low-calorie, protein-rich Halo Top brand before later launching in Canada and the UK.
Then early last year, The New York Post reported that Anglo-Dutch FMCG giant Unilever had conducted due diligence on Halo Top and was close to buying the business, although nothing came to fruition.
Yesterday (9 September) Wells Enterprises announced it was buying an ice cream factory in Henderson, Nevada, from Unilever, which had previously said it planned to close the plant.
With Halo Top, Wells Enterprises will now have five ice cream brands under its wing, adding to the existing portfolio of Blue Bunny, Bomb Pop, Blue Ribbon Classics and Chilly Cow. It also offers private label and co-packing services.
Mike Wells, the chief executive and president of Wells Enterprises, commented on the deal: "Halo Top disrupted the ice cream category by providing a high-protein, low-sugar, low-calorie dessert that gave consumers a reason to purchase ice cream as a treat again. Halo Top met a consumer need that no one else in the category was serving.
"We feel it is a good fit for the Wells portfolio as we look to broaden our offerings for consumers. We have the sales and marketing expertise, but more importantly the passion, to help grow this brand even further. We love ice cream and will leverage Halo Top's brand equity and awareness to help grow it."
In connection with the purchase, Wells has also agreed to license Halo Top outside of the US and Canada to a new company that Doug Bouton, the president and chief operating officer for the brand, plans to operate after closing the deal.
Halo Top CEO Woolverton said: "We're thrilled to join the Wells family. As Halo Top continues to mature, Wells' expertise in everything from operations, to managing brands, to making ice cream products for over a century will help Halo Top become an even better product and stronger brand. On top of that, Wells simply does things the right way – something that has been at the forefront for us when looking at potential acquirers."