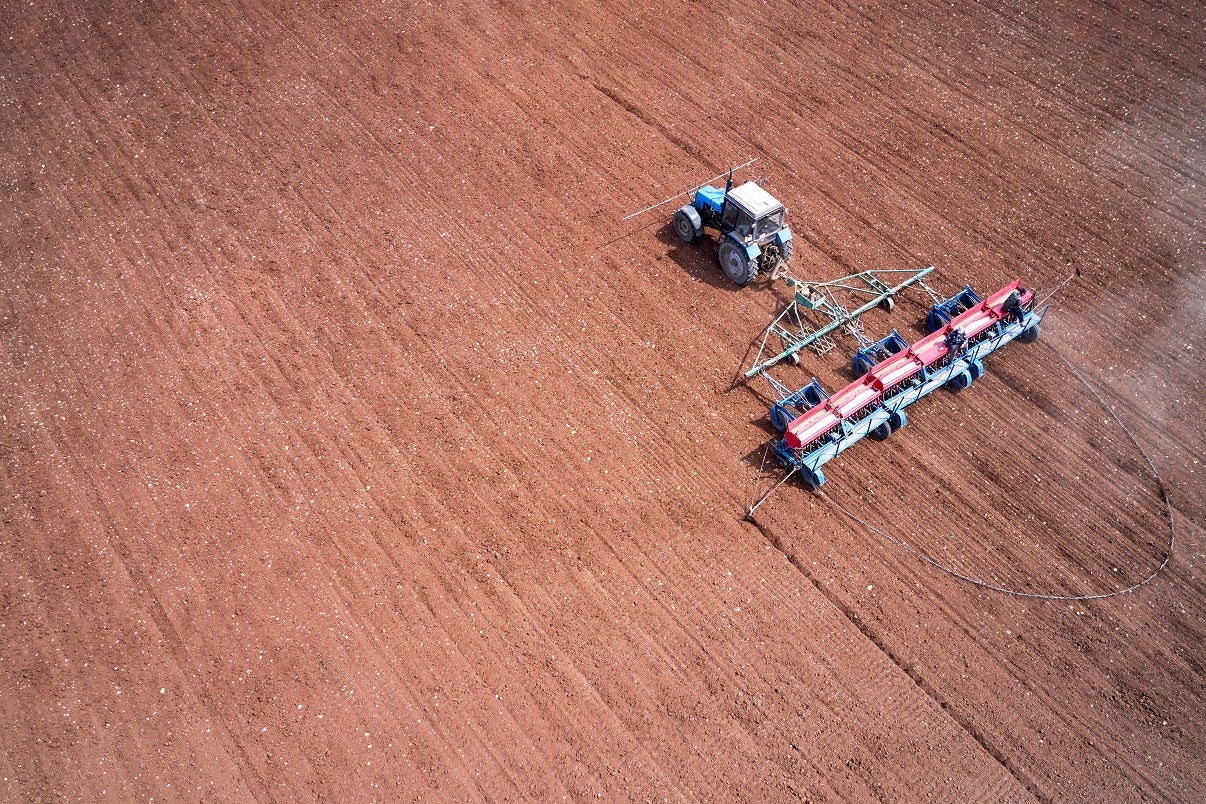 A group of influential banking and trade institutions has called for international support for the most exposed countries to rising food prices, warning of potential unrest in some of the most vulnerable nations.
The World Bank, the International Monetary Fund, the World Trade Organization and the UN World Food Programme have joined forces to press for a series of measures to protect food security as the Ukraine conflict compounds upward pressure on commodity prices.
For each one-percentage-point increase in food prices, the World Bank estimates ten million people globally are pushed into "extreme" poverty.
"The threat is highest for the poorest countries with a large share of consumption from food imports, but vulnerability is increasing rapidly in middle-income countries, which host the majority of the world's poor," the heads of the four organisations said in a joint statement. "The increase in food prices and supply shocks can fuel social tensions in many of the affected countries, especially those that are already fragile or affected by conflict."
As the Russian invasion of Ukraine enters a seventh week and Covid-19 stretches into a third year, the group has called for the international community to provide emergency food supplies and financial support to vulnerable countries.
"It is critical to quickly provide support for food-insecure countries in a coordinated manner. We stand ready to work together with our multilateral and bilateral partners to help countries address this urgent crisis," the group said.
Less than a week ago, the United Nations Food and Agriculture Organization reported world commodity prices reached new record heights, with cooking oils from sunflower to palm, soy and rapeseed all rising, along with cereals from wheat to barley, maize and sorghum. Meat and dairy continued their upward trend, too.
"The rise in food prices is exacerbated by a dramatic increase in the cost of natural gas, a key ingredient of nitrogenous fertiliser," the four-strong group observed. "Surging fertiliser prices, along with significant cuts in global supplies, have important implications for food production in most countries, including major producers and exporters, who rely heavily on fertiliser imports."
Russia, a major producer and exporter of fertilisers, and the largest supplier of nitrogen fertilisers, instructed domestic producers to halt exports in March in retaliation for international disruption to inbound trade. Russia-produced fertiliser and domestically-sourced shellfish were also included in a fifth round of sanctions last week by the European Union.
"The world is shaken by compounding crises," the institutional heads said, adding climate change and "increased fragility" related to global conflicts into the equation. "Sharply higher prices for staples and supply shortages are increasing pressure on households worldwide and pushing millions more into poverty."
They added: "We also urge the international community to help support urgent financing needs, including through grants. This should include financing of immediate food supplies, safety nets to address the needs of the poor, and for small farmers facing higher input prices.
"We also urge all countries to keep trade open and avoid restrictive measures such as export bans on food or fertiliser that further exacerbate the suffering of the most vulnerable people. It is especially important not to impose export restrictions on humanitarian food purchases by the UN's World Food Programme."
Russia and Ukraine were responsible for 58% of the world's sunflower oil production last year, along with 19% of oats and barley and 14% of wheat, according to the US Department of Agriculture. Russian and Ukrainian exporters accounted for 44% of rye, 30% of barley and 25% of wheat.
Egypt, Turkey, Bangladesh and Sudan were the top destinations for Russian wheat by value from 2016-20, according to trade statistical body Comtrade. Iran, Turkey, South Korea and Vietnam were the major importers of Russia-produced maize.
The global banking and trade institutions group said: "We call on the international community to urgently support vulnerable countries through coordinated actions ranging from provision of emergency food supplies, financial support, increased agricultural production, and open trade.
"We are committed to combining our expertise and financing to quickly step up our policy and financial support to help vulnerable countries and households, as well as to increase domestic agricultural production in, and supply to, impacted countries. We can mitigate balance of payments pressures and work with all countries to keep trade flows open."
See Just Food's analysis here: As commodity supplies shrink and prices rise, low-income countries feel impact of Ukraine war
For more on Just Food's coverage on how the conflict is affecting the food industry, please visit our dedicated microsite.
Just Food parent GlobalData is providing an ongoing analysis of the war's impact across business sectors.