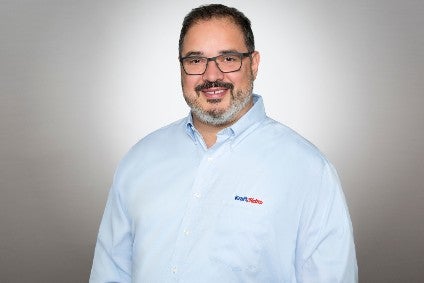 With the surprise announcement of a new chief at US food major Kraft Heinz, Simon Harvey looks at what Miguel Patricio might bring to the table.
In the aftermath of a huge fourth-quarter loss and an even bigger billion dollar write-down of assets, Kraft Heinz has made a key strategic change with the appointment of FMCG veteran Miguel Patricio as chief executive.
Like many other big food names, Kraft Heinz is up against a plethora of start-ups challenging the incumbents' dominance through on-trend brands favoured by a new generation of consumers seeking more healthy eating and snacking options. In the US, Kraft Heinz's main market, the rise of private label is an additional, growing pressure.
Andy Searle, a managing director at London-based consulting firm AlixPartners, paints the picture in what is perhaps Kraft Heinz's flagship category. "Only a few years ago, the ketchup shelf in a supermarket was Heinz plus a very small private label – today private label has equal share with Heinz, and smaller premium ketchups are encroaching. Winning today requires reigniting consumers attachment to mass brands," Searle says.
"Much has been written about how the business has suffered in comparison with private-label manufacturers. In our view, it would be foolish to make this one of the battles on which the turnaround is based. Frankly, the business has too long a tail of brands and products, and in some cases both, which are unsustainable in today's market. It is unlikely to ebb too long before we see a very public plan from Mr Patricio, which, whilst focusing on global brands and local heroes, also announces the retirement of several legacy, largely US-centric lines."
Still, a change in strategy seems to be on the cards even before Patricio, a long-serving former executive at brewing powerhouse Anheuser-Busch InBev, most recently as chief marketing officer, takes the reins at Kraft Heinz on 1 July. Current CEO Bernardo Hees is leaving the Nasdaq-listed business to return to 3G Capital, the private-equity firm that joined hands with Warren Buffett's Berkshire Hathaway to instigate the US$49bn amalgamation of H.J. Heinz with Kraft Foods in the summer of 2015.
And Patricio is already showing his hand. Interviews the incoming CEO has given to mainstream business news outlets suggest he plans to move away from an M&A-centric strategy favoured by Hees and 3G to one more focused on investing in brands, growing organic sales and improving efficiency.
That would represent a significant departure from the cost-cutting theme employed by Hees and 3G under a zero-based budgeting model directed toward improving profit margins, a strategy that in turn boosted margins but, analysts say, came at the expense of putting capital behind research and development.
Nevertheless, investors and shareholders alike have been disenchanted with how Kraft Heinz has since been run under Hees, with both 3G Capital and Berkshire Hathaway sitting in the wings.
Juraj Krupa, a portfolio manager at Slovakia-based Krupa Global Investment – one of Kraft Heinz's largest shareholders – tells just-food a new direction is needed. Attention should be concentrated on consumers and their eating preferences, along with more creative marketing and a better relationship with retailers. He also wants to see more progress on cutting debt closer to the target of 3x EV/EBITDA.
According to Richard Parker, an analyst at London-based GlobalData, the selection of Patricio is a positive development that could see the new CEO take a different approach. And the departure of Eduardo Pelleissone, the head of strategic projects at Kraft Heinz, also suggests a clampdown on further acquisitions.
"The appointment of Miguel Patricio to head Kraft Heinz is interesting given the business has opted for somebody who is a marketer – more focused on building brands and messages, and thus implying a move to put the focus back on Kraft Heinz' brand portfolio," Parker says.
"Although he comes from another entity with a long association with 3G, Anheuser-Busch InBev, his background as global chief marketing officer hints at where the company would like to go. Patricio has been described as 'one of the best brand-building minds in the FMCG industry'. Key will be whether it can overcome any institutional and leadership-derived inertia built up in recent years and refocus effectively on making more of the great brands it has and making them relevant to consumers again."
But it could be that the tide was already turning even before the announcement of a new CEO, with reports circulating Kraft Heinz is seeking to offload certain business units to cut its debt. The Maxwell House coffee brand and New York-based dairy unit Breakstone's have been touted as potential targets for the chopping block, following the disposal of the Canadian natural cheese operations to Italy's Lactalis-controlled Parmalat last November.
Reports this week also suggest Kraft Heinz is exploring a sale of its frozen potato brand Ore-Ida, with US peers Conagra Brands and Lamb Weston mentioned as potential interested parties. The Plasmon baby food brand may likewise be destined for a new owner.
For its part, Kraft Heinz's recent investment activity looks to have been focused at smaller bets, snapping up US condiments and snacks maker Primal Kitchen last autumn and having established the Evolv Ventures capital fund last October, which made its first investment in US food-to-table delivery service GrubMarket only weeks ago.
Juraj Krupa adds: "We are not strictly against acquisitions, but if they proceed with acquisitions, Kraft Heinz should focus on healthy new options such as the acquisition of Primal Kitchen or GrubMarket via their investment fund Evolv. We believe that Kraft Heinz has great brands which need better behaviour and practices towards retail chains and more creative marketing towards changing consumer preferences."
Just days after the Planters peanuts and HP Sauce maker disclosed a $12.4bn fourth-quarter loss and a $15.4bn write-down in the asset value of some brands in its refrigerated and Canadian retail divisions, and the Kraft and Oscar Mayer brands, Buffett came out with a surprise admission – that he and his investment partner 3G Capital overpaid for Kraft Heinz.
We "misjudged the retail versus brand fight", with private label gaining at the expense of some brands, the investor told CNBC.
Kraft Heinz's financial plight was also compounded when it revealed the US Securities and Exchange Commission had issued a subpoena last October into accounting and procurement practises at the firm.
"Patricio's appointment is a very clear message that, for the foreseeable future at least, the much-needed turnaround is going to be product- rather than cost-led"
Meanwhile, Krupa Global Investment has pushed for the Philadelphia cheese and Heinz Weight Watchers maker to go private. Krupa presented the argument in November that Kraft Heinz needs to make strategic investments and create innovative, high-margin products, actions which would take time to put in motion and would be better implemented away from a stock market listing.
Juraj Krupa tells just-food this week: "We have been actively campaigning and informing shareholders that management should communicate more effectively. During our campaign, we also highlighted the option for going private, because regular shareholders cannot be harmed further if management won't act quickly to the changes on the market. As a private company, they can operate without all the media attention affecting shares on a daily basis and focus on long-term growth."
But the extent to how M&A might be put on the back burner under Patricio's tutelage remains to be seen, particularly if deals were centred on in-demand and on-trend categories.
GlobalData's Parker says: "Criticisms have been levelled at the previous leadership and the culture stemming from the role played by 3G Capital and, to a lesser extent, Warren Buffett's Berkshire Hathaway. An arguably misplaced strategy has focused on big-ticket acquisitions rather than investment in organic growth of its existing brand portfolio and in-house innovation. Iconic brands have not received the love that they perhaps should've done at a time when Kraft Heinz was haemorrhaging money through a write-down, slashing dividends, and facing the embarrassing news of a SEC subpoena associated with accounting irregularities."
Erin Lash, the director of consumer research at US-based Morningstar, echoes the view Kraft Heinz had been short-termist in its approach. "In our view, the firm's languishing returns on invested capital and declining sales trends point to a management team that has been prioritising near-term cash flows and outsized profitability at the expense of its long-term competitive position (as it has failed to direct sufficient resources to support its intangible assets), spending a mere low-single-digit level of sales on research, development, and marketing versus the mid- to high-single-digits level its peers expend."
And it's an angle shared by AlixPartners' Searle. "Patricio's appointment is a very clear message that, for the foreseeable future at least, the much-needed turnaround at Kraft Heinz is going to be product- rather than cost-led," he says. "With this appointment comes a tacit acknowledgement that the classic private-equity approach adopted by 3G of a relentless pursuit of cost and synergies isn't winning in today's market."
Kraft Heinz's share price has been relatively flat since it tanked in February on the quarterly loss and write-down announcement, holding around the $33-$34 level. But the stock is still down more than 20% year-to-date and is way off its 52-week high of $64.99. It will no doubt take a radical change by the incoming CEO for the price to revisit those heights.
US-based Sanford Bernstein has a $38 target on the stock, with a 15% risk envelope built in either side.
Alexia Howard, an equity research analyst at the firm, says the triple-pronged whammy of February's financial news hurt management's "credibility" at Kraft Heinz and may have been the catalyst for a change of leadership. She adds Patricio's experience running the Asia-Pacific operations at AB InBev as president for that region – from 2008 to 2012 – might open up more opportunities in emerging markets.
Sales were generally flat in the year ended December at $26.25bn, edging up 0.6%, and 0.8% on an organic basis. The US accounted for $18bn of the total, leaving obvious room for improvement from other geographical regions.
Only time will tell if Patricio can inject some life into Kraft Heinz' top- and bottom-line earnings and maintain a consistent pace of growth, and he might just turn to markets outside the company's main US domain. And his marketing credentials will no doubt be in the spotlight too, while he will ultimately be measured by his success in breathing new momentum into brand building.
"We finally see this from Patricio in his statements, so we hope for a brighter future at Kraft Heinz," Juraj Krupa says. "We believe new creative ways of marketing can spark the growth back."