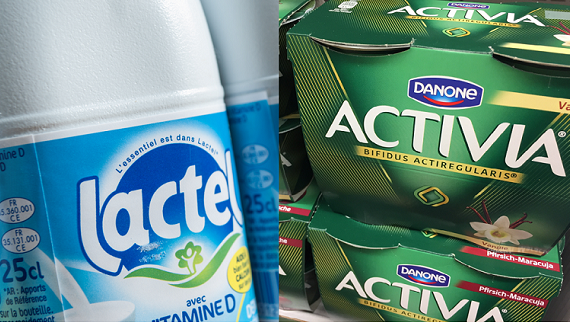 Might two of the world's largest dairy companies be set for some kind of transaction?
Banking advisers to privately-owned dairy giant Lactalis are reportedly running the rule over a possible move for fellow French group Danone.
Rabobank ranks family-owned Lactalis as the biggest dairy business globally. According to the bank's annual league table of companies in the sector, measuring yearly sales from dairy, Danone sits fourth.
On Wednesday, French business publication La Lettre A said Perella Weinberg Partners is weighing up whether Lactalis should pursue a full acquisition of Danone or a bid for a clutch of the Activia maker's assets.
The surprise report came out on the same day Danone – with a new CEO at the helm – was publishing its first-quarter sales. As you'd expect, Lactalis's rumoured interest was put to Danone's management on a call with analysts to discuss the numbers. "We are working very actively to fix our under-performing assets. We will update you when there is something new," was all Danone CFO Juergen Esser would say.
Reaction from equity analysts covering the publicly-listed Danone was mixed. "Could there be merit to a Lactalis tie-up? Yes," AllianceBernstein's Bruno Monteyne said, pointing to the "complementarity" of the companies' operations. "A potential deal ought to get more airtime."
Over at Stifel, Pascal Boll suggested the investment bank's own valuation of Danone's dairy and plant-based arm means Lactalis would need "to bring significant means of cash to the table" and added: "Regulatory hurdles also look demanding at first sight."
If Lactalis does make a bid for Danone's dairy assets – and, typically, it has so far been tight-lipped publicly – independent dairy consultant Preben Mikkelsen argues Danone should consider the offer.
However, he does have a note of caution. "Lactalis and Danone is, strictly economically, a good global mix but, organisationally, it could be more problematic," Mikkelsen suggested.
"Danone is a transparent company with focus on soft values like sustainability, animal welfare and climate impact. Lactalis is much more closed and focused on business development on a global scale with ongoing M&As.
"The company has done excellently to incorporate a wide range of dairy companies all over the world into the Lactalis family – but Danone and Lactalis would be a cultural clash."
Changes at the top
As we head into the weekend, there has been no comment from either Lactalis or Danone since Wednesday – and nor should we expect there to be any. For obvious reasons, most companies tend to be coy about talking in the open about their M&A (or disposal) strategies and it would be a surprise if Lactalis or Danone were suddenly forthcoming about what they would be prepared to negotiate (if at all).
Nevertheless, La Lettre A's report comes at an interesting juncture for Lactalis and Danone. Both companies have, in the last year, seen a change at the helm.
In February, Lactalis announced CEO Philippe Palazzi was to leave after only 13 months in the role due to what appeared to be differences over the group's strategy.
In a brief statement that was light on details for the reasons for Palazzi's departure, Lactalis noted "the conditions for alignment with the group's strategy could not be met". It added Lactalis president Emmanuel Besnier and Palazzi "are ending their collaboration as of February 3, 2022".
A month later, the Président cheese maker said chairman Emmanuel Besnier would effectively take on the responsibilities of CEO (although the company did not say he would hold that title). Meanwhile, long-serving executive Thierry Clément was appointed to a newly-created role of chief operating officer.
A "general directorate of operations" was also created. It will bring under one roof the major geographical areas of the group, including industrial, management control and performance, purchasing, logistics, systems information, milk collection, marketing, sales and human resources.
The changes at the top of Danone are well-known. Last year, Emmanuel Faber was ousted as chairman and CEO after calls from some investors for him to resign over what they saw as lacklustre returns.
He was succeeded as CEO by former Unilever and Barry Callebaut executive Antoine de Saint-Affrique, who officially took the reins last autumn. The Alpro owner has also seen a series of changes elsewhere in its leadership roles and on its board.
Six weeks ago, de Saint-Affrique set out for the first time publicly his strategic plans for Danone and seems to have adopted a fix it or flog it approach to breathe new life into parts of the company's portfolio. He has said 10% of Danone's portfolio could be up for "rotation", which he described as "a mix of acquisitions and disposals".
The Danone chief added: "One of the problems we are facing in terms of competitiveness is [the] underperforming of some assets, which have been underperforming for a long time. So we will be very determined. If we cannot fix them, we will sell them and then we have no taboo or we have no sacred cows."
Whether those sacred cows include accepting a bid for the entire business – or for significant chunks of it – remains to be seen.
However, AllianceBernstein's Monteyne sees worth in considering a potential combination.
"There may be some hurdles … but upon further reflection, this deal merits decent consideration and should not be dismissed," he says.
"The complementarity of their activities could not be better. Both are milk-related companies but with different end products (cheese/liquid milk versus dairy/infant nutrition), making a solid case for material scale benefits in source, manufacturing and distribution. It would also provide revenue synergies for Lactalis in the USA and China. The lifeblood of any deal is: does it make sense economically? And there clearly is a case here."
He adds: "The initial hurdle seems to be size, with Lactalis about 12% smaller than Danone in revenues but its growth rate – at 6.1% in the last eight years – is materially above Danone's at 1.8%. That growth makes Lactalis the more valuable company, by quite a margin. If we combine that with potential disposals – for example, [Danone's] waters [business] possibly some other small business units), this may be digestible with the help of a financial partner. In private hands, there would be time to continue the recovery of Danone as well."
Mikkelsen's talk of a possible "culture clash" also deserves further thought, given Danone's position at the vanguard of efforts on ESG and corporate responsibility. It would be unfair to say Lactalis is disinterested in these topics but it has been less vocal about its efforts to become a more sustainable business, with the thrust of its public announcements focusing on M&A.
Lactalis' rise to the top of Rabobank's dairy rankings has had acquisitions as a significant factor and the group's deal-making has continued this year. Last month, the company announced a move to buy a factory in the German state of Bavaria and three local dairy brands from the cooperative Bayerische Milchindustrie eG.
Depending on the nature of any deal between Lactalis and Danone, Mikkelsen believes there would be competition hurdles to surmount, not least in France.
"The French and EU competition authorities will have to approve a takeover of this size and Lactalis might be obliged to sell off activities especially in France. Lactalis, through the Besnier family, also owns a large share of Bel Groupe so the company has a dominant position on the French market. In the US, the takeover will also be viewed by the authorities but a dominating position is less significant here."
Stifel's Boll is another that believes there would be regulatory obstacles. He suggests Danone could be open to offloading certain assets, such as US organic business Horizon Organic. "What is more possible is that Danone might be willing to sell underperforming assets – e.g. Horizon Organic – in line with the new strategy presented at the capital markets day in March."
We await to see what might happen next, if anything. Nevertheless, the La Lettre A report has got industry watchers mulling over Danone's options.
"Should Danone sell? Good question," Mikkelsen says. "Danone has experienced several problems in recent years with stagnating growth and disagreement on future strategy internally in the company between the board and management. Besides, Danone can foresee huge problems with their activities in Russia, Belarus and Ukraine in the coming years. Danone is one of the major players in Russia due to the ownership of Unimilk, one of the largest dairy companies in Russia."
More broadly, he adds: "Danone should consider accepting divesting the dairy activities to Lactalis, which seems more robust to tackle the challenges in the coming years than Danone."