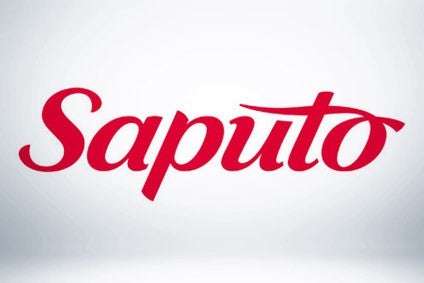 Saputo is poised to spend a wad of cash on acquisitions over the next four years and enter new markets as a buffer toward achieving a designated profit target under the Canadian dairy giant's new strategic plan.
While chief executive Lino Saputo has in the recent past made no secret of his intentions to expand the business through M&A, he has now given some concrete guidelines to invest CAD2.5bn (US$2.07bn) to CAD3bn, and between two and four potential deals are already in sight.
A core thrust of the 'Bigger, Better, Stronger' plan is to realise an organic growth rate of high single-digits in adjusted EBITDA, with an end goal to reach CAD2.13bn by the end of fiscal 2025. And that doesn't include contributions from M&A, the CEO told analysts during a presentation. The unveiling of the new priorities was accompanied by Saputo's annual results to 31 March, in which the profit metric inched up 0.2% to CAD1.47bn.
Writing in a research note after the event, Irene Nattel, a managing director at investment bank RBC Capital Partners, said: "While a financial goal of CAD2.125bn of EBITDA…is likely higher than current street expectations to the extent that cadence of growth is back-end loaded, we would expect investors to largely adopt a wait-and-see stance. Having said that, the objective should be attainable, and excludes M&A, suggesting that there could/should be upside as management continues to pursue strategic acquisitions."
Kai Bockmann, Saputo's president and chief operating officer, said the strategy focuses on profits and not so much on revenues, which dropped 4.3% in the latest financial year to CAD14.29bn. The US, Saputo's largest market ahead of Canada, is expected to be a significant contributor.
Finance chief Maxime Therrien told analysts during the presentation: "We are well-positioned to fund our growth, both organically and through M&A. We will continue to deploy cash in a responsible manner toward capex, dividends, debt repayment, acquisitions and share repurchases. We still have horsepower in terms of financial capacity to materialise acquisitions north of CAD2.5-3bn and we intend to bank on it to add on top of our strategy plan."
Michael Van Aelst, an equity analyst at Canadian investment bank TD Securities, says Saputo's four-year plan is positive but in the short term the company still has to grapple with the implications of the Covid-19 pandemic, described by the CEO last week as costing "a year of potential growth".
Van Aelst has an estimate for fiscal 2023 revenues of CAD15.47bn and EBITDA of CAD1.7bn, which he says reflects a two-year compound annual profit growth rate of almost 8%, and 12% for the remaining two years of the plan.
"The guidance lends credence to the view that the business is on a strong foundation, but that pandemic pressure will take a little longer to overcome," Aelst wrote in a research note. He added Saputo could see a valuation around the 13 times mark by 2025 assuming the EBITDA target is reached, from a current valuation of 12.9 times.
Saputo's strategy also entails accelerating product innovation by strengthening the core portfolio with more value-added components, as well as new products and formats, including the fast-growing dairy alternatives category where manufacturing capacity will be increased as it aims to become a "leader" in the space.
The company will optimise its production network, partly to cope with inflationary pressures, but also to add more automation. It plans to develop e-commerce capabilities supported by a recently introduced direct-to-consumer platform, and to raise the value of its ingredients offering.
Saputo's M&A focus areas
In support of its ingredients' objectives, Saputo purchased a goat whey and organic lactose facility last month in Reedsburg in Wisconsin for around CAD187m. At the same time, Saputo acquired Bute Island Foods, a dairy-free cheese maker on the Isle of Bute off the coast of Scotland and a co-manufacturer for the Canadian business.
The UK has now evolved into a major market in Europe for Saputo following a deal in 2019 for Dairy Crest. Saputo generated revenues in the UK last year of CAD816m, compared to CAD6.1bn in the US and CAD4.13bn in Canada.
Outside of the UK, where Saputo has an innovation centre to accompany the one in the US, the international segment, comprising Australia and Argentina, contributed CAD3.22bn. New Zealand is likely to soon be added to the roster, along with the Oceania region, according to its CEO.
"We still have an immense appetite to continue on our journey through M&A activity," Mr Saputo said. "Our balance sheet is clean and our financial flexibility is very, very good, so there is no reason why we should not continue on the journey for acquisitions."
"I would say that we're still actively looking at two, three or four files that will continue to create value for us, and further propel this plan moving forward."
He continues with respect to opportunities in individual countries and regions: "Canada, very limited; the US, lots of opportunity; Latin America, still some opportunity; Europe outside of the UK, perhaps even more opportunity there."
Bockmann said Germany will continue to be a key market on the export front "where we see volumes tripling over the next three to four years".
Patricia Baker, a director and analyst at financial services firm Scotia Capital, says Saputo has taken a number of measures recently that have laid the groundwork for the new strategy, including consolidation of its US operations and the deal for Bute.
"We sense a far better path to exploit strengths in each business to enhance performance in other regions wherever possible. As to M&A, should it happen, and it likely will, we sense it will be even more strategic and provide that proverbial 'icing on the cake'", Baker wrote in a note to clients.
She went on: "The path to CAD2.125bn in EBITDA will not be a linear one, and the benefits of the organic growth plan will be skewed to the later years. We note that the timing of the new strategic plan is quite deliberate, given that its successful integration is rooted in having the right assets. Having the right assets is a critical determinant in achieving these goals."
CEO Saputo also hinted at the possibility of having to pay inflated prices for any deal right now, although he suggested a cautious approach to M&A, with potential transactions effectively taking in the whole of the European Union.
"The new markets are the EU markets that we're not currently in, and possibly New Zealand as we need to be where the milk is. We understand that the multiples that are being paid for businesses today are a little higher than what they may have been in 2005-6. We are aware of that but by no means will we overpay for an asset that ultimately will be a liability for us down the road."
Dairy-free objectives
A big push for Saputo is dairy-free, which Bockmann says is growing globally around 12-15% a year, and that can be accelerated "if the right product with the right attributes is introduced in the marketplace, so it's going to be a great growth category for us.
"The focus will very much be on capacity expansion. We're looking to more than triple the capacity in that platform to help accelerate the development of that space, not only in the United States, but in the UK as well," Bockmann tells analysts.
Carl Colizza, the president and COO for Saputo's North American operations, says the company aims to secure a double-digit share of the dairy-alternatives market around the world and has made inroads in that respect with Bute.
Mr Saputo was keen to emphasise the importance of cheese, mozzarella specifically, as a revenue driver and an area where he is open to making acquisitions.
Saputo was already in the dairy-free category before the transaction for Bute, with the Vitalite brand of mozzarella in the UK. However, the CEO said the dairy-alternatives business is "still in its infancy" for Saputo, adding that product development in added-value beverages is also on the cards but will likely be channelled through contract manufacturing.
"Our priorities lie in cheese and let me be clear about this. We talked about dairy alternatives, which is a key pillar for us in terms of meeting demands of consumers, but we are still a dairy-oriented business."
Mr Saputo continued: "We're making heavy investments in mozzarella – that is part of our DNA, it's part of who we are. If there is opportunity for us to make acquisitions in mozzarella, we will make acquisitions, even if that is at the foodservice level. I want to be clear that we are not shying away from our heritage as we're rolling out this strategic plan, it is actually complementing the heritage that we have had over the last 67 years."
Optimising production
Under Saputo's new strategy, the company kicks off a four-year cycle of capital expenditure that will increase by around CAD550m from historical levels, CFO Therrien says. Around CAD2.3bn has been earmarked through the course of the project including investments in capacity, innovation and automation to address concerns around labour availability.
Colizza says of the labour constraints: "The ongoing concern of ours and many other manufacturers in this space is going to lead us to automate as many functions as we can that don't require a dairy associate. There are still a number of areas in the plant that we know we can automate and there are a number of other areas that we are going to explore new technologies and new ways of working."
He adds that "several hundred millions of dollars" will be invested across the manufacturing network to "enhance our low-cost, high-quality positioning in the market" as a means to head off rising prices, which are impacting swathes of food manufacturers emanating from higher commodity, packaging and transport costs.
"There's no better time than now with the kind of inflationary pressure that we have in our operating costs. We're not going to get the kind of relief through just price increases," Colizza explains.
Baker at Scotia Capital suggests Covid-19 has essentially acted as a catalyst for the new plan.
"There is perhaps some element of operating in and responding to challenges of the Covid pandemic that has spurred SAP (Saputo) to think differently and perhaps more aggressively about its business goals.
"In the past, any discussion around SAP seemed to start and finish with M&A opportunities. The reveal of SAP's Bigger, Better, Stronger strategic agenda refreshingly was all about organic growth and will see SAP leverage its existing extensive asset base to drive growth, improve productivity, and leverage existing strengths within its product portfolio to access higher growth in the cheese export market, margin-up in the ingredients segment, exploit plant-based opportunities, and drive further growth in the retail channel."
E-commerce embraced
Another area set for expansion is e-commerce, which like other food producers around the globe has become an important conduit to reach out to customers during Covid-19, when Saputo chose to introduce a digital channel via a direct-to-consumer platform for its Davidstow brand of cheese. A D2C service was also launched in Montreal and has since been extended to Quebec and Ontario.
Colizza says: "We're actively developing a robust IT platform to support our commercialisation plans in B2B to B2C, and in the direct-to-consumer channel. By diving headfirst into this at the early onset of the pandemic, we learned a whole bunch about the ecosystem of e-commerce, and it's making us a lot more confident in our next steps. Our e-commerce capabilities will be enhanced and ready for some exciting new developments, specifically in the direct-to-consumer interface."
Saputo's deal for Bute promises to accelerate Saputo's development in the dairy-free market, taking advantage of the 30 export destinations the UK company currently has access to, including Australia where the Sheese brand is the top seller.
Acquisitions by Saputo in recent years have been quite notable, particularly the deal struck in 2019 for Dairy Crest, the owner of the Clover butter brand and Cathedral City cheeses. And in Australia, it acquired dairy processor Murray Goulburn in 2018.
The future looks bright for Saputo, notwithstanding the ongoing pandemic-related environment, if it can replicate successful M&A transactions, and not forgetting Bute has yet to make a full annual contribution to revenues and profits. Nevertheless, the real substance of the strategic plan revolves around bolstering the business organically, and investors will be the ultimate judges of its success.