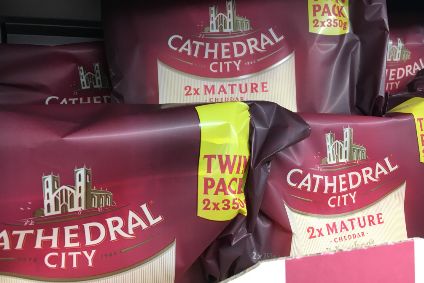 Saputo addressed analysts on Thursday (26 March) about the implications of Covid-19 and how the Canadian dairy major is adapting its business strategy. Simon Harvey looks at the key talking points.
Saputo is ramping up production on the retail side of the Canadian dairy group's business as foodservice suffers from government-imposed lockdowns, but beyond Covid-19, its chief executive sees acquisition opportunities as some competitors risk falling by the wayside.
Lino Saputo Jr., the CEO of the CAD14bn (US$9.9bn) revenue company, told analysts yesterday (26 March) it's seeing a "spike" in demand from retail clients as consumers stay home, and particularly from its largest market in the US, where coronavirus deaths have now exceeded those in China.
But the CEO cautioned it is early days because "we've only been two weeks into this mess", and so he's looking for evidence the extra retail demand is not just being driven by panic buying.
"What we would say is, we have to wait and figure out whether this is a case of pantry loading," Saputo said. "For the time being, what we're seeing on the foodservice side is orders are being cancelled."
Like many companies around the world, Toronto-listed Saputo has seen its stock price come under pressure amid a general sell-off across markets, albeit with some periodic relief from opportunistic buyers. But despite being classed as an 'essential' business in the context of Covid-19, the company hasn't escaped the turmoil, with its shares down about 12% over the past month.
But one thing Saputo does have is access to "liquidity" after paying down debt from a recent capital raising exercise and increasing a revolving credit facility in November from US$500m to $1bn. "We do think that we are well-positioned," finance chief Maxime Therrien said.
He outlined how the business is adapting to the challenges from coronavirus and the changing business landscape.
"If you look at our overall business, we have tremendous flexibility in many of our platforms. We're able to move our production to different cheese types, different ingredients, and catering to more of the domestic requirements at the retail level. So all of the divisions are trying to produce more retail in light of the current situation, but at the same time, we've got to keep a long-term perspective on all of this and remain disciplined."
However, on the other hand, Therrien said not all of Saputo's foodservice operations have the capability to switch to a retail-centric model.
"They don't have the equipment or the packaging to be able to do retail products," the CFO told analysts. "So there is some risk there. The plants that have the capability of doing retail are ramping up and running very, very hard."
A "silver lining"
While some might consider it premature to be looking beyond the implications of coronavirus, particularly when uncertainties abound as to when the virus will peak on a country-by-country basis, Mr Saputo said there's a "silver lining".
He's already eyeing M&A opportunities to add to a number of recent deals in Australia, Canada and Europe, and the US, with the latter still a keen area of interest. The CEO also noted how the company might be drawn to targets in the plant-based beverages category.
"There will be, coming out of this, an increased opportunity for M&A"
"Coming into this crisis, some of our competitors were already on very thin ice. Perhaps this might just take them over the edge. So I think that there will be, coming out of this, an increased opportunity for M&A.
"I think the great fortune we have is that we can pick and choose the ones that we think will fit our strategy and be able to buy them at reasonable prices, and be able to continue to develop our business as we had before," CEO Saputo said. "So if I think of a silver lining, to me, that is a silver lining."
He added that "further consolidation in the US would be really, really interesting to us", with the business eager to seize upon any opportunities in foodservice or on the "industrial" side.
"So we're keeping our ears to the ground to see if potentially, there could be opportunity for further consolidation there."
Further afield, the CEO says Europe is also a "very interesting platform for us", along with Oceania, although he ruled out any further acquisitions in Australia in light of opposition from competition regulators. But New Zealand is a potential target where "there are a lot of industrial producers", Saputo noted.
He also disregarded any potential deals in Latin America because of the economic and political uncertainty, now compounded by the Covid-19 crisis.
"We're looking at everything within the retail, foodservice and industrial space," Saputo says. "And perhaps, an outside shot, plant-based beverages might also be very interesting for us if something would come up."
An "attack" on exports
As a business, Saputo's channel focus is shifting dependant on which outlets remain open. The company's foodservice operations have "almost" come to a halt, although quick-service restaurants with a takeaway or drive-through capability continue to serve customers, whilst those that don't have closed, the CEO says.
On a market specific basis, CFO Therrien said the UK, which is primarily retail-centric in terms of revenue contributions to Saputo, is seeing "strong" demand for its branded Cathedral City cheeses, as well as butters and spreads.
And in Australia, demand is picking up for longer-life items such as UHT milk, along with chilled milk and cheese. However, unsurprisingly, Therrien says the company is expecting an "attack" on exports due to softness in China and south-east Asia due to lockdowns. Nevertheless, he's optimistic demand will "start to pick up steam" into the second and third quarters of its new financial year, which starts from 1 April.
"We're starting to see the Chinese ports and transport in that country slowly getting back to normal"
"The good news is that we're starting to see the Chinese ports and transport in that country slowly getting back to normal," Therrien noted.
Therrin commented more generally on foodservice: "In the US, we're seeing strong demand on the retail side, specifically in our value-added categories. On the foodservice side, again, we're seeing some softness but that's changing on a daily basis.
"Our foodservice distributors are having big challenges right now. They're unable to forecast accurately, so there's big swings in demand. So that's causing a strong disruption to the business. We're also seeing some strains on the transportation side."
But the CFO also warned appetite for dairy products in the oil-producing Middle East, which doesn't generally have significant capabilities in terms of manufacturing dairy products, could result in "softer demand" amid a crash in global prices of the commodity.
Pump out volumes
More positively, Therrien said Saputo is picking up business from competitors which haven't been able to meet the increased demand, perhaps because they don't have enough production capacity, or to get orders through to customers.
CEO Saputo adds: "It's the ability of a lot of the foodservice operators of how are they going to adapt to the new realities. There are some large-scale customers that have adapted their business model to provide more delivery. And there are other operators, if they're not able to change as quickly, then obviously, that will have an impact."
Mr Saputo said adaptability is key under the current circumstances to make sure the company can deliver food to its customers. Its manufacturing plants are running at near 100% capacity, compared to 95-98% under normal scenarios.
It's also having to reduce the number of SKUs through cooperation with retailers to maximise the production capacity it has in order to "pump out as much volume as possible". Meanwhile, sourcing raw materials is not an issue as what would otherwise have gone into foodservice can now be redeployed to the retail side of the business.
"Volumes are below what we normally run, but we are running off contracted milk," the CEO said. "We're looking at longer shelf-life products, products that ultimately have three months, six months, and in some cases, 12 months shelf-life, and we're stockpiling those products.
"We are carrying a lot more inventory of long-hold products today than we were in the past"
"So we have to be mindful of our working capacity that is going to be growing. We're prepared for that. So we are carrying a lot more inventory of long-hold products today than we were in the past."
Therrien added: "We intend to maintain our prudence as usual and that allows us to stay the course getting into the crisis. Again, it's a rapidly changing environment. And you know, a lot of what we've been seeing could be in relation to pantry hoarding. And we're going to have to wait a couple of weeks to figure out what the normal buying patterns are going to look like."
No crystal ball
Despite the shift into retail, the softness in the foodservice sector is going to leave Saputo with excess inventories, which, unless they can be channelled elsewhere, will end up going to good causes. Ultimately, there's a risk some of it will have to be written down on the balance sheet as some products approach the end of their shelf life, Therrien said.
CEO Saputo added discussions will take place with retailers to see if some products can be repurposed into certain pack sizes and formats and alternative labelling so "we can sell it to the retail channel instead or foodservice or industrial".
Panic buying among concerned consumers around the world is creating uncertainties around Saputo's business model as it cannot accurately gauge whether the increased orders are based on actual preferences or just a necessity.
For that reason, Therrien said the company is looking at it as a "snapshot in time" because we "don't have a crystal ball", evaluating the position on a week-by-week basis.
But there is some element of certainty for Saputo employees, who have been promised full pay if they cannot get into work, whether they are working full hours or not.
In the worst-case scenario Saputo has to close any plants in the event of coronavirus infections, the company would have to undertake a "deep-cleaning" process, which could take anything from a couple of hours to a day.
CEO Saputo said: "I have to say our teams are really stepping up to this challenge. From a sales perspective, we need to make sure that we are there for our customers when it's most convenient for them. We have the fortune that we've got financial strength, so we will take the right decision at the right time."