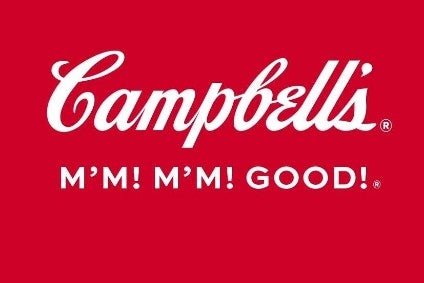 As we move into 2021, just-food continues to provide daily updates on how the Covid-19 pandemic is still affecting the world's packaged food sector – and how the industry's executives see the market and consumer behaviour taking shape in the months ahead.
Don't subscribe to just-food? Click here for a trial
This article is now closed. These rolling updates built on our previous bulletins, published throughout 2020.
Wednesday 10 March
Campbell expecting sales slowdown as world emerges from lockdown
US food giant Campbell Soup Co. has said it expects its full-year sales to fall as Covid vaccines lead to society opening up again.
It is forecasting fiscal 2021 sales will fall between 3.5% and 2.5% as consumers gradually return to their pre-pandemic lives and, by leaving their homes more regularly, reduce their reliance on ready-to-eat soups and snacks.
Reporting its Q2 results today (10 March), Campbell revealed that net sales rose 5.4% to US$2.28bn in the three months to 31 January, compared to the same period last year, but the company missed estimates of $2.30bn, partly because of declines in its foodservice segment due to the Covid lockdown.
Adjusted EBIT was up 8%, year-on-year, to $393m.
Mark Clouse, Campbell's president and CEO, said: "We delivered another quarter of strong results, with top-line growth in both segments – partly tempered by foodservice and supply constraints caused by Covid-19 – as well as continued growth in EBIT and EPS."
Thursday 4 March
Olymel's Alberta pork plant starts phased reopening
Canadian pork and poultry processor Olymel said its Red Deer plant in Alberta province will resume slaughtering operations today (4 March) as it plans a phased reopening following a temporary 14-day closure due to a Covid outbreak.
Cutting room operations will recommence on Friday, Olymel said in a statement, following inspections on Monday and Wednesday this week by Alberta Health Services (AHS), the Occupational Health and Safety authority (OHS), and the Environmental Public Health department.
"AHS made several recommendations aimed at adjusting and reinforcing certain measures that were already in place and gave the green light to gradually resume operations," the company said.
It added: "The employees that are needed to ensure that the gradual restarting of operations goes smoothly will be recalled in accordance with applicable collective agreement provisions. Since March 3, employee groups have been recalled to take part in training sessions covering all implemented health measures, adjustments and additions made to some of them, and the action plan developed for reopening. The training sessions also focus on the important role information plays in compliance with all the health measures that are in place at the plant."
Olymel, which is majority-owned by the Sollio Cooperative Group, will continue to work closely with AHS and the OHS throughout the entire gradual reopening process."
The processor said "most of the employees" who had Covid-19 have since recovered, while three "have unfortunately passed away".
"Although 1,370 employees at the Red Deer plant have been tested since January 1, 2021, AHS experts will be on site when operations resume and will offer rapid testing to anyone who has not tested positive and wishes to be tested," Olymel said.
—
Wednesday 3 March
Two Hilton workers die from Covid after outbreak at UK seafood plant
Two employees of UK-based Hilton Food Group have died after contracting Covid-19.
The workers were employed within the company's Hilton Seafood division and were based at a processing facility in Grimsby in north-east England.
—
B&G to invest in online operations following Covid sales surge
US-based B&G Foods has said it plans to invest in its e-commerce operation this year to build on sales momentum achieved during the Covid lockdown period.
Talking to analysts after the release of its full-year 2020 results, The Green Giant and Clabber Girl brands owner said online sales had grown substantially in 2020,
CEO David Wenner said: "The great majority of our brands grew in fiscal 2020 substantially because of the dramatic effects of Covid on consumer buying and dining patterns. E-commerce was a growing driver of those trends and we invested during the year to follow consumers as they bought more through various online means and we saw sales through those means of buying grow and return.
"Although, there's no precise way to measure this, using IRI and other data sources, we believe that our online sales grew by roughly 150%, albeit from a relatively modest base. We expect that trend to continue in 2021 and are investing further in building out our online presence and on marketing with various retailers on their site so that we can be at the forefront of this new way of selling."
B&G's 2020 net sales were up 18.5% to US$1.97bn, while its adjusted EBITDA was up by 19.4% to $361.2m.
UK government urges regular food industry Covid testing
The UK government's Department for Environment, Food and Rural Affairs (Defra) has called on the country's food manufacturers to introduce regular Covid testing for asymptomatic employees.
In a letter to food businesses signed by environment secretary George Eustice, it said: "We now have a roadmap to open up our communities and restart our lives, but we need to remain vigilant and continue to protect our sectors and the workforce as we go forward.
"That means taking all necessary precautions to reduce the risk of transmitting the infection in the workplace."
Defra has called on employers to adopt the government's workplace testing programme.
"Providing the tests is quick and easy, and results are received rapidly. Employers should be aiming to test staff members twice each week," Eustice said in the letter.
The programme of free tests is open to all employers of more than 50 staff and will run until 30 June but firms must register by 31 March.
Tuesday 2 March
Lindt & Sprüngli forecasts sweeter sales in 2021
Covid-19 soured Lindt & Sprüngli's sales in 2020 but the Swiss chocolate maker is expecting its top line to recover this year.
The Lindor owner saw its sales fall more than 6% on an organic basis last year, with its retail business hit by lockdown-related closures and gift sales hampered by families being less able to get together.
However, Lindt today (2 March) forecast a 6-8% rise in its organic sales in 2021. The upmarket chocolatier added it's "convinced that it will master the current economic downturn and emerge even stronger from this global crisis".
In 2020, Lindt's sales fell 10.9% on a reported basis to CHF4.02bn (US$4.38bn), which equated to a 6.1% decline on an organic basis.
The company's EBIT tumbled to CHF420.3m, contributing to a 37.5% slide in net income to CHF320.1m.
Lindt's EBIT margin was 10.5% and the business today forecast that would return to 13-14% this year.
During 2020, Lindt's online sales doubled to account for around 5% of its business.
—
FrieslandCampina profits hit by Covid-19
Dutch dairy major FrieslandCampina said that the coronavirus pandemic has led to it recording a "significantly lower profit" in it full-year 2020 results.
Announcing its results this morning, the dairy revealed its profit has declined by 71.6% year-on-year to EUR79m (US$95m).
Revenue also declined, by 1.4% to EUR11.1bn.
CEO Hein Schumacher said: "The direct and indirect impacts of the corona pandemic that really became evident within the company starting in March, overshadowed the excellent results in the first quarter.
"FrieslandCampina's operating profit was hard hit by this."
He added: "While there is light at the end of the tunnel now that vaccination programmes are getting underway throughout the world, for the next couple of months we are still totally immersed in the corona crisis. In the first half of 2021, the results will therefore still be under pressure."
Monday 1 March
Coming to the crunch during Covid-19 – UK snack bars deep dive, part one
On our analysis pages today, Andy Coyne takes a close look at the UK snack bar category and at how it has adapted to the unique trading conditions created by Covid lockdown restrictions.
Many people have assumed the UK snack-bar category would have come under significant pressure over the last year as the on-the-go market has been hammered by the slump in mobility wrought by Covid-19, with a huge chunk of the population working from home, emptying city centres with their express supermarkets and meal-deal outlets.
However, the stats suggest UK snack bar manufactures have adapted to change more successfully than was widely thought.
—
Maple Leaf to relaunch plant-based brands after Q4 sales disappointment
Canada's Maple Leaf Foods is planning to relaunch its Field Roast and Lightlife brands after seeing sales from its meat-free division slow – while the company also pointed to the pandemic as a factor in the "category deceleration" it saw.
Friday 26 February
A2 Milk Co. has reacted to pressure on its sales in China, a key market for the New Zealand-based dairy and infant-formula business, and lowered its forecasts for annual sales.
The changes to the forecasts came alongside half-year financial results that included a slide in sales and profits.
In the first six months of the company's current financial year, revenue fell 16% to NZD677.4m (US$491m), with its EBITDA down 32.2% at NZD178.5m. A2 Milk Co.'s net profit after tax stood at NZD120m, versus NZD184.9m a year ago.
A factor in the first-half results was, A2 Milk Co., said "challenges resulting from Covid-19 disruption experienced in the daigou/reseller channel with a flow on impact to the cross-border e-commerce (CBEC) channel".
Wednesday 24 February
Trident Seafoods resumes operations at Alaska facility
US-based Trident Seafoods has resumed operations at its Akutan, Alaska, processing plant following a Covid outbreak-enforced temporary closure.
The outbreak among its employees at the plant, which processes seafood such as crab and pollock, spurred a pause on operations on 21 January but now the facility is back up and running.
Trident said surveillance testing, symptoms screenings, PPE and distancing protocols will remain in place.
It added that additional measures are in place to support a swift response if Covid-19 risk is detected again in the future. These include a redesign of shift and break schedules to limit instances of close contact and capacity limits to allow distancing in all areas outside work stations.
Stefanie Moreland, the company's VP of government relations, said: "The management team on site has been working to make sure these operational changes do not come as a surprise, and to ensure our employees know their safety is our priority."
Monday 22 February
UK food manufacturers respond to roadmap for easing lockdown
After UK Prime Minister Boris Johnson this afternoon (22 February) set out the Government's "roadmap" for removing lockdown measures, the trade body representing food manufacturers in the country has given its response.
A phased timetable includes a plan to allow hospitality venues to serve punters outside from 12 April at the earliest, the Government said.
From 17 May at the earliest, indoor hospitality is slated to re-open. Hotels, as well as indoor entertainment venues such as cinemas, are also lined up to open again from this date.
Next week, UK Chancellor Rishi Sunak will announce the country's Budget, which will include details on how the Government plans to support businesses and employees affected by the lockdown measures and the phased lifting of the restrictions.
The measures announced today apply to England but the devolved administrations of Scotland, Wales and Northern Ireland are setting out similar plans.
Ian Wright, the chief executive of The Food and Drink Federation, the association representing food and soft-drink manufacturers in the UK, said: "It is disappointing but wholly expected that the Prime Minister's roadmap shows no signs of taking account of any input from business.
"For a great many of the food and drink manufacturers supplying the hospitality and food service sectors, a return to 'business as usual' seems an awful long way off. As such, it is only correct that the Chancellor outlines significant extensions to the furlough and credit insurance schemes as part of his Budget announcement next week. The food and drink industry is the UK's largest manufacturing sector. It will therefore be key to the country's economic recovery, with a footprint in every region.
"Now is the time for government to provide additional support to ensure those businesses most at risk can play their part in putting the country back on its feet."
—
Australian rice grower SunRice warns of possible sales pressure
SunRice Group, an Australia-based rice grower, has warned disruption to shipping traffic linked to Covid-19 could impact its sales in the second half of the fiscal year, exacerbating what it says are already "difficult market conditions" driven by the pandemic.
—
Olymel shifts production to US after Canada plant closure
The Canada-based pork processor, which has had to temporarily close a factory after a Covid-19 outbreak among staff, has issued an update on the changes it has made to production.
Olymel said its hog production division, which supplies the Red Deer plant in Alberta now closed, will "move a substantial amount of company-owned production" to the United States to create enough plant capacity.
The company, majority-owned by Sollio Cooperative Group, made the comments in a statement framed as a "message to Alberta pork producers".
It said: "The temporary shutdown of Olymel's hog slaughtering, cutting and deboning plant in Red Deer is affecting the many Albertans hog producers, including Olymel's company owned farms that ship market hogs to Red Deer on a weekly basis. The company understands the strain this has put on their operations as we estimate the backlog to be approximately 80-90,000 animals. The company has implemented several strategies to mitigate the impact as much as possible including a clear path to reducing the backlog as quickly as possible."
The meatpacker added: "With the added capacity Olymel anticipates that the backlog of market ready hogs will be cleared up within 4-5 weeks after the plant is able to resume activities."
Last week, Olymel said its hog slaughtering, cutting and deboning plant in Red Deer had seen "a resurgence of positive cases of Covid-19 among plant employees".
Olymel said that, despite close collaboration with Alberta Health Services to deal with the problem, it believed the conditions meant it could not continue normal operations in a safe and efficient manner.
The company, which has suspended all pending deliveries at the plant until further notice, has not said how many workers have been affected by the outbreak.
19 February
Fazer assesses staff count again at Finnish candy plant
Finland's Fazer Group is planning another round of potential lay-offs linked to Covid-19 at its confectionery plant in the city of Vantaa, located in the south of the country.
18 February
US meal-kit firm Blue Apron sees sales soar during lockdown
Blue Apron, the US meal-kit firm saw its year-on-year sales increase by 22% in Q4, 2020, to US$115m, partly as a result of stay-at-home consumers ordering its products during the Covid-19 lockdown.
But the company has cautioned that growth levels may dip as lockdown restrictions ease.
The fourth quarter marked the third consecutive quarter of double-digit year-on-year year increase in net revenue for the business.
The company said that there have been changes in consumer behaviour due to the pandemic as customers ordered more frequently and added more meals per order.
"Since late March 2020, Blue Apron has experienced increased demand for its meal kits reflecting, in part, changes to consumer behaviour in response to the COVID-19 pandemic. In order to meet the increased demand, the company continued to focus on increasing capacity at its fulfilment centres, including hiring new employees, increasing wages for frontline workers, and temporarily reducing menu options, which limits the need to change production lines and allows for more time to pack meal kits," it said.
But it added a note of caution.
"Management continues to monitor the impact of the Covid-19 pandemic on the company's business, including changes to consumer behaviour relating to cooking at home. While the company believes that a portion of the increased demand it has experienced over the last few months can be sustained through the first half of 2021 and potentially beyond, this will likely occur at varying levels as the impact of the pandemic changes over time," it said.
16 February
Canada's Olymel temporarily closes Alberta meat plant
Canadian meatpacker Olymel has announced the temporary closure of its plant in Red Deer, Alberta, following a Covid outbreak
The hog slaughtering, cutting and deboning plant has seen "a resurgence of positive cases of Covid-19 among plant employees", Olymel said in a statement.
Olymel said that, despite close collaboration with Alberta Health Services to deal with the problem, it believes that the conditions are such that it cannot continue normal operations in a safe and efficient manner.
After notifying the union, Olymel management drew up a temporary closing plan for an indefinite period. Over the next few days, plant management will mobilizs the staff necessary to cease operations and complete the facility closure as soon as possible.
Olymel said it will strongly encourage all staff to get tested before returning to work. In the meantime, it will continue ongoing investigations to determine what may have caused such a large outbreak of Covid-19 cases since 20 January.
Olymel, which has suspended all pending deliveries at the plant until further notice, has not said how many workers have been affected by the outbreak.
15 February
JBS reveals 700 workers vaccinated at US plant
Brazilian meat giant JBS has announced that 700 workers at its Beardstown, Illinois, pork production facility in the US have been vaccinated against Covid-19.
In partnership with the Cass County Health Department, employees were vaccinated on site at the plant in what is understood to be the largest vaccination effort to date at a US red-meat facility.
Bob Krebs, president, JBS USA Pork, said: "We remain committed to providing a safe working environment for our team members and doing all we can to ensure our workforce across the country is given the opportunity to be vaccinated as soon as possible. They have worked tirelessly throughout the pandemic to provide food for all Americans, and their access to the vaccine should absolutely be prioritised."
Vaccination at the Beardstown facility is voluntary and all employees who choose to be vaccinated receive a US$100 incentive bonus. Vaccines were administered on site by trained third-party nurses and the second dose of the vaccine will be provided to Beardstown workers in March.
—
2 Sisters poultry plant in Devon comes down with cases again
2 Sisters Food Group's Willand plant in Devon, south-west England, has once again seen a number of cases of Covid-19 following a bout of infections at the same site last summer.
The poultry-processing facility in the town of Cullompton, which employs around 1,000 workers, saw a cluster of cases emerge a few days ago.
Local media reported workers as saying a testing centre had been set up in the car park of the plant.
A spokesperson for the 2 Sisters' Cullompton site said in a statement provided to just-food: "Colleague safety remains the number one priority at our Willand site.
"We are currently working closely with external agencies and are offering our colleagues the opportunity of voluntary Covid-19 testing. This testing opportunity further strengthens our Covid prevention measures, which have been in place for almost a year and are regularly independently assessed."
12 February
US baker Flowers Foods sees sales going stale in 2021
Another major US-based food company is, perhaps unsurprisingly, cautioning its sales in 2021 may fall after pandemic-fuelled growth in 2020.
Flowers Foods, one of the country's largest bakery businesses, has forecast a 2-4% decline in its sales in 2021 after a 6.4% rise last year, which was also helped by an extra selling week.
As well as lapping a year when Covid-19 boosted at-home consumption, Ryals McMullian, Flowers' president and CEO, said other factors could also dampen sales.
"Our guidance for fiscal 2021 incorporates our expectation of some mix reversion during the year as the impact of the pandemic dissipates, as well as the potential for a higher promotional environment, back-half commodity headwinds, and investment to implement our digital initiative. Partly offsetting those factors are expected benefits from our brand investments and continued savings from portfolio optimisation and operational efficiencies. We are investing in our business at a time when visibility may be more limited than normal, but it is clear that we are on the right path."
Flowers, home to brands including Dave's Killer Bread and Tastykake, generated sales of $4.39bn in 2020. The company's net income fell 7.4% to $152.3m amid expenses linked to a pension-plan settlement. Income from operations stood at $321.5m, up from $225.4m in 2020.
Expo West goes digital, while Expo East will go ahead in person in September
Expo West, the annual organic food industry event normally held in March in Anaheim, California, will now be held virtually in May after the organisers decided against holding a physical gathering due to Covid-19.
The event had been pushed back to May, but will now be held digitally instead from 24-27 May, Informa Market's New Hope Network, which organises the trade fair, said.
Meanwhile, New Hope is promoting its "enhanced" Natural Products Expo East trade show as an opportunity for people to get together in person, designed to serve both Expo East and Expo West customers. It will be held from 22-25 September in Philadelphia.
11 February
Kellogg expects dip in underlying sales in 2021
With lockdowns seeing most meals switch to being made and eaten indoors, breakfast-cereal giant Kellogg saw its sales rise in 2020 – but the US group is forecasting a decline this year.
The Corn Flakes and Coco Pops owner today (11 February) forecast its net sales would fall 1% on an organic basis in 2021, pointing to a comparison with "unusually-strong, Covid-related growth" last year. In 2020, Kellogg's net sales rose 6% in on an organic basis to US$13.8bn.
Kellogg, home to brands including Pringles snacks and Eggo frozen waffles, said a 1% decline would still mean "a two-year compound annual growth of about 2.5%".
The company also said it expects its adjusted operating profit to fall in 2021, forecasting a drop of around 2%, Again, Kellogg pointed to Covid-19 but also said the 2020 fiscal year had 53 weeks.
In 2020, Kellogg's adjusted operating profit rose 2.6% to $1.81bn. The company made a net income of $1.25bn in the year to 2 January 2021, up from $960m 12 months earlier.
10 February
Londoners leading surge in home delivery of snacks during lockdown – research
New research has revealed a surge in the home delivery of snacks in London during the Covid lockdown period.
Analysis firm The NPD Group's research showed that demand for home delivery of snacks and coffee in London was up by 95% in 2020 compared to the previous year.
This is significantly ahead of the 11% increase in orders placed by families across the country as a whole.
Dominic Allport, insights director (foodservice) at The NPD Group said: "The main reason is the greater use of delivery subscriptions such as Deliveroo Plus in the capital, where customers pay a flat monthly fee for unlimited free deliveries.
"As these subscriptions become increasingly common across the country, we expect to see a growth in people ordering snacks and drinks to be delivered to their homes more regularly."
The average amount spent per person on snack delivery increased by 20% nationally in 2020 vs. 2019 to reach GBP5.66. The number of items bought during each snacking occasion in London has increased significantly and is now +18% higher than the national average.
Allport added: "Once lockdown is over, this trend is likely to remain embedded in the population."
Danish Crown closes German slaughterhouse after 13 Covid infections
Meat processor Danish Crown has closed a beef slaughterhouse in Germany for a week after 13 of the approximately 300 workers tested positive for Covid-19.
The facility in the town of Husum, situated in the county of North Frisia near the border with Denmark, has been shut as a precautionary measure to prevent the further spread of the virus, a spokesperson for Danish Crown confirmed.
Danish Crown plans to reopen the site on 14 February subject to prevailing conditions at the time.
—
8 February
Covid cases identified at Cargill meat plant in Canada
US agri-food giant Cargill has seen a small number of its employees at a meat plant in Canada test positive for Covid-19.
Some six employees at the company's High River facility in Alberta have tested positive for the virus, Cargill told just-food. They are in isolation and receiving medical care and support.
The High River facility, which employs more than 2,000 people, is continuing to function as normal.
It is the second Covid outbreak at the plant. It was shut down for two weeks in April 2020 because of an outbreak that affected more than 350 of its workers and saw two employees die.
In relation to the newly-announced Covid cases amongst its High River workforce, a Cargill spokesperson said: "We continue to learn how to help slow the spread of the virus and are working with Alberta Health Services (AHS) to add safety measures as they become available to safeguard our valued co-workers."
5 February
2 Sisters recruiting 500 workers as pandemic pushes up poultry demand
2 Sisters Food Group plans to hire hundreds of workers to meet growing demand for poultry products in the UK with consumers confined to the home due to the Covid-19 pandemic.
With factories situated around the UK, 2 Sisters said it had hired approximately 800 workers over the past 12 months to across the entire business to cater to the increased demand.
But Covid has also taken a toll, with a number of sites seeing staff test positive for the virus.
3 February
Premium Brands-owned Belmont Meats shuts Toronto plant amid Covid outbreak
Belmont Meats, a protein business owned by Canada's Premium Brands Holdings, has seen an outbreak of Covid-19 at its factory in Toronto.
The Toronto Public Health agency said 78 cases of the virus have been confirmed at Belmont's North York site, a district in Toronto, and two of those workers have been identified as having the B.1.1.7 strain of the virus, a variant that first appeared in the UK.
—
Baxters to close visitor centre and retail outlet in Scotland
Baxters Food Group, the UK-based soups-to-condiments maker, plans to close its visitor centre, restaurant and retail outlet in Edinburgh, Scotland, as the pandemic curtails foot traffic across the hospitality sector.
The Highland Village centre is located in the same village as Baxter's headquarters in Fochabers, Moray, in north-east Scotland. The site employs around 30 people, according to a media report, all of whom face the prospect of losing their jobs.
2 February
Nestle seeking to help with Covid vaccine rollout
Food giant Nestle is seeking ways to help with the Covid-19 vaccine programme in countries in which it operates.
News agency Reuters reported the Switzerland-based company's chief executive Mark Schneider as saying that while it has already donated to the Red Cross and other organisations to help cover the financial cost of vaccination programmes, it wants to go further.
Schneider told the Forum Horizon event in Lausanne: "We will also try to find ways to either sponsor the payment for the vaccine or sponsor the way it gets applied in communities where we are present.
"The price of a vaccine for an advanced economy is negligible…but to a developing country which has been struggling already with all the impacts of Covid, on top of that to pay for the vaccine and for the services to get it applied is going to be very significant," he said.
Reuters reported that the specific details of how Nestle will help still need to be worked out, according to Schneider, who described the project as a "work in progress".
1 February
US Congress probing meatpackers over Covid deaths
A US Congress panel is investigating three of the country's largest meatpacking businesses in relation to worker deaths at their facilities during the Covid-19 pandemic.
—
Müller reports fatality at another UK plant
Another UK plant owned by Germany headquartered dairy giant Müller has been affected by Covid-19.
An employee at the facility run by Müller Milk & Ingredients in Droitwich, a town in the English Midlands county of Worcestershire, has died from the virus, although the staff member had been off work since 30 December due to a "personal matter", a company spokesperson confirmed in a statement.
A further 26 workers are currently self isolating out of a total employee count in Droitwich of 607.
"It is important to stress that fresh milk processing is highly automated, ensuring no risk to products," the statement read.
26 January
Greencore's food-to-go revenues slide in Q1 amid lockdowns
Greencore, a major supplier of food-to-go products to UK retailers, has reported an across-the-board drop in revenues for the group and its business units due to Covid-19-related restrictions.
In a trading update this morning (26 January) for the first quarter to 25 December, the Ireland-based private-label manufacturer said reported group revenues fell 15% to GBP312.7m (US$425.9m) and were down 15.1% on a pro-forma basis, "impacted by the reduction in mobility arising from tiered restrictions and lockdowns in the UK".
The food-to-go category saw reported and pro-forma revenues decline 21.7% to GBP188.5m, while other convenience foods fell 2.1% to GBP124.1m.
"[The] latest lockdown significantly impacting demand in food-to-go categories, though not as marked as the initial lockdown in March 2020. Currently, pro-forma group revenue is approximately 20% below prior year levels, with performance in food-to-go categories down approximately 35% on [the] prior year, while other convenience categories remain stable," Greencore said.
"The recovery in demand that was evident at the end of FY-20 was impeded by the tiered regional restrictions on mobility introduced across the UK in October, and then by a subsequent national lockdown until early December, followed by the implementation of tiered regional lockdowns."
Greencore also provided an early assessment of the impact of a free trade deal reached between the UK and the EU on Christmas Eve.
"The operational impact has been modest to date as the group had completed extensive Brexit planning and was well prepared for any near-term volatility in the supply chain.
"The ongoing uncertainty regarding the duration and impact of Covid-19 on the group's trading environment, and in particular on demand in its food-to go-categories, continues to make it difficult to predict FY-21 performance. In this context, the group's financial guidance remains suspended."
—
Chocolate maker Godiva to close North America retail outlets
Chocolate maker Godiva, owned by Turkey's Yildiz Holding, plans to close or sell its 128 retail stores in the US and Canada after consumers switched to online purchases during the pandemic.
"Demand for the in-person shopping experience offered through Godiva's brick-and-mortar locations has waned as a result of the pandemic and its acceleration of changes in consumers' shopping behaviour. In response to these market dynamics, Godiva will exit its 128 brick-and-mortar locations in North America, partially through sales and partially through closures, by the end of the first quarter," it said in a statement.
However, Godiva's products will still be available online in those North American markets, along with grocery and drug stores and other retail outlets. Europe, the Middle East and China are not affected by t
25 January
Food companies among UK Covid testing scheme
Meat company Moy Park and sugar refiner Tate & Lyle Sugars are among what the UK says are "dozens" of employers in the country to have signed up to a scheme testing workers without symptoms who cannot work from home.
Lateral flow tests are being used to see if staff have Covid-19 without realising they are carrying the virus. The UK government said around one in three infected people have no symptoms and may be unknowingly spreading the virus.
More than 730,000 tests have been distributed across the UK public and private sectors so far. Frozen-food group Apetito and cheese-products maker Primula are also among the companies to have joined the scheme.
Gerald Mason, senior vice president of Tate & Lyle Sugars, said: "Mass testing has really helped us get one step ahead of the virus by identifying colleagues who were infectious but showed no symptoms. This has been especially welcome over the last few weeks at our east London factories as the levels of virus in the local area have been extremely high."
22 January
Trident Seafoods closes Akutan plant for three weeks
Trident Seafoods, which claims to be the largest vertically-integrated seafood harvesting and processing company in North America, has had to temporarily close a plant in Alaska amid a number of Covid-19 infections.
The first of four cases at the processing facility in Akutan became apparent last weekend with an employee testing positive, and the other infections were discovered when the worker's three room mates were tested. All four had tested negative for the virus two weeks earlier.
In a statement issued yesterday (21 January), privately-owned Trident, headquartered in Seattle, Washington, said it will pause operations for three weeks while it undertakes "comprehensive" testing and to "support a preventative quarantine" for the 700 workers.
—
JBS, Pilgrim's Pride offer US workers $100 vaccine incentive
Meat packers JBS and Pilgrim's Pride are offering to give US employees a US$100 bonus if they voluntarily take a Covid-19 vaccine.
"The new initiative is designed to encourage maximum participation in the Biden administration's accelerated pandemic response efforts and ensure that every JBS USA and Pilgrim's team member who wants to get vaccinated can do so as soon as vaccines are made available," the two companies said in a joint statement.
JBS, headquartered in Sao Paulo, Brazil, is the majority-owner of US poultry processor Pilgrim's Pride. Both companies have, in the recent past, reported Covid-19 cases at their plants in the US and the UK.
"With nearly 66,000 US team members, we are hopeful this initiative will lead to high vaccination participation rates that will benefit our workforce and the rural communities and cities in which they live and work across America," said Andre Nogueira, the CEO of JBS' US division.
"Throughout the pandemic, JBS USA and Pilgrim's have adopted industry-leading measures to protect our essential frontline workers who continue to provide food for the nation. Our goal in offering this extra pay to our team members is to remove any barriers to vaccination and incentivise our team members to protect themselves, their families and their co-workers."
China confirms first cases of Covid among meat workers – report
China has reportedly detected its first cases of Covid-19 among meat workers, with ten confirmed cases at a poultry factory owned by Thailand's Charoen Pokphand Foods.
The facility in question is located in Harbin, the capital of Heilongjiang province in China's north-east region.
Reuters reported from an official Chinese news briefing that a further 28 employees at the plant, along with three family members, were asymptomatic amid a wider community outbreak in the region. The news agency added that samples taken from inside the slaughterhouse, its cold storage area and the outside of product packaging earlier this week came up positive for the virus.
Officials at Charoen Pokphand's Bangkok headquarters "made no immediate comment", Reuters said.
21 January
Muller hit by Covid-19 infections at UK plant, worker dies
Unternehmensgruppe Theo Müller, the Germany-headquartered dairy giant, has confirmed a slew of Covid-19 infections at one of its UK plants, along with the death of an employee.
20 January
Trident Seafoods reports cases at Alaska plant
Trident Seafoods, headquartered in Seattle, Washington, has reported four cases of Covid-19 at a processing plant in Akutan, Alaska, despite "rigorous preventative measures".
CEO Joe Bundrant, the son of Trident's founder Chuck Bundrant, said in a statement: "Health and safety are our absolute priority. We have said from the beginning of this pandemic that if we have an issue, we're going to shed a light on it. We want to be sure people are aware and know that we are taking this very seriously."
The first case became apparent last weekend with an employee testing positive, and the other infections were discovered when the worker's three room mates were tested. All four had tested negative for the virus two weeks earlier.
One of the workers is currently in hospital, while the three others are self-isolating.
Stefanie Moreland, Trident's vice president of government relations and sustainability, said the company is working to try and establish the source of the infections among the 700 staff at Akutan.
"We have notified the state of Alaska, the city of Akutan and our medical partners and are coordinating with all to conduct further tests, implement protocols and contain exposure," Moreland said.
19 January
Lindt & Sprüngli annual sales drop on pandemic-related challenges
Lindt & Sprüngli, the premium chocolate maker based in Switzerland, has reported a 6.2% decline in annual organic sales to CHF4.02bn (US$4.53bn).
The drop – minus 10.9% on a reported basis – was put down to "major global challenges due to the Covid-19 pandemic", namely the closure of its store network and reduced shopping visits, and also strength in the Swiss franc.
Still, the decline in organic sales was within the company's expectations for a 5% to 7% decrease (Stifel -5.2%), while the company said it notched up market share gains in "practically all countries" in which Lindt & Sprüngli operates.
"The global restrictions and regulations to contain the pandemic unfortunately had an impact on important areas of Lindt & Sprüngli's business. The restrictions on the foodservice area in North America and the traditional speciality stores in Italy had a major impact on sales. The travel retail business also recorded a sharp drop in sales due to the restricted air traffic," it said in a statement.
Sales in Europe fell 2.9% on an organic basis and were down 6.8% in North America. It was worse in the rest of the world segment, where sales dropped 16.1%, although China and Japan posted growth.
Lindt & Sprüngli said the medium- and long-term organic growth targets remain unchanged at 5-7% per year, while the operating profit margin of 10% realised in 2020 is expected to "return to a level of around 15% in 2022".
18 January
UK trade bodies lobby government to support foodservice suppliers
A group of trade associations are pressing the UK government to provide financial support for food manufacturers supplying the out-of-home sector, warning they risk going out of business without some form of aid.
The 18-strong group is led by the British Frozen Food Federation (BFFF) which have written a letter to Chancellor Rishi Sunak and other government ministers pointing out how pubs, restaurants and cafes have received extended financial support but the businesses that supply them have not.
They are calling for an extension to the 12-month exemption period for local business rates for companies operating in the hospitality and foodservice sector and the introduction of capital and tax break allowances aimed at retaining staff.
The group is also pressing the Government to formalise the deferment of PAYE and NI payments until the end of 2021 for the sector. And to increase the level of funding for the Additional Restrictions Grant and to make the funding accessible, along with providing grants for those companies that have had to dispose of stock because of lockdown restrictions.
BFFF CEO Richard Harrow said: "England's national lockdown, plus restrictions in the UK's other nations, have been devastating for our many businesses supplying the hospitality and foodservice markets and they are facing a bleak winter. Their continued existence will be critical as the economy starts to recover."
14 January
Bakkavor annual revenues decline on pandemic impact – trading update
Private-label fresh food supplier Bakkavor has said revenues fell in the fiscal year through December amid a new round of Covid-19-related lockdowns in the final quarter.
In a trading update today, the London-based business said group revenues were down 4.9% on both a reported and like-for-like basis in the 12 months ended 26 December ahead of the final results on 16 March. The decline was more protracted in the UK, where like-for-like sales fell 5.3%.
On the international front, revenues dropped 21.6% in China, which was the Bakkavor division "most severely impacted by the pandemic", offsetting a 12.7% increase in revenues in the US.
Bakkavor currently anticipates adjusted EBITDA will be in line with the previous annual print of GBP138m (US$188.3m).
CEO Agust Gudmundsson said: "Notwithstanding the ongoing impact of Covid-19, we have a sound business model and solid platform that leaves us well-placed to navigate the current environment and achieve long-term sustainable growth."
11 January
Maple Leaf Foods to acquire facility for plant-based unit Greenleaf
Canadian meat processor Maple Leaf Foods is set to purchase a production facility in the US for its plant-based unit Greenleaf Foods amid challenges to its expansion strategy in the country caused by Covid-19.
8 January
Cases rise at 2 Sisters' Coupar Angus facility in Scotland
2 Sisters Food Group, a UK-based poultry processor, has seen the number of Covid-19 cases rise at its Coupar Angus facility in Scotland.
Earlier this week, the company reported five infections amongst workers at the poultry plant in South Lanarkshire and now, according to NHS Tayside, the number has since climbed to 30.
The same site had to be closed temporarily last August after a number of employees tested positive.
A spokesperson for 2 Sisters said the company had nothing to add to the statement from NHS Tayside when contacted by just-food.
Dr Emma Fletcher, a director of public health for Tayside NHS, said a "comprehensive risk assessment" has been conducted at the facility a noted the safety measures 2 Sisters has put in place to protect workers.
"For several reasons the public should be reassured that it is possible for the factory to remain open at this time as we are in a very different position to when there were Covid-19 cases at the factory last August. The rate of community infection is much higher compared to August's outbreak," she said.
"The factory is continuing to work closely with NHS Tayside's Public Health team and Food Standards Scotland to help manage the situation."
7 January
BMPA urges UK government to prioritise meat workers for vaccines
The British Meat Processors Association is urging the UK government to prioritise "frontline workers in meat factories" for the coronavirus vaccines.
"The risk of more rapid spread of the virus amongst key workers, coupled with expected disruption of food supplies at our ports as the full effects of Brexit begin to unfold, pose a severe challenge to the industry and to the smooth running of the nation's food supply chain," the BMPA said in a statement today.
As well as the meat industry, BMPA members also include some of the major UK supermarkets, food retailers and ingredient suppliers. It said there is an increased risk that meat plants could close as the new strain of coronavirus pushes up absenteeism rates, which could possibly lead to food shortages.
"Given the specialised nature of the meat-processing industry, if absences go above a certain level, it becomes impossible for a plant to continue operations. If this starts happening, plants would be forced to close entirely and a sizeable chunk of food supply would disappear from supermarket shelves," it said.
Nick Allen, the CEO of BMPA, continued: "As the new coronavirus variant takes hold across the whole of the UK, we are hearing widespread reports of rapidly rising absences in the food-supply chain. In some cases, notably in the supermarket sector, companies are seeing a tripling of staff having to take time off work through illness or enforced self-isolation.
"We are therefore calling on Government to include meat-factory workers in the initial roll-out of vaccinations. This would provide much-needed protection and comfort to this at-risk group and the communities in which they live, as well as ensuring that the critical food-supply chain continues to run smoothly."
6 January
Thai Union says all plants operating amid dozens of Covid cases
The seafood giant has issued a statement to say it is "proactively testing" employees in a province south west of Bangkok and confirmed some 69 of its staff at its sites in the region have tested positive for the virus.
Thai Union Group said it had tested 23,630 out of 27,552 employees in the province of Samut Sakhon, with the rest of the workers to be tested by next week.
"We have comprehensive protocols in place in case of positive test results; these protocols include ensuring taking care of the affected employees while isolating them according to government guidelines, identifying and testing close contacts and deep cleaning of visited work areas," Thai Union CEO Thiraphong Chansiri said. "It is very important to note that, due to the extremely small number of impacted employees, all Thai Union's factories currently remain open and operational at capacity."
Samut Sakhon province is one of the regions the Thai government has designated as a "red zone", or area with high infection rates. It is also Thailand's chief hub for seafood production.
—
Foster Farms faces lawsuit from workers union over Covid-19 safety
The US poultry processor, has become the subject of a lawsuit filed by the United Farm Workers union, which claims the company "refused" to follow safety guidelines after a number of workers died from Covid-19 at two of its plants in California.
5 January
UK announces grants for retail, foodservice businesses
The UK government has said it will make available "one-off, top-up grants" to the country's retail, hospitality and leisure businesses in the wake of the country's the fresh lockdown measures.
Firms can apply for grants worth up to GBP9,000 (US$12,200), with the Government suggesting the cash will benefit more than 600,000 companies.
"This will help businesses to get through the months ahead – and crucially it will help sustain jobs, so workers can be ready to return when they are able to reopen," Rishi Sunak, the UK Chancellor of the Exchequer, said. "Throughout the pandemic we've taken swift action to protect lives and livelihoods and today we're announcing a further cash injection to support businesses and jobs until the spring."
The UK's furlough scheme had already been extended until the end of April.
—
2 Sisters plant operating "as normal" amid Covid cases
The UK food manufacturer has reported a fresh clutch of positive cases of Covid-19 at a plant in Scotland that was hit by the virus during the summer.
2 Sisters said its Coupar Angus facility was "working as normal", with five of its staff having tested positive.
Last August, the site, located in south Lanarkshire, halted production for two weeks to after a number of employees caught the virus.
—
Cargill re-opens Covid-hit Canada plant
The US agri-food giant has resumed production at a meat plant in Canada closed before Christmas due to dozens of cases of Covid-19 among staff.
Cargill called a halt to output at the facility in Ontario in the week before the festive period. The company said at the time around 60 of its workers at the site in Guelph in Ontario had been diagnosed with Covid-19 amid a "community spread" of the virus.
Approximately 1,000 staff are employed at the factory, which is located in the city of Guelph. According to the Cargill website, the plant processes 1,500 head of cattle per day and is one of its two beef facilities in Canada. Combined, the plants make up 55% of the beef processing market in Canada, Cargill says.
"The health and safety of our employees continue to be our top priority," Cargill said in a statement on the re-opening of the factory. "In addition to safety measures we implemented at our facilities months ago, we have taken time during the idle to conduct a full, deep-clean of the facility as an additional step to respond to the community-wide impacts of the virus."
Like food manufacturers across the industry, and particularly in the meat sector, Cargill saw its production affected in the early months of the pandemic after positive cases were diagnosed among staff.
4 January
Nestle to expand US site to meet Covid demand
Nestlé is to up the production capacity of a plant in the US to meet changes in demand sparked by the virus.
23 December
FDF calls for compensation for exporters following border "chaos"
UK industry association The Food and Drink Federation has called on the country's government to compensate businesses affected by the closure of the border between Britain and France.
21 December
"We see consumer behaviours evolving in ways we think will stick beyond the pandemic" – General Mills' CEO Jeff Harmening on H1 results
General Mills reaped rewards from Covid-19 shopping behaviours in its fiscal first half as organic growth notched up a print of 8% compared to last year's flat performance. And the benefits look set to continue judging by the emergence of a new strain of the virus in the UK and Italy, while the US still grapples to contain the disease. Simon Harvey looks at the key talking points behind the results.
—
FDF warns of disrupted food supplies as France closes border with UK
The Food and Drink Federation is warning that supplies of food into the country face disruption as a result of France closing its border with Britain.
18 December
Cargill halts output at Canada meat site amid Covid-19 cases
Cargill has called a halt to production at a meat-processing facility in Canada after dozens of staff tested positive for Covid-19.
The US agri-food giant said around 60 of its workers at the site in Guelph in Ontario had been diagnosed with Covid-19 amid a "community spread" of the virus. Approximately 1,000 staff are employed at the factory.
—
Tyson Foods in spotlight over Covid protective measures
Following cases of Covid-19 at a number of Tyson Foods' meat plants since the virus erupted, the comptroller for New York City is calling on the US Securities and Exchange Commission (SEC) to investigate the company's methods to protect workers.
Comptroller Scott Stringer has criticised Arkansas-headquartered Tyson of "flagrantly misrepresenting its poor pandemic response" to investors.
He has called out Tyson's Form 10-K, a financial results document presented to the SEC annually, for containing scant information on the company's workplace safety measures.
Tyson has been plagued by Covid-19 infections at a large number of plants, some of which have been forced to temporarily shutdown or pause production as the appropriate cleaning and sanitisation processes are carried out. The affected sites have included factories in: Portland, Maine; Waterloo, Iowa; Goodlettsville and Shelbyville, Tennessee; Pasco, Washington; Dakota City, Nebraska; and Longansport, Indiana.
Six workers died from coronavirus at the Waterloo site, which witnessed more than a 1,000 infections.
"There is human cost to Tyson's failures – preventable deaths, hospitalisations and sick workers," Stringer said in a letter to Tyson. "These failures have material impacts on its business operations that carry serious risks for shareholders."
Tyson has yet to respond to just-food's request for comment.
17 December
Tyson Foods sacks seven managers linked to Covid-19 betting pool
Tyson Foods has sacked seven plant management employees at the US meat giant's site in Waterloo, Iowa, following an independent probe into a betting pool linked to Covid-19 infections.
16 December
Greencore's Nottingham factory hit by Covid
Greencore, a food-to-go manufacturer headquartered in Ireland, has a "number" of Covid-19 cases at a UK plant in the county of Nottinghamshire.
In a statement, the ready-meals to sandwiches maker said coronavirus infections in the Bassetlaw district in north Nottingham have been rising and Greencore now has an unspecified number of cases at its Manton Wood facility. All are currently self-isolating.
"We have arranged for testing to be carried out at the site, and have wide-ranging social-distancing measures, stringent hygiene procedures and regular temperature checking in place," the statement read. "We are liaising closely with the Director of Public Health for Nottinghamshire County Council and Public Health England. Our thoughts are with all those affected, who are currently recovering at home, and we will continue to monitor their welfare as the situation develops."

Jonathan Gribbin, a director of public health for Nottinghamshire County Council, added in the same statement provided by Greencore: "We have been carefully studying the cluster of cases across Bassetlaw district. We are working with Greencore and Public Health England to provide testing and to understand more about how people are acquiring the infection. Greencore has an extensive range of controls in place, has responded quickly and decisively to the situation and is working closely with us."
Other Greencore sites have seen cases of Covid during the year.
15 December
EU food-manufacturing workers "should be priority for vaccines"
FoodDrinkEurope, the trade body for representing food manufacturers operating in the EU, has called on the bloc's member states to take up a recommendation from The European Commission to include workers in the agri-food sector as "a priority group" for vaccines against Covid-19.
A joint statement issued with European trade union federation EFFAT said the Commission had provided guidelines to member states when developing their vaccination strategies and had included agriculture and food sector workers as one of six priority groups.
"The approval and availability of vaccines against Covid-19 is a huge step forward in the fight against the global pandemic. Vaccinating the entire EU population will take significant time, and due to the limited number of doses available not everybody can be immunised immediately," the statement read.
"Food security can only be ensured when the health and safety of the workers in the food and drink industry is protected and production can run smoothly. This holds true in the workplaces, as well as when considering a vaccination strategy."
Quoting an unnamed German government source, Reuters said The European Medicines Agency is set to issue a positive verdict on the first Pfizer/BioNTech vaccine next Wednesday (23 December).
9 December
Six new Covid cases confirmed at Bakkavor's Tilmanstone plant since Friday
Bakkavor, a UK private-label supplier, has said its salads plant in south-east England where two workers have unfortunately died after contracting Covid-19 has seen a further six new cases since last Friday (4 December), although numbers are declining.
A two-day mass-testing exercise was started at the Tilmanstone site in Kent on Monday (7 December) with 375 staff out of a workforce of "over 900" tested so far. In an update provided by Bakkavor yesterday afternoon, the company said 48 employees are now off work having tested positive, with another 44 self-isolating as a precautionary measure.
The testing programme was due to end at midnight yesterday. The Tilmanstone plant is currently operating at "reduced capacity", the company said, although a spokesperson for the business told just-food it is "a temporary adjustment, [with] no impact on service levels".
Bakkavor said in a statement: "As a business, we have fully followed PHE guidelines for the duration of the pandemic. We are currently working closely with Public Health England (PHE) South East and Kent County Council to monitor the situation and we will take whatever appropriate action is necessary to limit the spread of Covid-19 and to ensure that our staff on site are safe. We will follow PHE advice and, if and when further steps need to be taken, we will communicate any new developments."
—
4 December
Bakkavor to test all staff at Covid-hit plant
The UK private-label manufacturer is to test all staff working at a factory in south-east England for Covid-19 in the wake of two employees at the site dying after being diagnosed with the virus.
After talks with local government and health officials this week, Bakkavor will start conducting the tests at the facility, located in Tilmanstone in Kent, on Monday.
On the two members of staff who died, the company said: "We have sadly had two colleagues pass away following positive tests for Covid-19. These were valued members of our team and we are doing everything to support their families during this tragic time. At this early point in our investigation there is no evidence that either case was contracted in the workplace."
More than 900 employees work at the factory, which manufactures salad products. Bakkavor said 59 staff that have tested positive for Covid-19 are off work and a further 54 are self-isolating as a precautionary measure.
—
Survey reveals Covid, Brexit outlook for UK hospitality
A UK business survey reveals Covid-19 has "wrecked confidence" among company chiefs in the hospitality industry, with the majority (82%) downbeat on prospects for the coming year.
The poll by Manchester-based research consultancy CGA and Fourth, a provider of cloud-based cost control solutions to hospitality, shows the figure was up from 40% in a similar survey conducted in February.
"Extended restrictions on trading and socialising over the autumn have led more than a quarter (27%) of multi-site business leaders to predict their groups will be unviable within the first six months of 2021 if current levels of support continue. Single-site businesses are at even greater risk of failure," the survey reveals.
Looking at the impact on the hospitality sector when the Brexit transition period ends this month, the majority of company chiefs anticipate a hit to profits (65%) and increased costs on imports (80%).
In terms of investment, the survey of 121 business leaders across management roles, reveals "widespread closures" are expected next year, with 38% having no plans to open new sites. "Substantial market churn, especially in London, where closures of offices, retail and tourist venues has hit footfall, can be expected," the researchers said.
CGA's research and insight director Charlie Mitchell said: "As we near the end of hospitality's toughest year in memory, the bleak picture of the sector will come as little surprise. Suffocating restrictions across Britain will devastate trading in what should be businesses' busiest time of the year.
"Leaders' optimism is at least rising from the rock bottom level of our last survey, and news of a vaccine is a reason for cautious hope of recovery in 2021. However, this week's Tier 2 restrictions in England and strict new limits in Wales could be fatal for smaller business in particular, making the case for more relaxed trading conditions and better government support even more urgent."
3 December
Second Covid death reported at Bakkavor salad plant
A second employee at a UK salad plant owned by private-label major Bakkavor has died after contracting Covid-19.
—
PepsiCo 'temporarily closed US plant due to Covid outbreak'
US food and beverages giant PepsiCo is reported to have temporarily closed a Frito-Lay snacks plant in its home market due to an outbreak of coronavirus.
On Tuesday (1 December), media outlets in the US quoted Clark County officials as confirming 17 cases among employees at the plant in Vancouver, Washington State.
Public health officials said the first worker tested positive on 29 October. PepsiCo confirmed in a statement emailed to local media that multiple employees had tested positive for the virus although it did not list a specific number.
It described the decision to close the Vancouver plant as "a precautionary measure and in partnership with the Clark County Health Department". It said that the plant was being sanitised during the closure.
Reports suggested the plant was closed from 25 November but was due to re-open on Tuesday evening.
just-food has asked PepsiCo for an update on the situation at the plant.
1 December
Union calls for mass testing at Bakkavor UK site after Covid outbreak
The GMB trade union has called on private-label major Bakkavor to introduce mass Covid-19 testing at a salad facility in southern England after an outbreak of the virus among workers there.
—
BRF plant hit by Covid outbreak cleared to resume exports to China
A plant in southern Brazil operated by meat major BRF has been given the all-clear to resume exports to China following an earlier Covid-19 outbreak.
BRF said on Monday (30 November) its Lajeado pork unit has been authorised to resume exports to China, according to a statement sent to news agency Reuters.
The plant, which saw an outbreak of the virus among workers in May, employs about 3,000 people. The unit should resume exports over the coming days, the statement said.
"After an inspection by the Chinese authorities, it was possible to prove the commitment that all of us at BRF have always had regarding the health and safety of our employees and our products," Reuters quoted BRF as saying.
The news agency reported that least three other Brazilian meat factories remain blocked by China over coronavirus concerns, All are located in Brazil's southernmost state of Rio Grande do Sul.
BRF's Lajeado unit had been suspended by China since July.