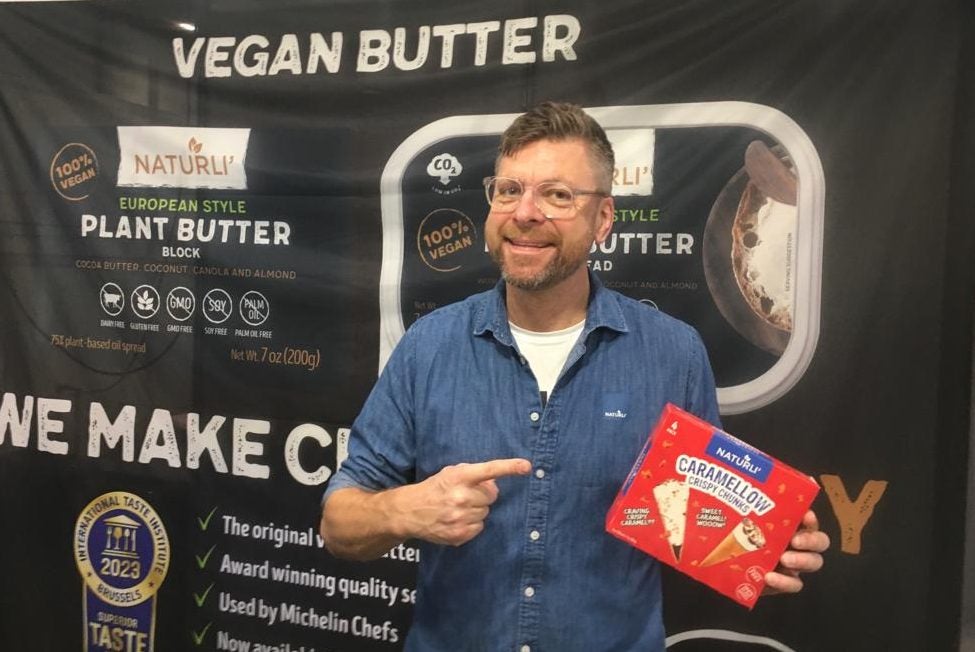 Naturli' Foods, the Denmark-based plant-protein business, is to embark on another bid to crack the US market.
The company is to launch its plant-based butter alternative in the US later this year, its latest foray across the Atlantic after pulling out of the country's meat-free category.
The first customer for the plant-based spread is Texas-based retailer H-E-B, which will start to sell the product in June, Naturli' Foods CEO Henrik Lund told Just Food. US distributor Kehe is to also take on the spread as the company looks to build again in the US after its first attempt to carve out a foothold in the market centred on plant-based meat.
Speaking to Just Food at the IFE trade show in London today (20 March), Lund suggested Naturli' Foods could capitalise on the recent upheaval at US vegan dairy business Miyoko's Creamery.
Last month, the company filed a lawsuit against its founder and CEO, Miyoko Schinner, in the wake of her departure from the business.
"Of course, at the moment, there's a market leader – Miyoko's – which is going through turbulence. That leaves Miyoko's butter in a weak position. We heard from a lot of consumers saying they're not supporting this company anymore. It's not that we are happy about that but there is room for our product [and that is] also because we have a fair price in the US – we will actually retail just below the market leader – [and] we believe we have a better taste and a better melting functionality."
The US is one of the group's principal international markets. Another is the UK, which Naturli' Foods entered in 2018, again with a roll-out of meat-free products.
The company's UK business now centres on its plant-based spreads, which it sells through retailers including Sainsbury's and Waitrose.
Naturli' Foods also sells plant-based ice cream at independent stores in the UK and the company is in talks with unnamed retailers about more listings.
"[It is] early stages still. They are interested in the ice cream because the quality, the functionality and the taste is exactly like mainstream ice cream, which is the same as goes for our butter. We have high hopes for that," Lund said.
"In two years, we took over the position as market leader in the plant-based ice-cream market in Denmark. Until we launched, it was Unilever with Ben & Jerry's and Magnum. We are by far the market leader now because the quality is outstanding and the taste is superior."
Asked why Naturli' Foods thinks there is space for its plant-based ice cream in the UK, he added: "Because with the wow factor that we have in the product and the magic we can do on social media. We can interact with the ice-cream cravers in the UK and get them to try our ice cream. We will of course invest in doing a lot of demos and sampling."
It may, however, not be until next year that Naturli' Foods sees a concerted expansion in the presence of its plant-based ice cream in the UK.
Lund said the company is hoping to see new listings by "the end of the year". He added: "We missed the ice-cream window. Now the ice-cream season is opening up all over Europe. We are having discussions now, hoping to get a few items into the stores in the autumn and then we're ready for the ice-cream season in 2024."
Plant-based meat a "red ocean", Naturli' Foods CEO says
Naturli' Foods has been owned since 2010 by Danish margarine supplier Dragsbaek, which is itself majority-owned by Norway-based food manufacturer Orkla.
The company does not disclose its annual sales but Lund insisted it has "grown each year since 2010".
He added: "Annual and sustainable growth in the terms that we do a profitable result each year. That's important for us. That's also why we are not super scaling our business and burning cash like you are seeing Oatly doing each year. It's sustainable growth and we're satisfied with that."
The company still sells plant-based meat products in Scandinavia but its growth strategy is centred around its plant-based dairy spreads and ice cream, Lund explained. He described plant-based meat as a "red ocean".
"We are still selling our plant-based meat in Scandinavia. One year ago, we sold our production facility to Orkla. They're producing meat-free for Scandinavia [for] their brand in Sweden, Anamma. We as a company in Naturli' are not focusing on meat-free anymore. We are focusing solidly on dairy spreads and ice cream," Lund said.
"[Plant-based meat] is a red ocean. Everybody who wants to enter plant-based thinks: 'Let's go into meat-free. Low barriers, low cost.' When you go into dairy, the stainless steel is way more expensive and it's way more complicated. We are focusing on that and I think in meat-free you'll see consolidation in the coming years. A lot is already happening now."