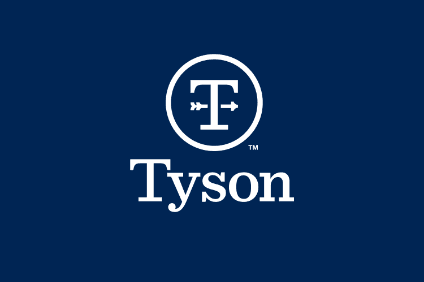 US protein giant Tyson Foods has promoted Noel White to the role of CEO of the business to replace Tom Hayes.
The chicken, beef and pork heavyweight, which also owns a portfolio of brands including Jimmy Dean and Hillshire Farm, said Hayes is stepping down for personal reasons.
White was formerly president of Tyson's beef, pork and international interests and a member of the enterprise leadership team at Springdale, Arkansas-based Tyson.
He will take up the CEO role on 30 September and will also join the company's board of directors.
John Tyson, chairman of the board of directors, said: "Noel is a proven leader who has played an integral role in our enterprise leadership team for many years. He has run our beef, pork, and poultry businesses and is now helping Tyson Foods capitalise on international opportunities.
"His deep institutional knowledge and a stellar track record over his more than 30-year career at Tyson Foods and a predecessor company give the board the utmost confidence in his ability to drive the business forward, accelerate global growth and create long-term value for shareholders.
Turning to Hayes, who became the company's CEO at the end of 2016, Mr Tyson added: "Tom has accelerated the strategic transformation of Tyson Foods' product portfolio and played an important role in the company's continuing development."
Hayes added: "It is a very difficult decision to leave Tyson Foods, but after careful consideration and discussions with my family and the board, I know it is the right thing to do. I am appreciative of support from my family and the board for my decision and am confident that Tyson Foods has a bright future with Noel White, along with our enterprise leadership team, as its leader."
White has more than 30 years of experience in the food industry and worked at IBP for nearly two decades prior to its 2001 acquisition by Tyson Foods.
He said: "I look forward to accelerating the current trajectory of growth as a global modern food company through our operational excellence, innovative thinking and focus to sustainably feed the world. With the company's strong portfolio of fast-growing brands, diverse capabilities, exceptional enterprise leadership team and dedicated team members, we are well-positioned for continued success."
Under Hayes, Tyson has continued to be active on M&A, buying a range of businesses in transactions that sought to anchor the business in protein and continue its push in added value products.
The largest deal by value signed during Hayes' tenure saw Tyson agree to pay US$4.2bn for US convenience-foods group AdvancePierre Foods Holdings, a company manufacturing products including sandwiches, burgers and entrées for retailers and foodservice customers, including the Barber Foods range of chicken items. This summer, Tyson moved to buy US organic chicken supplier Tecumseh Poultry.
Last month, meanwhile, Tyson made a further move to bolster its meats business with a $2.16bn move for US group Keystone Foods, a deal that also looks set to broaden the company's presence internationally.
Tyson has also sought to offload parts of its portfolio that do not fit into its strategy, such as Sara Lee Frozen Bakery and pizza crust business TNT Crust.
Elsewhere, under Hayes, the company has also made efforts to invest in areas that could be deemed to be potential, future competition to its core meats business.
In December last year, Tyson upped its stake in Beyond Meat, a vegan business which specialises in plant-based meat substitute products.
In January this year, the business invested in US food tech start-up Memphis Meats, which produces cultured meat products directly from animal cells.