Teralba Industries
Mixers, Agitators and Heat Exchangers for Food Processing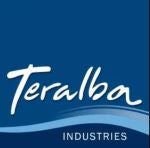 Address
15-19 Kialba Road,
Campbelltown,
NSW 2560,
Australia
Phone
Teralba Industries is an established manufacturer of a wide range of fluid process mixers, agitators, and heat exchangers for applications in the food processing industry. Based in Australia, Teralba's key brands include Mixquip®, Dimpleflo, Accutherm, and Rummager®. Teralba's team of engineering staff work closely with customers to determine their requirements, enabling the company to deliver the solution that exactly meets specific application demands.
Powder into Fluid Disperser
Mixquip High Shear, Series 620 Powder Liquid Disperser, disperses extremely difficult-to-whet powders in to fluids quickly and consistently, without fish eyes or clumping. This premium quality, Australian-made, high shear disperser takes a ground-breaking approach to powder/liquid mixing. Where most powder/liquid mixers use a vacuum to suck in powders, thus leading to aeration, the Series 620 Disperser actually shears the powder fines into the fluid stream. This allows it to disperse and hydrate large quantities of powders into high viscosity liquids, and has been proven across many  food, beverage, and pharmaceutical applications and products.
Clamp-on mixers for open-top tanks
Suitable for mixing fluids of light-to-medium viscosity, Mixquip clamp on mixers/agitators can quickly be fitted to open-top tanks, transforming a storage container into an efficient mixing vessel. Featuring a flexible design with a universal clamp assembly, the shaft entry angle can easily be adjusted in two planes. From blending ingredients, mixing, or maintaining solutions in suspension, the adaptable agitator can be used for multiple functions due to its variable speed-electric or pneumatic drives.
Anchor mixers for medium to high viscosity food products
Mixquip's anchor mixers are ideal for use on medium-to-high viscosity food products. They work by inducing product movement through the complete batch, homogenising viscous fluids, and improving heat transfer. Contra-rotating anchor mixers have a secondary agitator that can provide a beating, pumping, or shearing action. Combining an anchor agitator with a high-speed disperser, Teralba's dual shaft mixer feeds the mixture into the high-speed disperser blade while ensuring the contents are constantly in motion.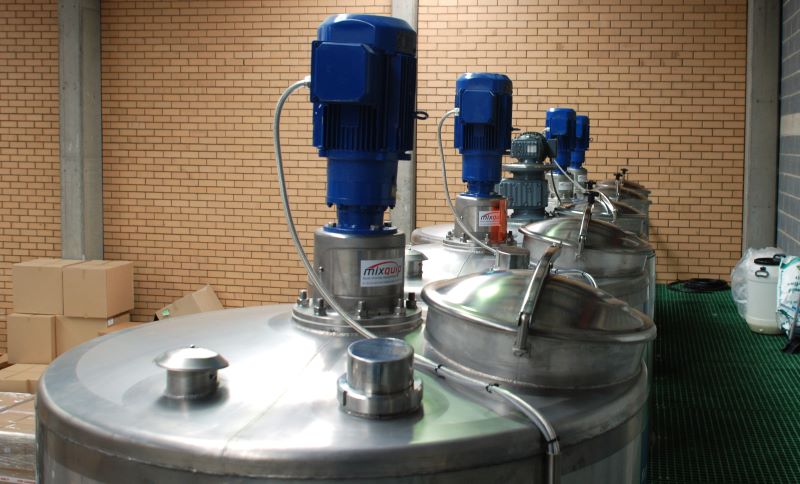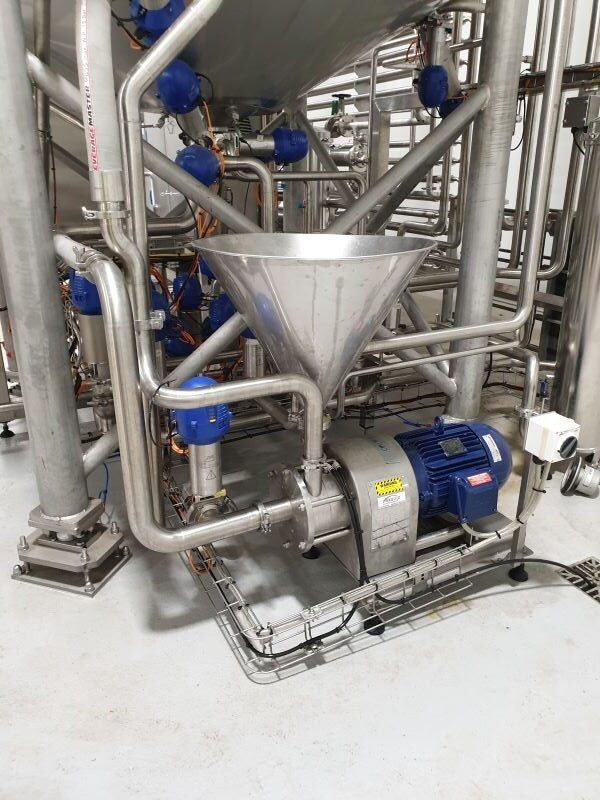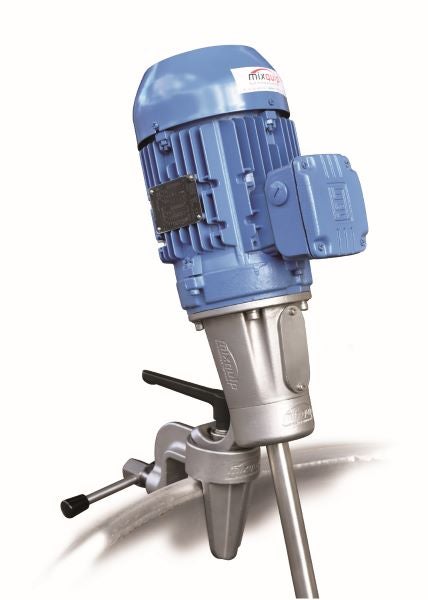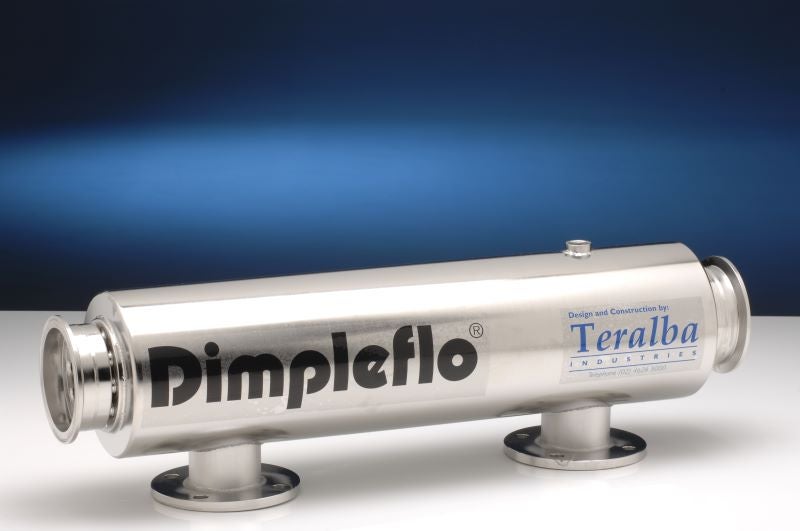 Drum Stirrers for low to medium viscosity liquids
The Mixquip Series 205 drum stirrer is an effective mixer of low-to-medium viscosity liquids in closed drums. Using fold-out impellor blades for powerful agitation in radial and axial flow patterns, the Drum Stirrer achieves homogenous uniform quality product mixtures. The drum mixer's dual mixing action enables fluids with high specific gravity solids to be held in suspension.
Top-entry mixers for blending, suspensions, and aeration
The Mixquip Series 300 Top Entry mixers use advanced mixing technology to achieve the efficient blending of liquids and powders, suspension of solids, pH correction, and aeration of liquids. Constructed from a wide variety of special alloy metals, this versatile mixer can be attached to an integral mounting on the vessel, or suspended from a support structure.
Side-entry agitator for wine, fruit juice, and vegetables oils
The Mixquip Series 110 Side Entry Agitator incorporates an innovative removable mechanical seal design and a high-performance Superflo agitator. The easy-to-remove seal significantly reduces servicing downtime, as it can be easily removed and replaced while holding liquid in the tank. The state-of-the-art Superflo impellor provides low shear mixing with a powerful axial pumping stream, and is ideal for processing fluids such as wine, fruit juice, and vegetable oils, where gentle low shear mixing is required.
Tubular heat exchangers with innovative design
Dimpleflo tubular heat exchangers can be used for the heating and cooling of thick slurries, pastes, meat products, sauces, condiments, confectionery products, and more. The innovative Teralba 'dimple' increases the turbulence of product, reducing the total surface area required for a specific task. Each tube is self-draining, can be cleaned with "pigging" projectiles, and is made in compliance with the relevant standards and quality assurance procedures in Australia.
Thermpro pasteuriser for plant-based foods, beverages, and dairy processing
The Teralba Thermpro pasteuriser can incorporate the company's Dimpleflo technology, and is customised to suit client requirements. With the click of a button, the machine can clean itself, removing the possibility of operator error. In addition, Teralba has integrated remote access to enable visual inspections of the machine in real-time, allowing remote software updates.
Static block melters for chocolate and cocoa mass
Thermpro Static Block Melters incorporate all of the unique features of Teralba thermal systems, including a range of options for pumps, filters, valves, and temperatures sensors. The system is ideal for handling controlled product melting rates. Thermpro melters produce liquid chocolate from many solid forms, all without altering the chocolate's properties.
Efficient CIP heaters with dimpled tubes
Teralba Industries' clean-in-place (CIP) heating units use the company's unique Dimpleflo technology to heat water, sanitisers, or CIP solutions with steam. Standard models can handle line pressure steam up to 13 Bar, eliminating the need for a pressure reducing station. Heat is transferred efficiently, delivering significant cost savings on steam equipment. The units' ultra-hygienic and compact design make them ideal for CIP processes across a range of industries.
About Teralba Industries
Each Teralba Industries product has been tested against stringent quality control measures and is stocked, assembled, and distributed from our Sydney-based factory. For more than 40 years, Teralba Industries has been known for tailor-made fluid processing solutions and providing quality customer service to our clients, ensuring that everything we design and manufacture results from a dedication to quality and innovation.
To request more information, please fill out the enquiry form.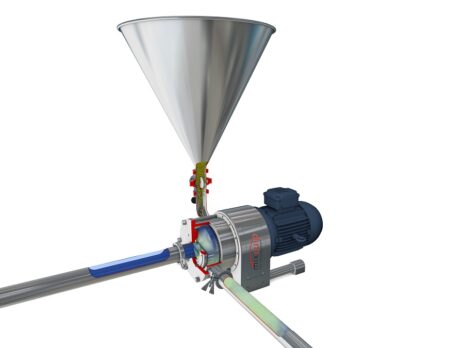 Solids dispersion remains to be one of the most enduring processing challenges in the industry today.
Traditional powder-into-liquid mixers often use a vacuum to pull powders into the liquid stream, whereas the Mixquip 620 drives powder into the liquid stream.

11 April 2022
Teralba Industries Pty Ltd
15-19 Kialba Road
Campbelltown
NSW 2560
Australia



Telephone Number




Fax Number




Email Address




Links