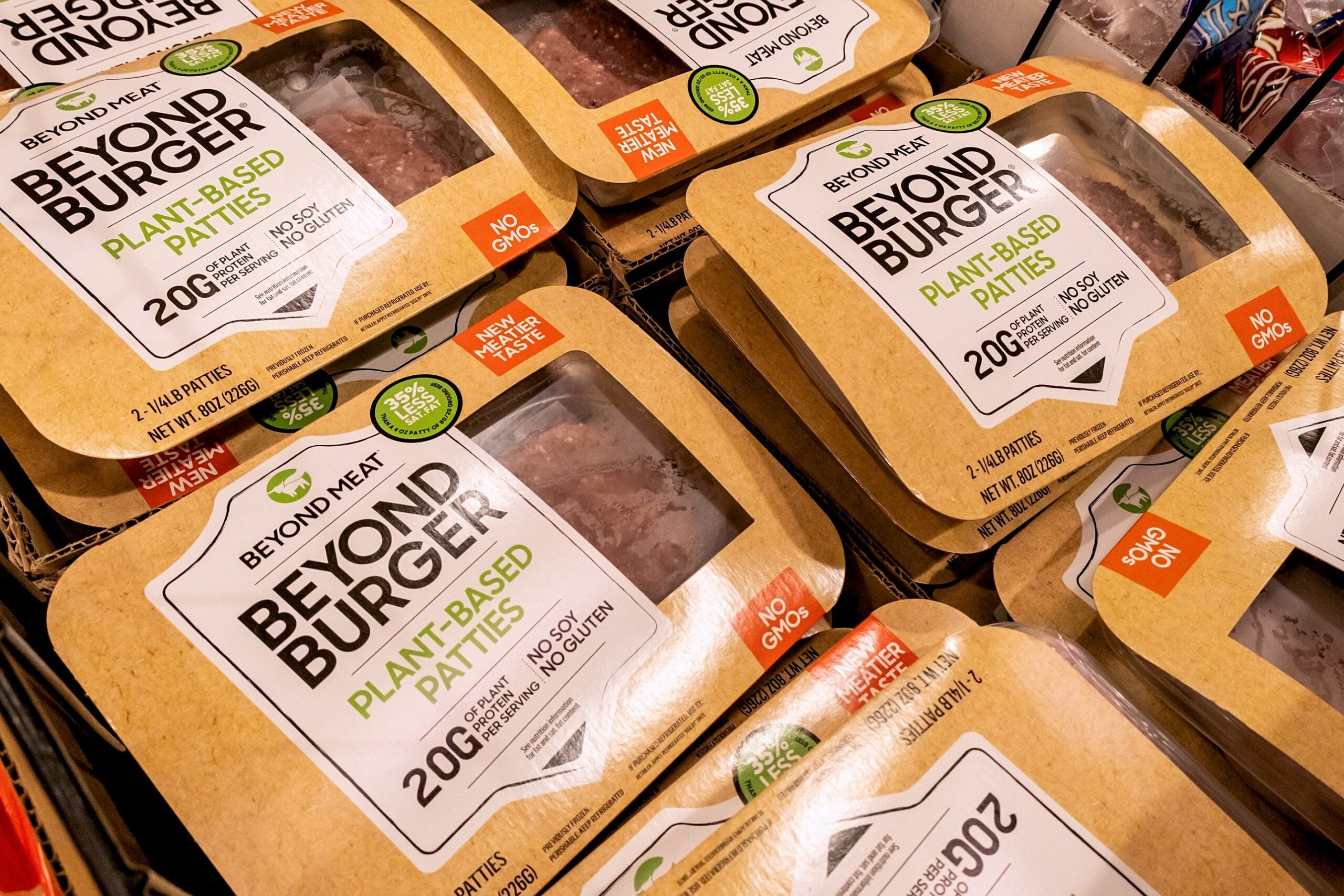 Beyond Meat has recruited two Tyson Foods veterans to senior positions at the US meat-alternatives supplier, which has seen pressure on its domestic sales in recent months.
Doug Ramsey and Bernie Adcock, who have both worked at Tyson for 30 years, are joining Beyond Meat as COO and chief supply chain officer respectively.
Ramsey, whose recent roles at Tyson include president of the US meat giant's poultry operations and president of its business with McDonald's, replaces Sanjay Shah as COO. It was announced in September that Shah, a former Tesla and Amazon executive, had left Beyond Meat after less than two years in the job.
Adcock, most recently Tyson's chief supply chain officer, joins Beyond Meat in the same position and takes what is a new role at the Beyond Burger maker.
Ethan Brown, Beyond Meat's founder and CEO, said: "Doug and Bernie bring a proven track record of impressive operational excellence in the protein industry that our global partners, customers, and consumers expect and deserve.
"As we've made clear, we are investing today in tomorrow's growth, whether by adding to our best-in-class management team or by building out operations around the world, to advance our vision of being the global protein company of the future."
In October, Beyond Meat downgraded its expectations for third-quarter sales, citing the impact of the pandemic, problems with distributors and customer labour shortages.
The company's third quarter, which ran to 2 October, ended up showing declining sales in the US, although international sales did grow.
Third-quarter revenues in the US fell 13.9% to $67.5m, with retail down 15.6% and foodservice minus 7.3%. Founder and CEO Ethan Brown said Beyond Meat faced challenges from an uptick in Covid-19, labour shortages and supply chain constraints, and "highly variable demand".
Brown suggested at the time the decrease was down to a "pause" in consumer demand rather than any structural issue in the appetite for meat-free.
During a follow-up call with analysts, he said: "There's no indication in my view that coming off of a record quarter of revenue in the second quarter to this quarter that there's some fundamental change in the consumer mindset toward our products.
"I don't think there's any sector issue or any segment issue. We continue to see strong year-over-year growth in terms of overall annual revenue. And if you look at 2022 and the work we're doing there, I think there's tremendous excitement in our company about what's coming.
"And so this is a bit of a kind of the pause. And had the pandemic and labour issues and supply chain stuff not interfered, I think this quarter would have been quite different."
Earlier in November, Beyond Meat rival Maple Leaf Foods, the owner of the Lightlife and Field Roast Grain Meat Co. brands, pointed to "a marked slowdown" in the category in the US (citing pressure in the refrigerated segment) – and said it was putting its dedicated division under review.
Just Food opinion, November 2021: Beyond Meat sales add to alt-meat misgivings