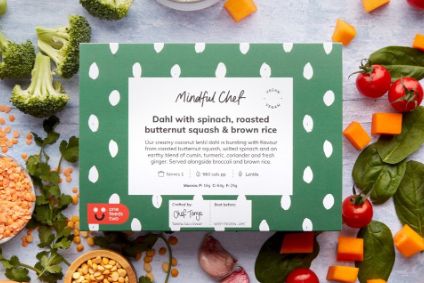 Dealing with the impact of Covid-19 on production, the growing corporate interest in direct-to-consumer and new stock-market listings of emerging plant-based businesses caught your eye this year.
US plant-based firm Tattooed Chef to go public
Ittela International, a plant-based food business in the US, is to go public, with a new name, after a transaction with an acquisition vehicle. Based in California, Ittela produces a range of vegan and vegetarian frozen foods such as smoothie bowls, meals, pizza, burgers and vegetables under its Tattooed Chef brand and also for private-label clients in the US and Italy. The company took the name of its flagship brand.
Covid-19 – Nestle facing production challenges, says CEO
In April, Mark Schneider, the CEO of Nestlé, admitted the world's largest food maker had been unable to hit its "normal" production levels during the early weeks of the Covid-19 pandemic.
Bakkavor, Greencore mum on Adelie Foods takeover link
In May, private-label giants Bakkavor and Greencore have refused to be drawn on a report linking the companies to possible moves for UK food-to-go peer Adelie Foods Group. Ultimately, Adelie called in the administrators and folded.
Bakkavor under fire over sick pay, social distancing
March saw UK private-label food firm Bakkavor face criticism over its business practices as Covid-19 started to make its impact felt on production.
Nestle makes Mindful Chef latest D2C acquisition
In November, Nestlé again used M&A to add to its direct-to-consumer services, moving to buy a majority stake in UK recipe-box firm Mindful Chef, a week after a deal to acquire US meals-delivery firm Freshly.
Covid-19 – Bakkavor again under fire after undercover video
UK private-label major Bakkavor was again in the spotlight over its business practices during the Covid-19 crisis in April after a manager threatened to sack staff who stayed at home.
General Mills 'weighs up Yoplait disposal'
In the autumn, General Mills was reportedly mulling starting a process to sell its majority stake in yogurt business Yoplait. According to reports in France, the US giant has asked Morgan Stanley to advise the company on its options.
Update – Saputo confirms interest in Australia's Lion Dairy & Drinks
Saputo, the Canada-based dairy major, confirmed it was mulling a move to buy Australia's Lion Dairy & Drinks from Japan's Kirin Holdings. Lion ended up being acquired by Australian food manufacturer Bega Cheese.
European Commission mulls classifying CBD foods as narcotics in stance at odds with UK
During the summer, The European Commission suspended the so-called novel food applications for non-synthetic CBD products as it considered whether to label the ingredient as narcotic-related.
Ebro Foods sells Catelli pasta business in Canada to Barilla
Spain's Ebro Foods announced in October it had agreed to sell its Catelli dried pasta business in Canada to Italian counterpart Barilla, along with a production facility in Montreal, Quebec.
Lactalis names ex-Metro exec Philippe Palazzi new CEO
Global dairy group Lactalis hired retail veteran Philippe Palazzi as the French company's new chief executive. Palazzi joined the Parmalat milk and Président cheese owner in September from German retailer Metro Group, where he rose to chief operating officer after 25 years with the business.
Bankrupt dairy giant Dean Foods sells Meadow Gold business
Dean Foods, the US dairy giant which is being sold off following its bankruptcy, announced in April the bulk of its Meadow Gold Hawaii business was to be sold to local investment company MGD Acquisition as a going concern.
Freedom Foods CFO Campbell Nicholas quits month after profit warning
Australia's Freedom Foods Group's CFO and company secretary Campbell Nicholas resigned with immediate effect in June. The news came less than a month after Freedom Foods said it expects full-year profits to be "materially impacted" by the Covid-19 outbreak as the crisis hit sales in out-of-home.
The following day, the company halted trading in its shares after telling the market its CEO and managing director Rory Macleod was "on leave pending a further announcement". Forty-eight hours later, Freedom Foods said it was probing the possibility of fraudulent activity after booking fresh write-downs. On 30 June, the group announced Macleod had resigned.
Nestle CEO expects post-Covid-19 boost for e-commerce
The food and beverage industries could see greater sales made through e-commerce in the wake of the Covid-19 pandemic, Nestlé CEO Mark Schneider suggested back in April.
Plant-based start-up The Very Good Food Co. goes public after IPO
In June, The Very Good Food Company, a Canadian plant-based start-up, has started trading on the local stock exchange after completing a CAD4m (US$2.9m) initial public share offering.
Former Bumble Bee Foods CEO Chris Lischewski jailed in price-fixing case
Bumble Bee Foods former chief executive Chris Lischewski was jailed in June for more than three years for his role in a conspiracy to fix tuna prices.
Vibrant Foods created as UK Asian-style foods suppliers TRS, East End merge
Two investor-backed, UK-based suppliers of Asian-style foods, TRS Foods and East End Foods, are to merge under a new banner.
Aryzta sale said to be still on cards with Flowers Foods, Hostess Brands potential runners
A sale of struggling European bakery business ARYZTA was said to be still on the cards in August with US-based peers Flowers Foods and Hostess Brands reportedly among possible suitors.
US sausage maker Johnsonville closes plant after Covid-19 outbreak
In May, Johnsonville, the US sausage maker, temporarily closed its plant in Hilton, Kansas, after a Covid-19 outbreak there.